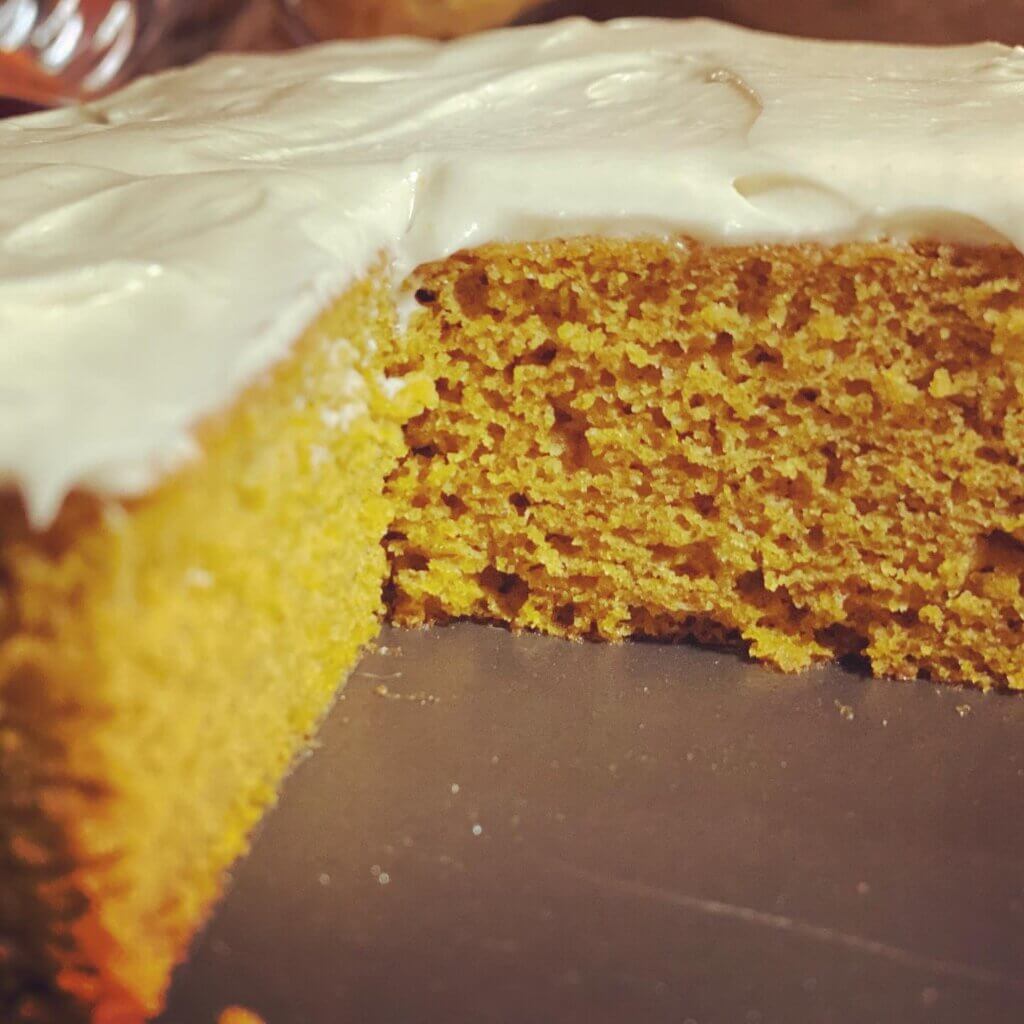 Fall is here, so it's time to start pulling out the pumpkin recipes. That's why we have selected to make Pumpkin Bars with Cream Cheese Frosting for you.
These pumpkin bars are so soft and moist that you can eat them as is. What I love most about these pumpkin bars is that it's made with a lot of pumpkin puree, which gives these bars so much flavor. I also love how soft these bars are because they are spongy and the texture of these pumpkin bars is similar to the texture of banana bread. The cream cheese frosting pairs well with these pumpkin bars because the frosting is so creamy, smooth, and has the perfect tangy sweetness that pairs nicely with the pumpkin bars.
Servings: 16
Prep: 20 mins
Cook: 25 mins
Extra time: 1 hr
Total: 1 hr 45 mins
Ingredients:
cooking spray
4 eggs (must be at room temperature)
1 cup vegetable oil2 cups white sugar
15 oz (1 can) pumpkin puree
2 cups of all-purpose flour
2 tsp. ground cinnamon
2 tsp. baking powder
1 tsp. baking soda
¾ tsp. salt
1 (8 oz) package cream cheese (must be softened)
1 cup softened butter
4 cups confectioners' sugar
2 tsps. vanilla extra
1 pinch ground cinnamon (for dusting)
Directions:
Preheat the oven to 350F. Take a large jelly roll pan and spray it with cooking spray.
Then take a large bowl and beat eggs in it with an electric hand mixer. Beat until you get a foamy texture.
Now add vegetable oil, white sugar, and pumpkin. Mix for 2 more minutes on average speed.
In a separate bowl mix baking powder, cinnamon, flour, salt (to taste), and baking soda. Put the flour mixture into the egg mixture and beat on low speed for 1 minute. Your batter is ready.
Pour this batter into the already prepared pan and bake in the preheated oven for 25 minutes. Place the pick in the middle of the cake. If it sticks out clean, then your cake is done. Let it cool completely.
Mix butter, vanilla and cream cheese in a mixing bowl until creamy. Then add confectioners' sugar and beat until you get a smooth texture.
Spread frosting over pumpkin cake and sprinkle with cinnamon. Your delicious pumpkin bars with cream cheese frosting are now ready.
Nutrition Value (per serving)
Calories: 78
Fats: 31.7g
Protein: 4.7g
Carbohydrates: 71.3g
Can you make pumpkin bars in advance?
You can make them in advance to have on hand when friends visit or to take to a holiday party. The pumpkin bars with cream cheese frosting will be a hit at any party and it is a good way to avoid the stress of last-minute cooking.
Can we add nuts or chocolate chips?
Yes! Feel free to add ½ cup of semi-sweet chocolate chips, pecans, or walnuts into the batter if you would like. Or you can sprinkle chocolate chips or nuts on the top of your prepared pumpkin bars.
Let's Sum Up
We hope you enjoyed our pumpkin bars recipe as much as we did! The great thing about this recipe is that it can be used as a base for other pumpkin desserts you may want to make in the future. You can top this recipe with a cream cheese frosting or with whipped cream; you can even add nuts or chocolate chips. The options are endless! We hope you have a great time making this recipe and that you enjoy it. If you make this recipe, feel free to share it with us!