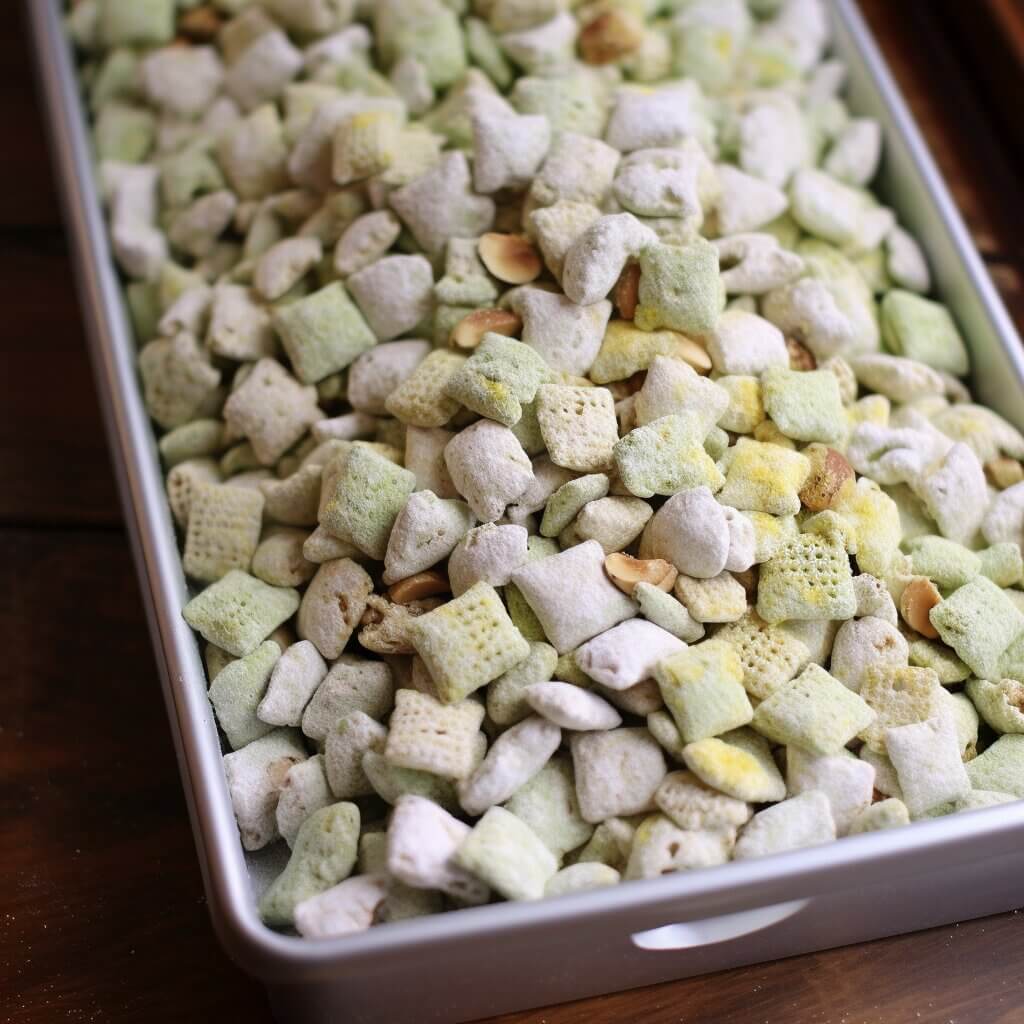 Do you remember the irresistible Puppy Chow snack mix from your childhood – that addictive blend of sweetened cereal coated in peanut butter and chocolate? I have such fond memories of grabbing handfuls of this crunchy, chocolatey treat whenever it appeared at school parties or sports team celebrations.
This puppy chow recipe brings together those nostalgic flavors in an easy homemade version that's even better than you remember. I've given it a delicious twist with the addition of pistachios, white chocolate, and a hint of cinnamon. The result is a snack that perfectly balances sweet and salty flavors with varied crunchy, crispy textures in every bite.
If you're looking for a chocolatey snack that's sure to satisfy your cravings, this pistachio puppy chow needs to be your next recipe. Keep reading for my step-by-step instructions to recreate this irresistible treat that both kids and adults will devour.
What exactly is puppy chow?
Puppy chow is a snack mix made by coating crisp cereal pieces, like Rice Krispies, with a mixture of peanut butter, chocolate or candy coating, and powdered sugar. The end result has a texture similar to muddy puppy paws – thus the name!
What kind of chocolate should I use?
I prefer to use white chocolate chips which provides a sweet, creamy flavor. Semi-sweet chocolate chips can also be used for a more classic puppy chow taste.
Do I have to use pistachios?
No – the pistachios add crunchy texture and flavor but you can substitute any nut you like. Almonds, peanuts, or cashews also work well.
How long does puppy chow keep for?
Stored in an airtight container, the puppy chow will stay fresh for up to 1 week. The cereal may eventually soften but it will still taste great!
Can I customize this recipe?
Absolutely! Use your favorite nut, cereal or chocolate to personalize it. Add extra spices like cardamom or cinnamon for more flavor. Get creative with the coating too.
Prep Time: 10 minutes
Cook Time: 5 minutes
Total Time: 1 hour 15 minutes
Ingredients :
6 cups rice cereal squares
1 cup salted pretzels
1 cup shelled, salted pistachios
1⁄2 cup (113g) salted butter
10 ounces (283g) white chocolate chips
1⁄2 cup (118ml) peanut butter
1 1⁄2 cups (180g) powdered sugar
1 teaspoon ground cinnamon
Instructions :
In a large bowl, combine the rice cereal, pretzels, and pistachios. Set this dry mix aside.
In a medium microwave-safe bowl, combine the white chocolate chips and butter. Microwave for 30 seconds at a time, stirring between each interval, until melted and smooth.
Stir the peanut butter into the melted chocolate until fully incorporated.
Pour the chocolate-peanut butter mixture over the dry ingredients. Gently toss together using a rubber spatula or wooden spoon until evenly coated.
Spread the mixture out onto a parchment lined baking sheet. Let cool at room temperature for about 1 hour, stirring occasionally, until set.
Place the powdered sugar and cinnamon in a shallow bowl. Add the cooled puppy chow pieces and toss to coat.
Cooking tips :
Use freshly melted chocolate for the best flavor. Melting chocolate chips works better than using chocolate syrup.
Adjust the amounts of pretzels, pistachios and cereal to suit your tastes.
For a thicker coating, use less cereal so there's more chocolate per piece.
Substitute peanut butter chips for the white chocolate if you prefer.
Add extra cinnamon or spices like cardamom for more flavor.
Store puppy chow in an airtight container for up to 1 week.