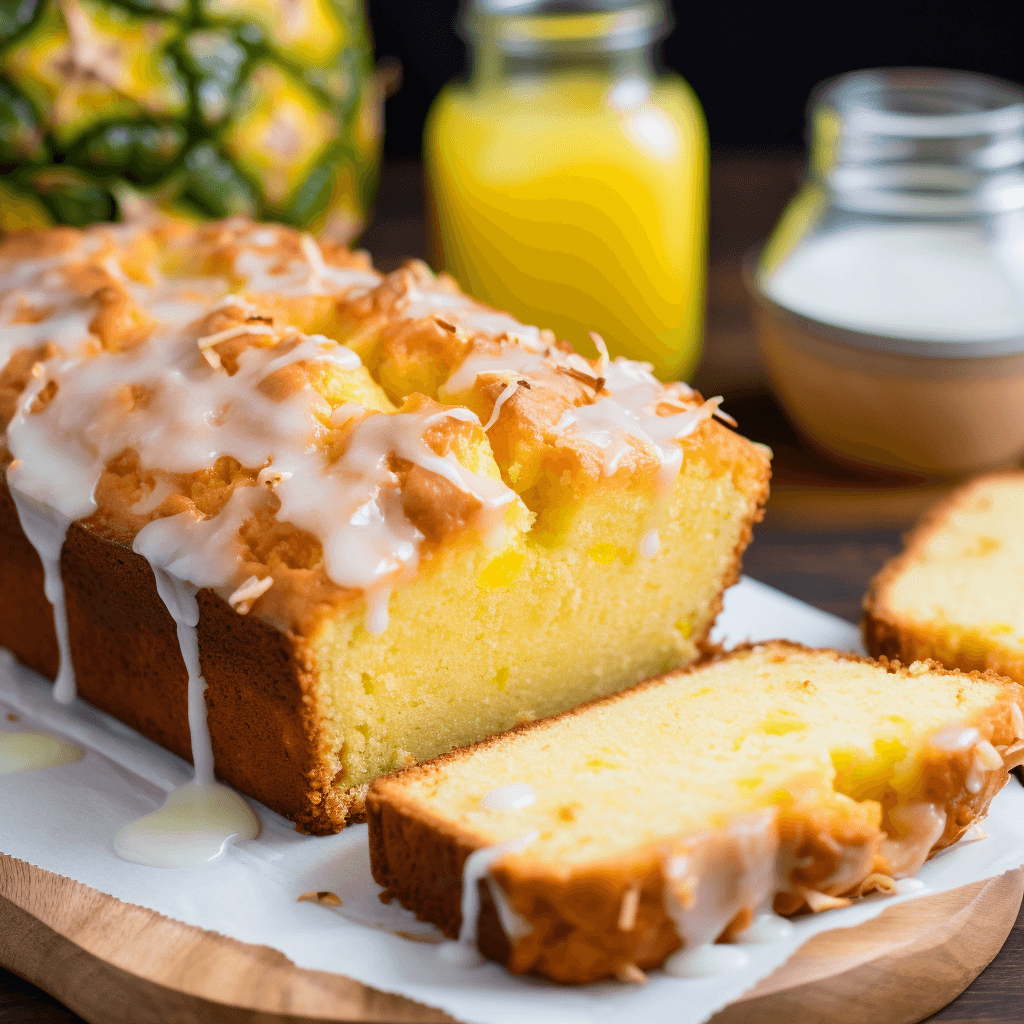 Hey there, my beautiful tribe! 🌟 Thank you for popping back into "Life with Jeviko." Today is all about bringing sunshine into your kitchen with something super delightful—my take on Pineapple Quick Bread! Hold on, before you start imagining complicated yeast activities and lengthy rising times, let's clear the air. This is a quick bread! That means zero yeast, zero fuss, and 100% mouthwatering flavor. 🍞🍍
Consider this bread a mini getaway for your palate. Picture a slice that's more than just scrumptious—it also fills your home with a fragrance that transports you straight to a tropical island. You're unwinding already, right? Whether you're new to baking or an old pro, this bread will have you strutting around the kitchen like the tropical baking deity you were born to be. Ready to catch these island vibes? Let's go! 🌴🌞
Is it possible to use fresh pineapple in place of canned?
Absolutely! If you're going for fresh pineapple, just finely dice it and make sure to drain any lingering juice. Roughly 2 cups of this fresh goodness should be comparable to the 20-ounce canned version in the original recipe.
Do I need the applesauce or can I omit it?
The applesauce is there to provide a moist texture while being a healthier substitute for oil. But if applesauce isn't in your pantry, vegetable oil will do the trick just fine. Your bread will still come out scrumptious!
How long will this Pineapple Quick Bread stay fresh?
If you store it in an airtight container at room temperature, you're good for about 3-4 days. Want to extend its shelf life? Feel free to freeze it. Just wrap it up snugly and you can keep it frozen for up to three months.
Can I add other fruits to the mix?
You bet! Feel free to add other dried fruits like apricots or mangoes for an even more tropical experience. Just make sure to chop them into small pieces, so they distribute evenly throughout the bread.
Prep Time: 15 minutes
Cook Time: 60-70 minutes
Total Time: About 75-85 minutes
Ingredients:
3 cups all-purpose flour
1 cup granulated sugar
1 teaspoon baking soda
1/2 teaspoon salt
2 large eggs, beaten
1 cup unsweetened applesauce (or vegetable oil)
1 teaspoon vanilla extract
1 can (20 ounces) crushed pineapple, drained (reserve the juice)
1 cup chopped nuts (like walnuts or pecans)
1 cup shredded coconut
1/2 cup raisins or dried cranberries
Instructions:
First things first, crank that oven up to 350°F (175°C). Give your 9×5-inch loaf pan a nice grease and flour treatment, or use parchment paper for easy removal later. Trust me, this step is your insurance against a sticky situation!
Take a big bowl and gently whisk your flour, sugar, baking soda, and salt together. These are the building blocks of your bread, setting the stage for tropical goodness.
In a different bowl, mix together your beaten eggs, applesauce (or oil, your call), and vanilla extract. Now, here comes the star—add the drained pineapple and give it a good mix. The pineapple is what elevates this bread from ordinary to "Oh my gosh, is this real life?"
Pour your wet blend into the dry ingredients and mix until they're just getting to know each other. No need for overmixing; some lumps are totally fine and give the bread character.
If you're feeling adventurous, now's the time to fold in those optional nuts, coconut, or dried fruit. Each add-in is like a little treasure hidden inside the bread.
Gently pour your ready batter into your prepped pan. If you find your batter resisting a smooth pour, a little of that saved pineapple juice can act like a peacemaker.
Bake this tropical masterpiece for about 60-70 minutes. Don't forget the toothpick test! When it comes out mostly clean, you're in business. If you notice the top browning faster than you can say "Pina Colada," loosely cover it with foil.
Once baked to perfection, let your bread chill in the pan for around 10 minutes before granting it freedom onto a wire rack. Patience is key—let it cool completely before you cut into it.
Slice up that beauty and serve! Whether you like
it plain, toasted, or with a smear of cream cheese, each bite is a tropical vacation.
Cooking tips:
This one's crucial, folks! Use the spoon-and-level method for measuring flour. Overpacking can lead to a dense, heavy loaf. We want light and fluffy!
Room-temp eggs mix more evenly into the batter, giving you a uniform texture. Just place the eggs in a bowl of warm water for 10 minutes if you forget to take them out in advance.
Drain the canned pineapple as much as possible to avoid a soggy loaf. But don't toss the juice! It's liquid gold if your batter gets too thick.
If you're going all-in with nuts and dried fruits, be mindful of the amounts. Overloading can make the bread crumbly.
Ovens can be finicky. A separate oven thermometer can help you make sure you're baking at the correct temperature.
Trust but verify! Even if the top looks perfect, always do the toothpick test. It should come out clean or with just a few crumbs clinging.
Patience, my friends! Wait for the loaf to cool down entirely before slicing to get those perfect, mouthwatering pieces.
Storing the bread in plastic wrap or aluminum foil helps to keep the moisture locked in. If you've made extra, you can freeze slices individually for a quick tropical treat anytime!
Feeling adventurous? A dash of cinnamon or nutmeg can add an extra layer of flavor complexity to your bread.
This bread makes an excellent gift! Wrap it up with a colorful ribbon and brighten someone's day with a tropical surprise. 🎁