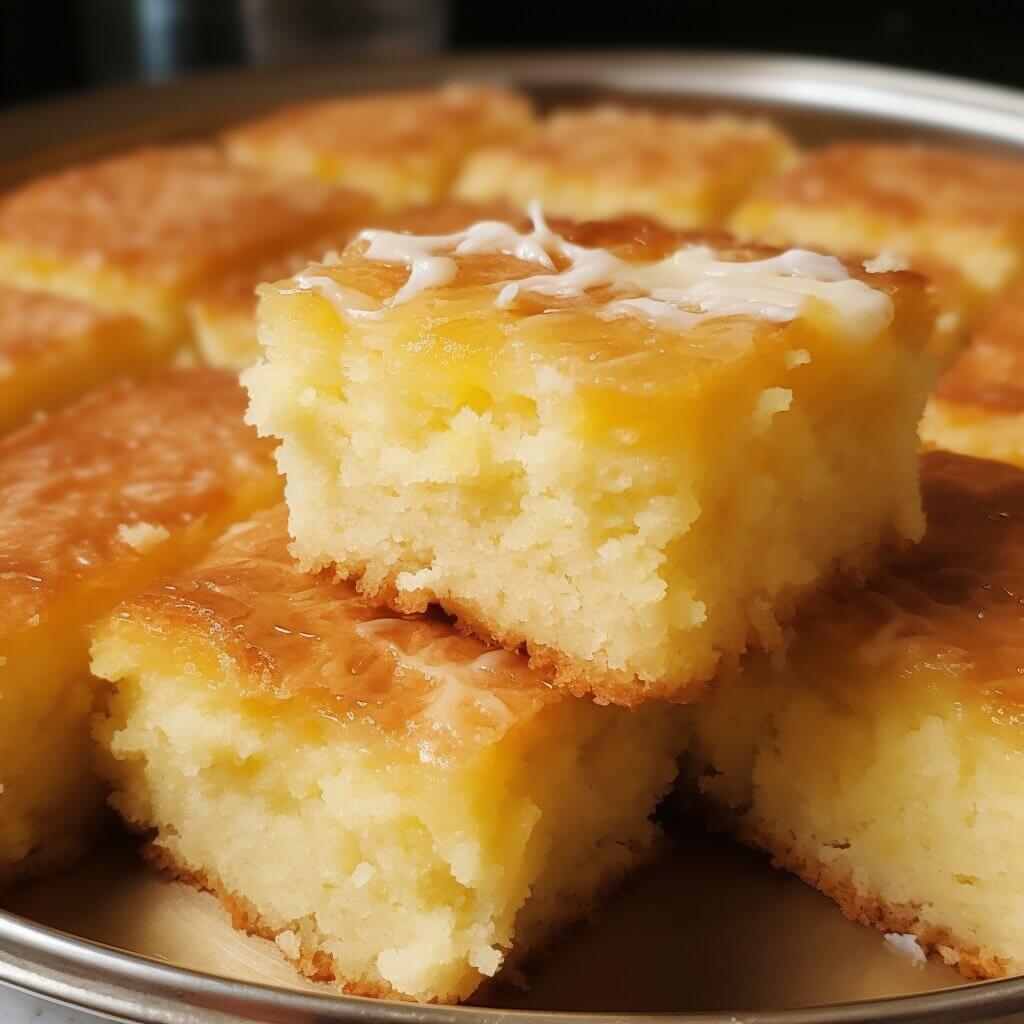 sometimes you just get a major craving for a taste of the tropics. I'm talking toes-in-the-sand, palm-trees-swaying, Hawaiian-breeze-in-your-hair kind of paradise. Luckily, I've got the perfect treat to bring those island vibes home – pineapple cake bars!
With their insanely moist crumb, crazy delicious pineapple flavor, and that toasted coconut on top? Uh yeah…these bars basically transport your tastebuds to a Hawaiian getaway with every bite. I'm not even kidding. Take one nibble and suddenly you're basking on the warm sands of Waikiki beach.
I absolutely love whipping these up for summer parties and barbecues. Fair warning though – they go fast! Something about the combo of sweet, juicy pineapple and the rich, buttery vanilla cake…it's just impossible to stop munching until the very last crumb is gone.
So if you're looking for a fun, tropical dessert guaranteed to be a big ol' crowd pleaser, look no further. These bars nail that balance of sweet and tangy from the pineapple, with the most soft and tender crumb ever. And bonus – they come together in a jiffy with simple ingredients you've probably got in the pantry right now.
Let's dive into this super simple recipe so you can start enjoying a little Hawaiian escape, anytime those island cravings hit!
When it comes to the pan for these bars, what are we looking for?
Great question! The ideal pan is one that's 8×8 inches and square shaped. This size and shape will let you get nice, even bars once baked up and cut. Make sure to grease that puppy or line it with parchment so they pop out like a breeze.
Ooo, and I'm betting you're wondering – can I use fresh pineapple instead of canned if I have it?
You totally can! Fresh pineapple is so tasty in these bars. Just be sure to drain any excess liquid from the chopped fruit first, so it doesn't get too soggy in the batter. Chop it into small, 1/4 inch pieces so it incorporates well. Then go ahead and mix those fresh pineapple chunks right into the batter.
How long will these bars keep?
Stored airtight at room temperature, they'll stay fresh for 3-4 days.
What other fruit can I use instead of pineapple?
Mango or peach would also be delicious!
Do I need any special equipment to make these?
Nope, just basic kitchen tools like mixing bowls and a whisk.
Can I dress these up for a party?
Definitely! Drizzle with melted white chocolate or dust with powdered sugar.
What's the baking time?
These take about 35 minutes in a 350°F oven until golden on top.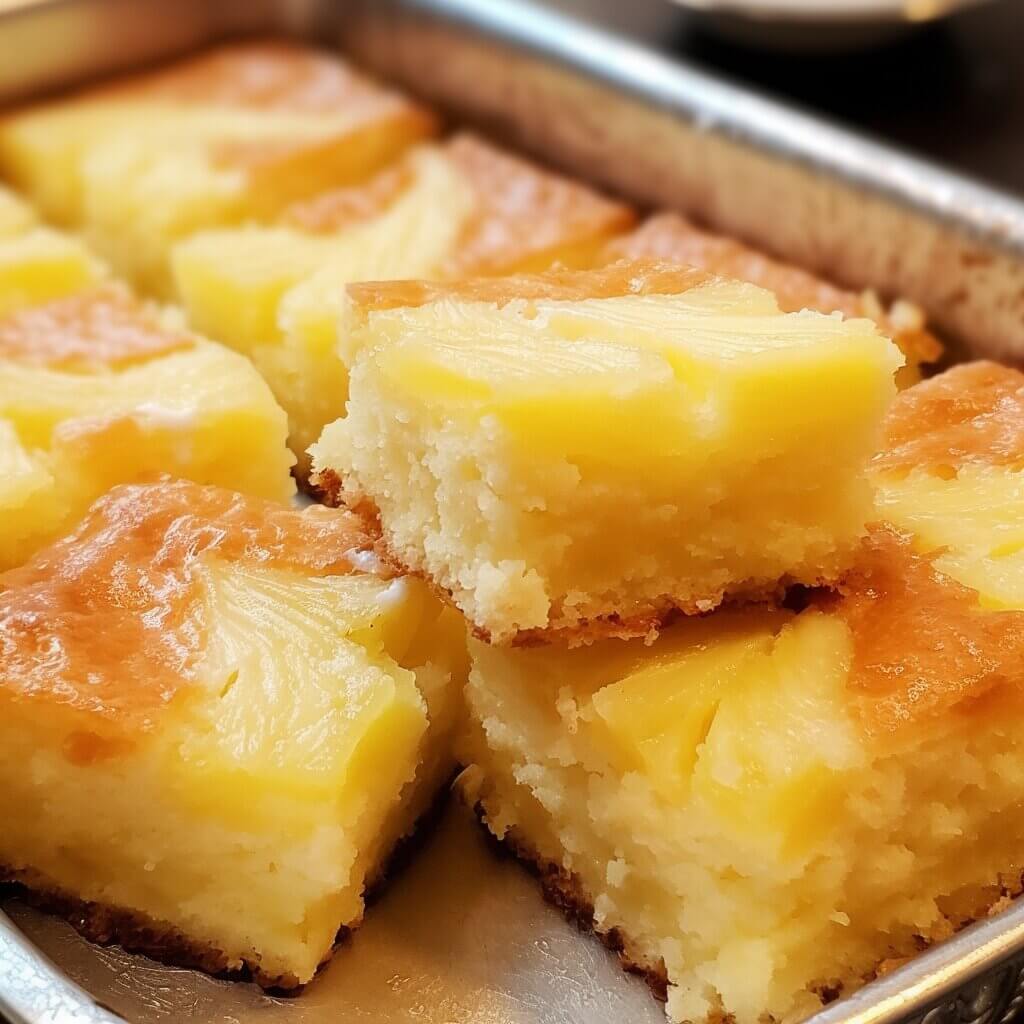 Prep Time: 15 minutes
Cook Time: 35 minutes
Total Time: 50 minutes
Ingredients:
2 1/4 cups all-purpose flour
1 3/4 cups granulated sugar
1 tablespoon baking powder
1/2 teaspoon salt
6 tablespoons unsalted butter, melted
2 large eggs
1 (15 ounce) can pineapple tidbits, drained with juice reserved
1 tablespoon vanilla extract
1 cup sweetened flaked coconut
Instructions:
Start by preheating your oven. Turn the oven knob or press the buttons to set the temperature to 350°F. Allow the oven to fully preheat, which usually takes 15-20 minutes. Proper preheating is key for evenly baked bars!
While the oven heats up, prepare an 8×8 inch baking pan. Rub the inside of the pan lightly with butter or nonstick cooking spray to prevent sticking. Cut a piece of parchment paper to fit the bottom and sides of the pan. Gently press the parchment into the pan, allowing the paper to overhang on two sides to create handles for easy lifting after baking.
In a medium sized mixing bowl, combine the flour, sugar, baking powder, and salt. Use a wire whisk to vigorously mix the dry ingredients together until fully incorporated and no flour clumps remain. Break up any large clumps with your fingers to ensure the ingredients are well blended.
Crack the eggs into a separate medium sized bowl. Add the melted butter, drained pineapple tidbits, reserved pineapple juice from the can, and vanilla. Whisk thoroughly with a fork until the wet ingredients are fully blended and smooth.
Pour the pineapple egg mixture into the dry ingredients. Using a rubber spatula, gently fold the wet and dry ingredients together, just until combined. Avoid overmixing, which can cause the bars to be dense or tough. The batter will be thick and sticky.
Transfer the cake batter to the prepared pan, spreading it evenly into the corners and edges. Use an offset spatula or knife to smooth the top.
Sprinkle the sweetened flaked coconut evenly over the batter. Gently press the coconut flakes into the batter so they adhere.
Bake the bars on the middle oven rack for 35 minutes. Halfway through, rotate the pan 180 degrees for even baking. The bars should turn golden brown on top and a toothpick inserted into the center should come out clean when they are finished baking.
Let the pan cool completely on a wire rack, about 1-2 hours. Then use the parchment paper handles to lift the bars out of the pan. Cut into squares and enjoy!
Cooking Tips:
Try using pineapple juice instead of milk for even more flavor.
Add 1/2 cup chopped macadamia nuts to the batter for delicious crunch.
Frost cooled bars with cream cheese frosting for extra decadence!
Store leftovers in the fridge for 5-6 days.
Switch up the fruit with mango, peaches, or berries for seasonal variety.
Dust with powdered sugar or add a dollop of whipped cream before serving.