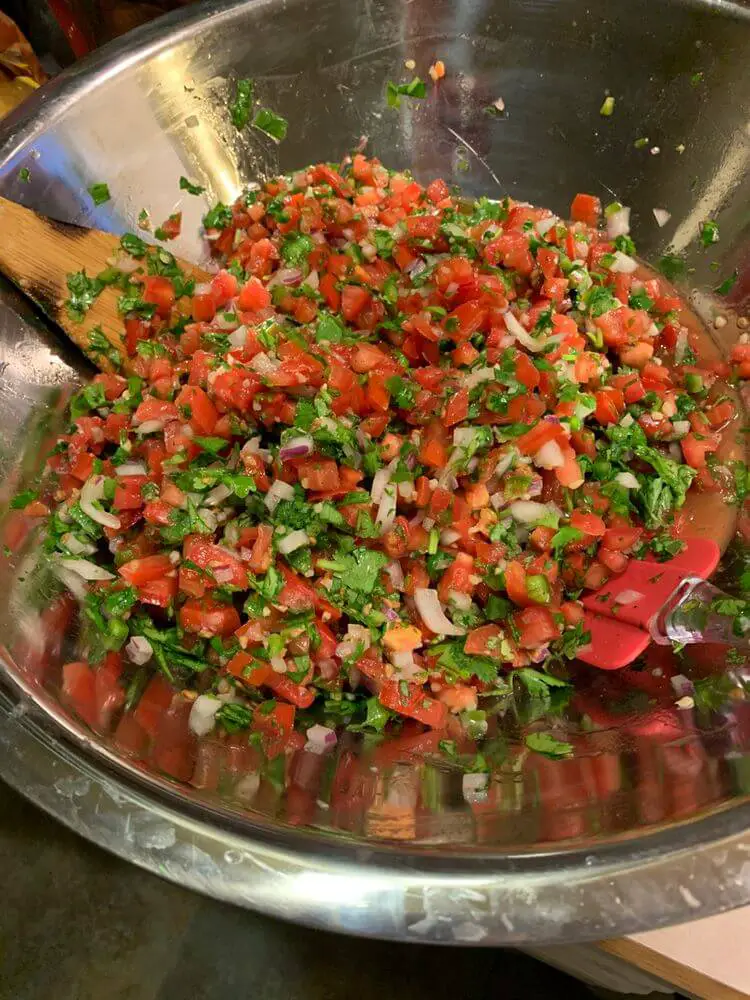 Pico de gallo is a type of salsa native to Mexican lands. This dish is among the oldest food items on the land. It is believed that pico de gallo was invented during the Aztec time. The original recipe consisted of onions, tomatoes, and jalapeno. Over time, the recipe included cilantro and lime juice as well. Pico de gallo is a great side dish and is very refreshing and healthy.
Is pico de gallo and salsa the same?
Most people get confused and think pico de gallo and salsa are the same. Although the two dishes usually have almost the same recipes, these are not the same thing. In fact, the two have a few differences that set them apart.
The main difference between salsa and pico de gallo is that of texture. Since the tomatoes are very finely chopped in salsa, they are almost blended. As a result, a salsa is a bit runny. Whereas in pico de gallo, the ingredients are a bit chunky, making it mouthful and less runny.
In other words, a pico de gallo is a chunkier version of salsa.
How to serve pico de gallo?
There are so many ways you can serve pico de gallo; these are:
Guacamole: you can mix pico de gallo with guacamole or serve the two together. The creaminess of guacamole and the chunky pica de Gallo is perfect.
Tortilla chips: Pico de gallo is perfect for serving with tortilla chips. It is a good snack option.
Nachos: You can top your nachos with pico de gallo and sour cream and enjoy the crunch and juiciness of the ingredients.
Tacos: Pico de gallo is a good choice for spooning on tacos. It is just as refreshing as a salsa.
Main course: You can serve it over rice, noodles, or even scrambled eggs. Moreover, it is a good side with your main course like a chicken roast, steak, fish and even with burgers.
Variation ideas
Here are a few ways to add more flavors to pico de gallo:
Bell peppers: Add green, yellow or red bell peppers to this recipe to make it more crunchy and tasteful.
Serrano: You can use serrano peppers instead of jalapeno as well.
Cucumber: Bring in the freshness of cucumber to this pico de gallo.
Fruits: Balance the spicy and tangy flavor of pico de gallo with the sweetness of fruits like mango and peach.
Pico De Gallo: The Recipe
Preparation Time: 10 minutes
Cooking Time: N/A
Total Time: 10 minutes
Servings: 4
Ingredients
4 medium red tomatoes, diced
1 cup medium red onion, finely chopped
1 jalapeno pepper, seeded and finely chopped
½ cup fresh cilantro, chopped
3 tbsp fresh lime juice
½ tsp minced garlic
Salt, to taste
Black pepper, to taste
Preparation
Wash the tomatoes, chop them place them in a large bowl.
Finely chop onions, jalapeno, and fresh cilantro and add them to the bowl as well.
Add minced garlic, lime juice, salt, and black pepper.
Mix so that everything is well incorporated.
Place the bowl in a refrigerator for 4 hours to overnight.
Enjoy!