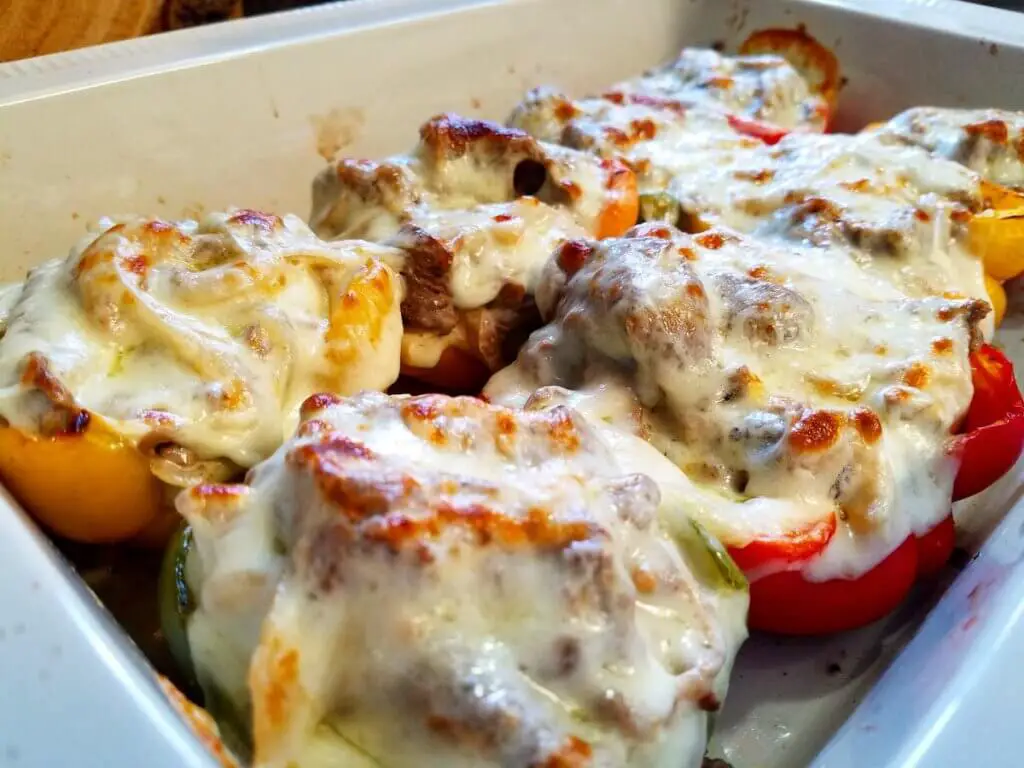 Hey there, my food-loving friends! I'm beyond thrilled to let you in on a culinary secret of mine – a vibrant, flavorful, and oh-so-satisfying dish that brings together the charm of a classic Philadelphia Cheesesteak with the goodness of fresh bell peppers. Let's dive into our unique, health-friendly recipe: the "Philly Cheesesteak Stuffed Bell Peppers". Trust me, it's a delightful ride of savory flavors without the worry of those extra carbs.
Let's kick-start with bell peppers. They're more than just the vibrant containers for our filling; they add a beautiful color and a unique flavor to our dish. Pick your favorite – red, orange, yellow, or green. While the former three are on the sweeter side, the green bell peppers lend a little bitter touch. And yes, do opt for the larger ones – we need all the room we can get for that juicy steak filling!
Speaking of steak, let's chat about our protein hero. I personally love top round steak – it's lean, full of flavor, and kind to our wallets. But don't sweat it if you can't find it. Feel free to substitute with flank steak, sirloin, or strip steak. And for those wanting to lighten it up or even go vegetarian, thinly sliced chicken breast, ground turkey, crumbled tofu or your favorite meat substitute will work wonders too!
Our secret to that beautifully bronzed, melted cheese atop our peppers? The broiler! Position your peppers about 5 inches away from the heat, but keep a keen eye on them – we don't want to overdo it!
Okay, let's tie those aprons tight and get our hands deliciously dirty!
Ingredients:
2 large bell peppers, halved and seeds removed
1 tablespoon extra-virgin olive oil
1 large onion, halved and thinly sliced
8 ounces of mushrooms, thinly sliced
12 ounces of top round steak, thinly sliced
1 tablespoon Italian seasoning
1/2 teaspoon black pepper
1/4 teaspoon salt
1 tablespoon Worcestershire sauce
4 slices provolone cheese
Instructions:
Preheat your oven to 375 degrees Fahrenheit.
Arrange your bell pepper halves on a rimmed baking tray and pop them into the oven. Bake until they are tender but still hold their shape, which should take about 30 minutes.
Meanwhile, in a large skillet, heat your olive oil over medium heat. Add the onions and sauté until they get a lovely brown tint, around 4 to 5 minutes.
Time to add the mushrooms to the skillet. Cook them until they are soft and juicy, which will take another 5 minutes.
Now, stir in your sliced steak, Italian seasoning, black pepper, and salt. Continue to cook until the steak is cooked, but still juicy – about 3 to 5 minutes should do. Take off the heat and mix in the Worcestershire sauce.
Switch your oven to the broiler setting, cranked up to high. Divide your filling among the baked bell peppers, topping each one with a slice of provolone cheese.
Finally, broil your stuffed peppers about 5 inches from the heat until the cheese is beautifully golden-brown. This should take about 2 to 3 minutes.
Note:
Choose the right ingredients: Large bell peppers and top round steak are ideal.
Pay attention to preparation: Thinly slice your onions, mushrooms, and steak.
Bake the peppers correctly: They should be tender but still firm.
Prepare the filling correctly: Brown the onions, soften the mushrooms, then add the steak and seasonings.
Broil with care: Top with cheese and broil until golden, watching closely to avoid burning.
Pair smartly: Serve with cauliflower rice or a salad for a low-carb meal, or opt for traditional roasted potatoes.