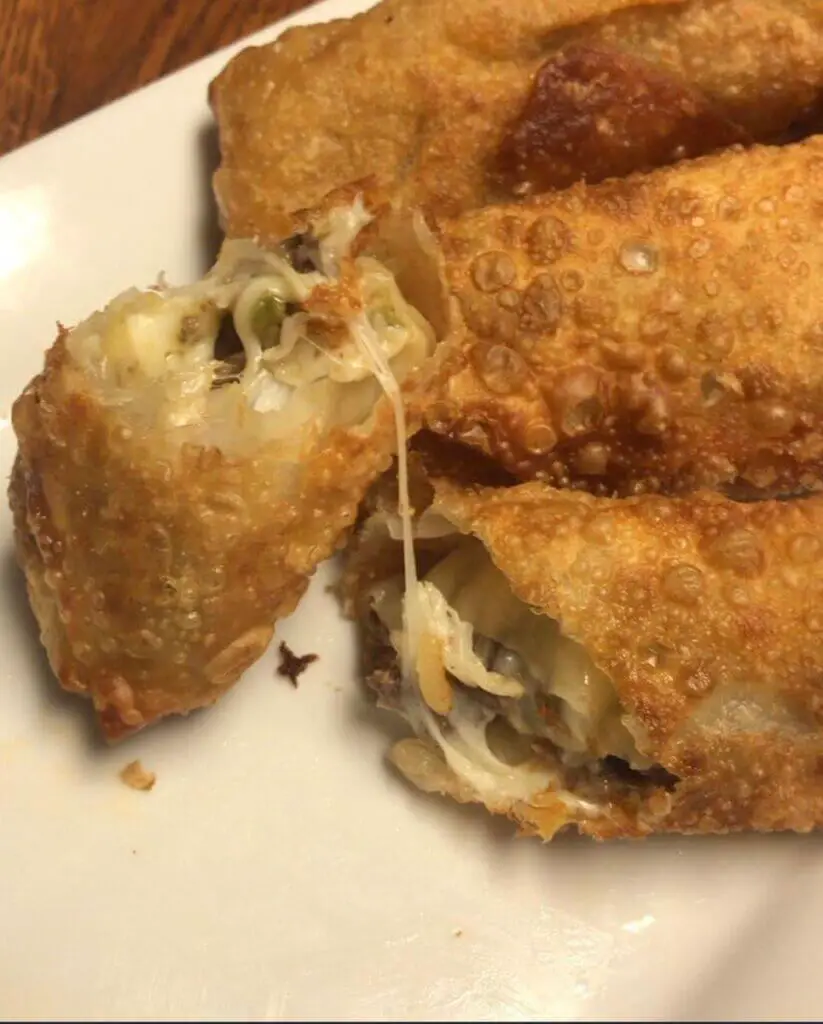 Philly Cheesesteak Egg Rolls – a delicious and easy-to-make appetizer that is perfect for any occasion.
Philadelphia is famous for its Cheesesteaks, so I thought it was about time that got a makeover. I've taken the iconic food and turned it into an even more delicious dish with the addition of an egg roll wrapper.
This recipe is amazing, and I don't say this lightly. I'm a big cheesesteak fan, but sometimes the bread can get a bit heavy. The way to fix this? Egg Rolls. Don't get me wrong, this recipe is a bit complex, but it's totally worth it.
These rolls are incredible I can't tell you how much I liked them. I think they will make a great addition to any buffet table or snack table or even just as a main dish. I am happy to have found a way to make a delicious Philly Cheesesteak and be able to serve it in a way that people who are not ready for the hoagie roll can enjoy it.
Serving: 12
Prep Time: 10 minutes
Cook Time: 20 minutes
Total Time: 30 minutes
Ingredients:
1 1/2 tbsp butter
1/2 cup chopped onion
1chopped green bell pepper
1 pound coarsely or sliced chopped boneless rib-eye steak
pepper (to taste)
salt (to taste)
12 egg roll wrappers
Oil (for frying)
provolone cheese: 6 slices
Instructions:
Take a large pan and melt half butter in it over medium heat. Add onion and peppers and cook until softened (3-4 minutes)
Take out the onion and peppers from the pan. Put a cover on these vegetables to keep them warm.
Now melt the remaining half butter in the same pan and pour in the rib eye to it. Then season with pepper and salt. Cook for 4-5 minutes (until browned).
Place the vegetables again into the pan and cook for 1 minute.
Spread a wrapper on the countertop and place half slice of the cheese in center of the wrap.
Put 2-3 tbsp of steak and vegetable filling onto the wrapper. Fold these rolls according to the instructions by manufacturers.
Take a deep pan and pour 3-4 inches of oil into it. Heat the oil to 350-360 °F. Fry 2-3 egg rolls at one time. But keep turning the occasionally until lightly brown all over.
Put the rolls over a paper towel and drain extra oil. Serve them with the dipping sauce.
Tips & Tricks:
If you want to bake your rolls, simply coat them with the cooking spray. Then bake for 18-20 minutes until crispy at 425 °F.
Creamy dipping sauce such as horseradish and ranch sauce are the best options to serve with.
Make sure that the meat size is small. It will be easier to fill and bite into the egg rolls.
If you are mushroom lovers, feel free to add small diced mushrooms to your filling.
How to store Philly Cheesesteak Egg Rolls?
After making the rolls, you can fry them immediately or store them in an airtight container in the fridge for one day. You can also freeze them for 1 month. When you want to fry, take them out from the freezer and put them on the countertop for an hour before frying.
If you tried our Philly Cheesesteak Egg Rolls recipe, share your experience in the comment box below. We would love to hear from you. And don't forget to share the recipe with your friends and family, they will like it too.