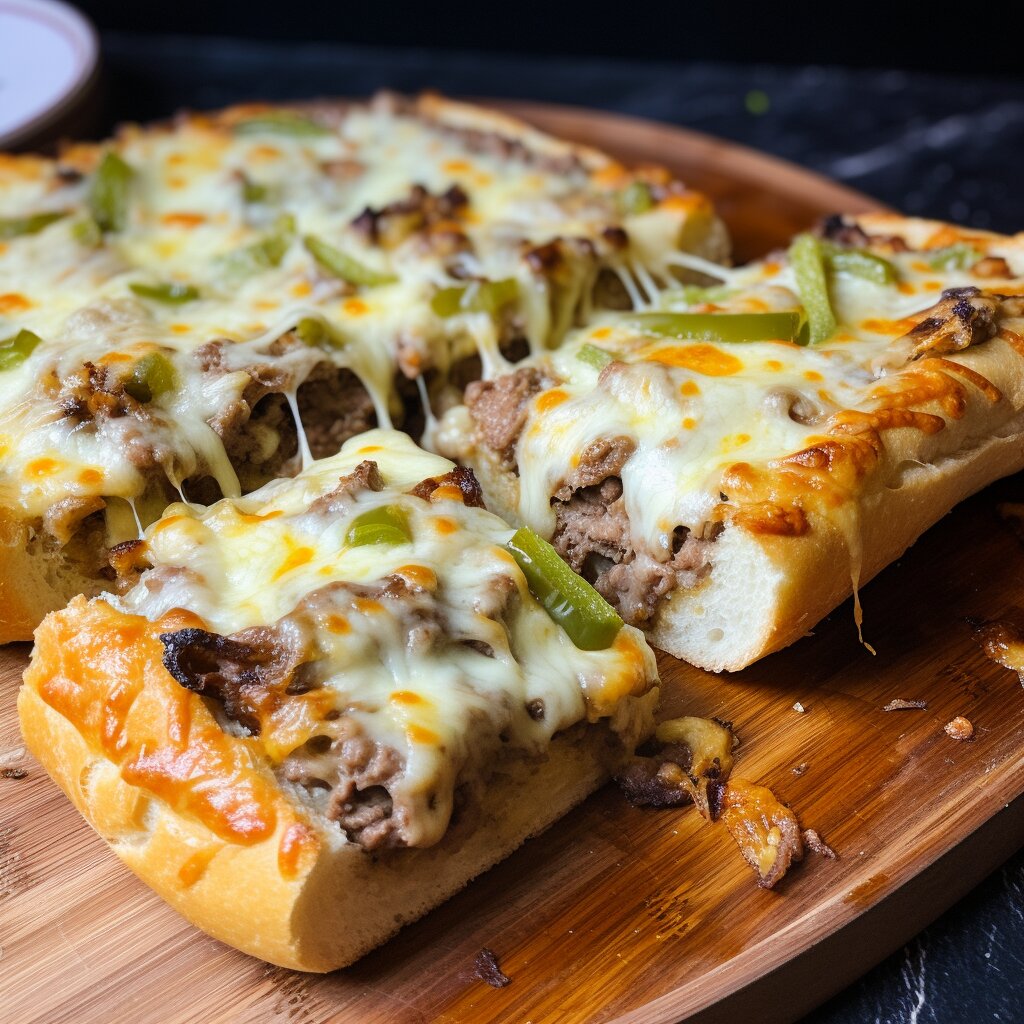 Hello, food-loving friends! If you've been following my blog "Life with Jeviko" at jeviko.com, you know how much I adore reinventing classic recipes. Today, I'm going to share a recipe that marries the classic flavors of Philly Cheesesteak with the irresistible allure of cheesy bread. Intrigued? You should be!
Have you ever wanted to bring the vibrant tastes of a Philly food stand right into your kitchen? Ever craved a late-night snack, only to wish for something hearty yet simple? Well, my dear readers, today's the day your culinary wishes come true. Let's embark on this flavor-packed journey together!
Why should you make Philly Cheesesteak Cheesy Bread?
Is it true this dish combines two all-time favorites?
Absolutely! The fusion of a Philly Cheesesteak with cheesy bread is a match made in heaven.
Do I need professional skills to make this?
Not at all! With the step-by-step guide below, anyone can create this masterpiece.
Is it as flavorful as it sounds?
It's even better! Every bite is a blend of gooey cheese, succulent beef, and freshly baked bread.
Can it be a meal in itself? Certainly!
Pair it with a side salad, and you've got a full meal.
What if I don't have all the ingredients?
Don't sweat it! I've included some handy cooking tips at the end to help you with alternatives.
How to Store Philly Cheesesteak Cheesy Bread?
Storing:
Cooling: Allow bread to cool to room temperature.
Short-term: Wrap in aluminum foil; refrigerate for 1-2 days.
Long-term: Portion, wrap in foil/plastic, place in airtight freezer bags, and freeze up to 1 month. Label with date.
Reheating:
From Fridge: Preheat oven to 375°F (190°C). Bake for 10-15 minutes.
From Freezer: Directly bake for 20-25 minutes at 375°F (190°C).
Note: For best texture, avoid microwaving.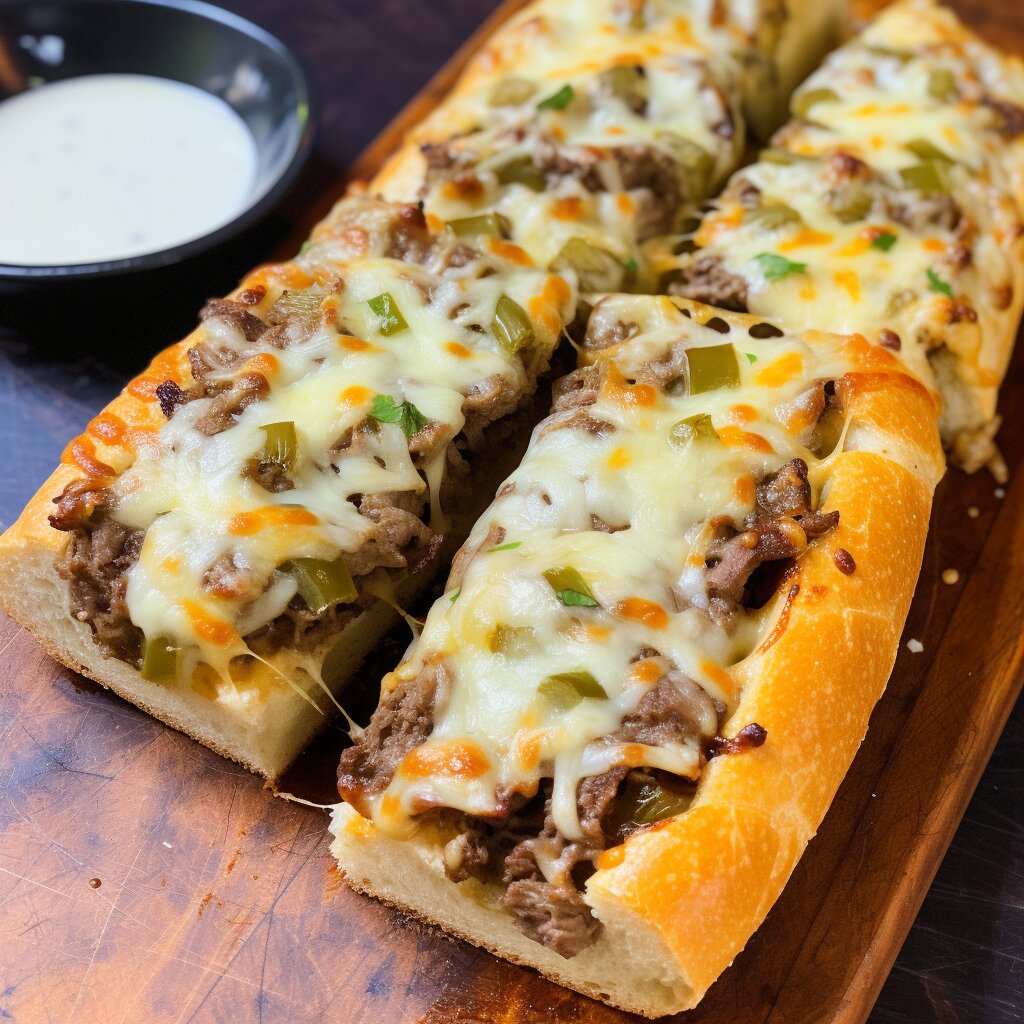 Prep Time: 20 minutes
Cook Time: 25 minutes
Total Time: 45 minutes
Ingredients:
1 large loaf of French bread (about a foot long)
1 lb of thinly sliced ribeye steak
1 cup of diced bell peppers (red and green mixed)
1 medium-sized onion, finely sliced
2 cups of grated provolone cheese
2 tablespoons of olive oil
Salt and pepper, to taste
Instructions:
Preheat and Prep: Begin by preheating your oven to 375°F (190°C). As it warms, slice your French bread in half lengthwise but don't cut all the way through. You want it to open like a book. Set aside.
Sauté Veggies: In a large skillet, heat the olive oil over medium heat. Add in your finely sliced onions and diced bell peppers. The reason we're using both red and green bell peppers is to give a delightful color contrast and a slightly varied taste profile. Sauté until they're soft and translucent.
Cook the Steak: Add the thinly sliced ribeye steak to the skillet. Season with salt and pepper. The thin slices ensure rapid cooking and a tender bite. Cook until the steak is browned but not overly done.
Assemble the Bread: Lay the prepped French bread on a baking sheet. Load up the steak and veggie mix onto the bread. Spread it evenly to ensure every bite is as delectable as the last. Now, sprinkle the grated provolone generously over the top. Provolone melts beautifully, providing that gooey texture we all adore.
Bake to Perfection: Slide your loaded bread into the preheated oven and bake for about 10-12 minutes or until the cheese has melted and is slightly golden. The aroma will let you know when it's almost done!
Serve and Enjoy: Once out of the oven, let it cool slightly. Slice into individual portions, serve, and witness the magic of Philly in your very kitchen.
Cooking Tips:
Cheese Choices: If you can't find provolone, mozzarella makes a great alternative.
Meat Matters: Thinly sliced sirloin can replace ribeye.
Veggie Varieties: Feel free to add mushrooms or other favorite veggies.
Bread Back-up: Italian bread can stand in for French bread.
Spice it Up: If you like some heat, sprinkle in red chili flakes while sautéing.
Storing Leftovers: Store in an airtight container and reheat in the oven for best results.