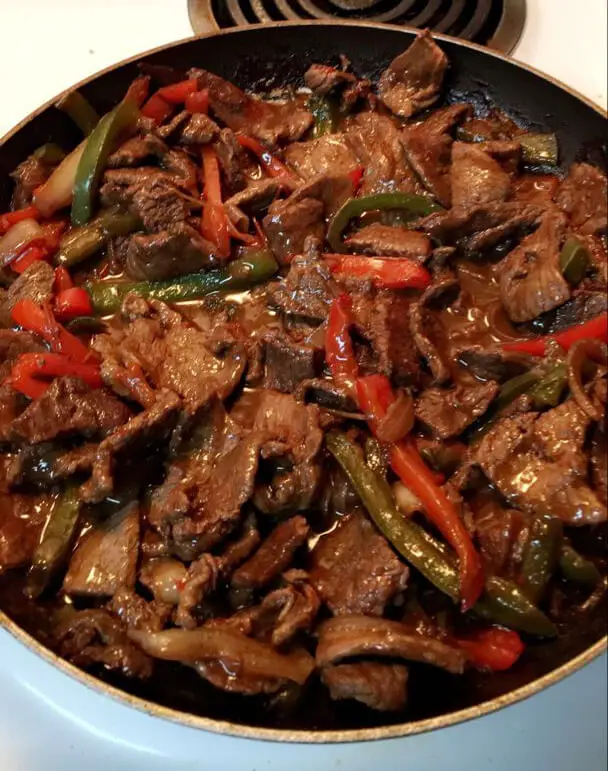 Pepper steak is a simple and utterly tasteful dinner idea for both weekdays and weekends. It is a quick recipe that you can enjoy with a number of sides. The tender meat, crunchy vegetables, and tons of flavor make it everyone's favorite.
Tips to remember
Here are a few tips you should follow when making this pepper steak recipe:
• You can use any boneless meat cut for this recipe.
• You can use more vegetables like broccoli or carrots in this recipe.
• To get a bit of gravy in this recipe, add beef stock and cornflour. The beef stock will give it a liquid texture and will also enhance the beefy flavor. At the same time, the cornflour will thicken the gravy.
• Always cook the vegetable separately and add them in the end for a crunchy texture.
What to serve pepper steak with?
Here are a few sides that go very well with pepper steak:
• Rice: Rice is a versatile dish that goes well with almost everything. And pepper steak is no different. You can serve pepper steak with cooked white rice or brown rice, and it will taste just right.
• Mashed potatoes: Pepper steak served on a bed of fluffy mashed potatoes is divine.
• Noodles: Serve with over the noodles, and I bet it will make your day.
How to store Pepper Steak?
Store the leftover pepper steak by placing it in an air-tight container and refrigerating.
Pepper Steak recipe
Preparation Time: 20 minutes
Cooking Time: 15 minutes
Total Time: 35 minutes
Servings: 4
Ingredients
1 ¼ lb. flank steak or top sirloin steak, thinly sliced
3 tbsp olive oil, divided
1 medium onion, sliced into rings
1 green bell pepper, cut into strips
1 red bell pepper, cut into strips
2 tsp garlic, minced
1 tsp ginger, minced
2 tbsp red wine
2 tbsp soy sauce
1 tbsp sugar
2 tbsp rice wine vinegar
Black pepper, to taste
Salt, to taste
Preparation
In a large skillet, heat about a tablespoon of oil. Add onions and saute for a minute or two until they turn translucent and start getting color. Remove the onions and place them on a plate.
Next, add a tablespoon of olive oil and saute green and red bell peppers for about 2 minutes until they get to color and are still crunchy. Remove them from the skillet onto a plate.
Heat a tablespoon of oil and add steak slices. Cook them on medium-high flame for 3 to 4 minutes or until they start getting color.
Add minced garlic and ginger and cook for a few seconds until fragrant.
Now, pour red wine and cook for a minute or until it deglazes.
Add soy sauce, sugar, rice wine vinegar, and cook for a few seconds.
Once the beef is cooked, add the sautéed vegetables and season with salt and black pepper.
Once done, serve hot.