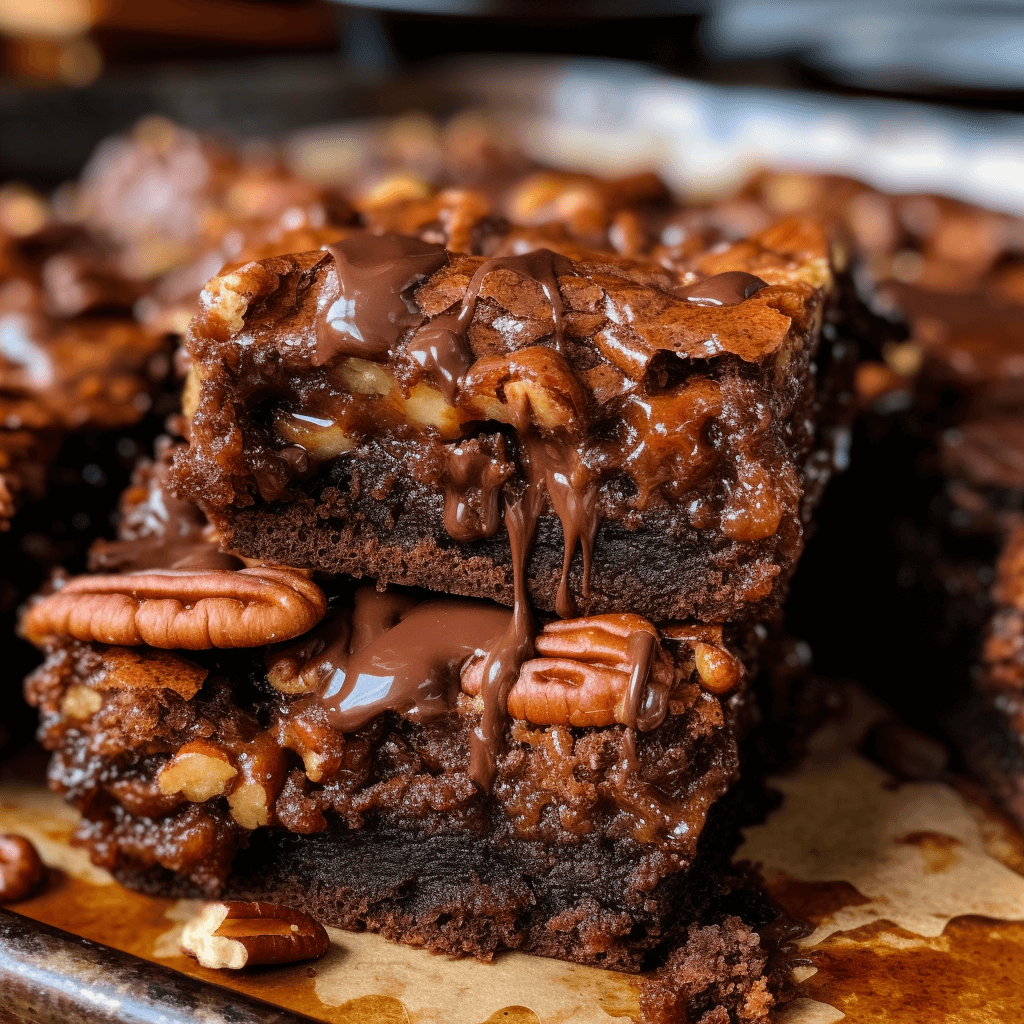 Hey there, amazing readers of Life with Jeviko! 🌟 Are you in a dessert conundrum? Perhaps stuck choosing between a classic brownie and an elegant slice of pecan pie? Well, hold onto your aprons, because today we're blending these two iconic desserts into one: Pecan Pie Brownies! Imagine the lusciousness of brownies married to the crunch of pecans—yes, it's as heavenly as it sounds!
Why You Shouldn't Miss Out on This!
You might be wondering, "Why on Earth would I mix pecan pie and brownies?" Simply put, this dish encapsulates the art of dessert fusion at its finest. It's like the chocolatey, fudgy brownies are throwing a party and the pecans bring along their sweet, crunchy flavor. It's a match made in culinary heaven!
Why should I make Pecan Pie Brownies?
Trust me, if you're a fan of brownies and you're a fan of pecan pie, this combination is like a match made in dessert heaven. It's a layered experience of fudgy brownie goodness topped with a crunchy, nutty pecan layer. Essentially, it's two desserts in one, and it's glorious.
Is this recipe complicated?
Not at all! If you can mix a standard brownie batter and sprinkle some pecans, you're more than capable of creating this masterpiece. It's a straightforward process that yields an extraordinary result.
Do I need any special ingredients?
Nope! The ingredients list consists of everyday pantry items like flour, sugar, and butter, with the addition of pecans for that pie-like magic. If you have a stocked baking pantry, you're already halfway there.
Can I customize this recipe?
Absolutely! Feel free to experiment with additional flavors like chocolate chips or even a hint of caramel. Make it your own; that's the beauty of baking!
Why do I have to let it cool completely?
I get it, waiting is hard, especially when your kitchen smells like a bakery. But allowing the brownie to cool ensures that the layers set properly. It also makes slicing a whole lot easier.
Are you intrigued yet? I promise, this dish has all the makings of a classic; it's easy, incredibly tasty, and brings a gourmet twist to your regular brownie game. Keep reading to find out how to conjure this dessert magic in your own kitchen! 🌟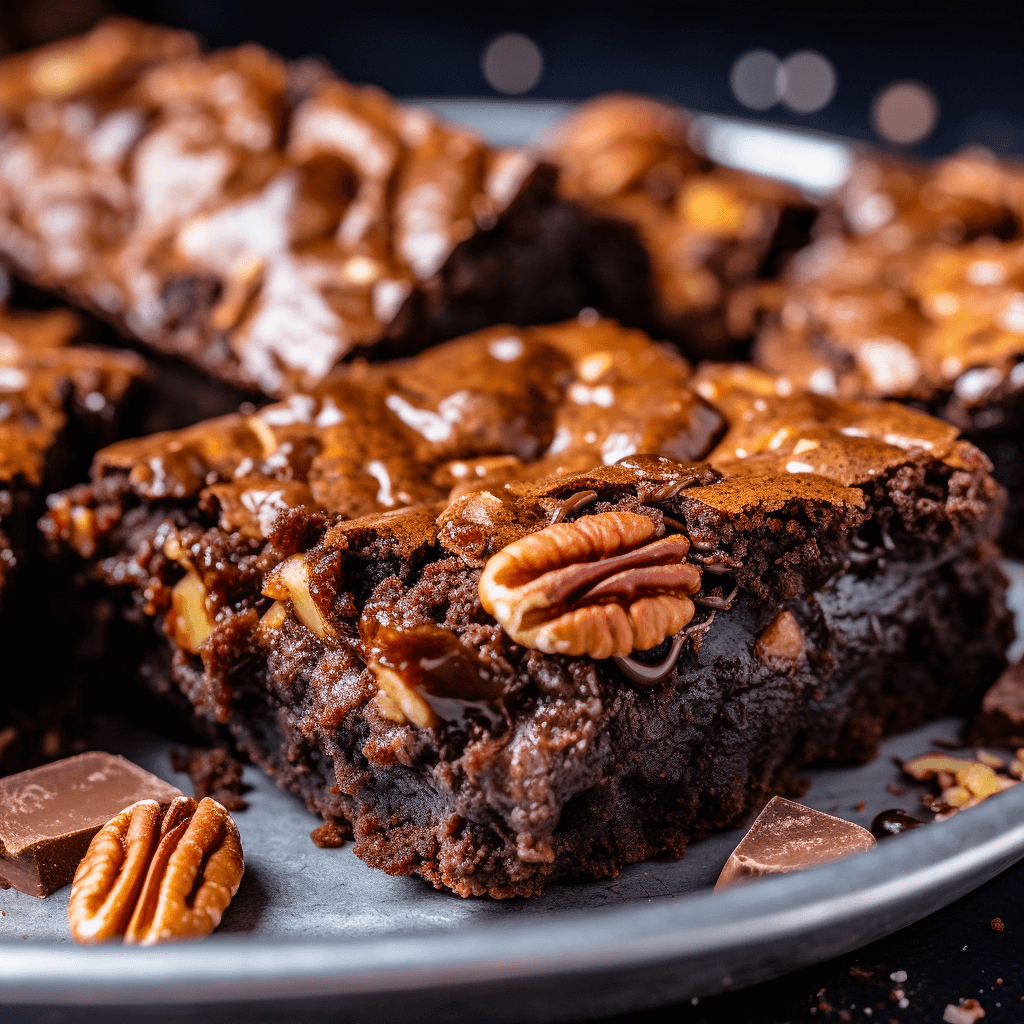 Prep Time: 15 minutes
Cook Time: 30-35 minutes
Total Time: 45-50 minutes
Ingredients:
For the Brownie Symphony:
1 cup (or two sticks) unsalted butter, melted and allowed to cool
1.5 cups white sugar
3 large eggs
1 tsp vanilla essence
1 cup all-purpose flour
1/2 tsp baking powder
A 1/4 tsp salt (just a pinch!)
1 cup pecans, finely chopped
1/2 cup light brown sugar, well-packed
1/4 cup butter, melted
1 tsp ground cinnamon
Instructions:
Preheat your oven to a toasty 350°F. While it's getting warm, grease an 8×8-inch baking pan and give it a light flour dusting. Trust me, you don't want those brownies sticking!
Grab a large bowl and whisk your cooled, melted butter with the white sugar. The aim here is a light, almost fluffy blend. This step gives your brownies that irresistibly smooth texture!
One by one, beat in the eggs. Make sure each one fully integrates before you add the next. Follow this up with a dash of vanilla essence, which adds an undertone of fragrance that elevates the dish.
In a different bowl, sift together the flour, baking powder, and salt. Gradually blend this into your wet mixture. The baking powder is your brownies' rising star—literally!
Fold in the chopped pecans. These little crunch bombs provide an earthy contrast to the fudgy brownies.
Scoop out half of your brownie mix and smooth it into your prepped pan.
In a smaller bowl, toss together the brown sugar, melted butter, and cinnamon. Generously scatter this over your brownie layer. It's like a surprise party for your taste buds!
Pour the remaining brownie mixture over the pecan layer. Smooth it out and it's ready for the oven!
Pop it into your preheated oven for 30-35 minutes. You'll know it's done when a toothpick comes out clean from the center.
Let it cool down completely. I know it's a big ask, but your patience will be rewarded with perfectly fudgy and crunchy brownies!
Cooking tips:
Pan Size Matters: If you don't have an 8×8-inch pan, a 9×9-inch will work too. Just adjust the baking time a little.
Sugar Swap: For a deeper, richer flavor, use dark brown sugar instead of light brown sugar in the pecan pie layer.
Egg Mixing: Incorporate the eggs one at a time into your batter for a smoother, better-bound brownie base.
Flavor Boost: A teaspoon of vanilla extract is all it takes to elevate your brownies to aromatic perfection.
Nutty Twist: Love nuts? Feel free to add more pecans for an extra crunch.
Chocolate Lovers Unite: Add 1/2 cup of chocolate chips to the batter for gooey, chocolatey goodness.
Cooling is Key: Patience is a virtue. Let the brownies cool completely before slicing to ensure they hold their shape and texture.
Happy baking, and may your Pecan Pie Brownies turn out as irresistible as you imagined! 🎉