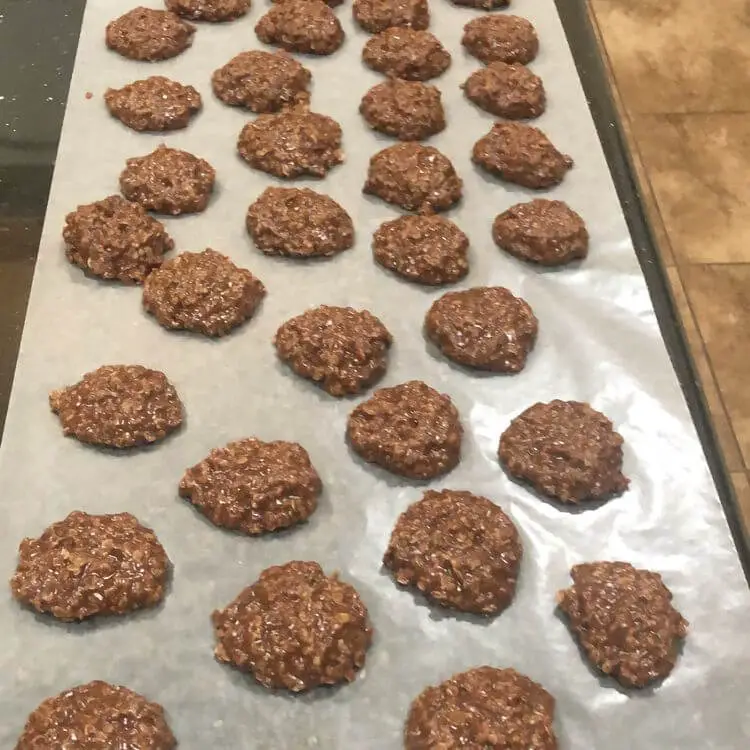 No-bake peanut butter cookies are very easy to make and are very tasteful. Made with five ingredients, you can make these cookies in no more than 15 minutes. These cookies are a good breakfast or snack idea. They are healthy and loaded with flavors. Serve them with a glass of milk or hot chocolate to enjoy the rich flavor of these cookies. Make these in advance and store them for later. These no-bake cookies are very convenient and equally popular among kids.
Variation ideas:
Add a few ingredients to your no-bake peanut butter cookies and make them even more tasteful:
Chocolate: There are so many ways you can add chocolate to these cookies. The easiest way is to add cocoa powder to these cookies.
Chocolate chips: Adding mini chocolate chips is very satisfying. You can add dark chocolate chips, dairy chocolate chips, or even white chocolate chips.
Raisins: Raisins are very tasteful. They also add a chewy texture to the cookies. You can also use dried mulberries as it also adds flavor, texture, and nutrients.
Nuts: Nuts are also another amazing way to add crunch to these cookies. Add roughly chopped walnuts, pecans, and hazelnuts, and enjoy the crunch.
Chunky peanut butter: you can also use chunky peanut butter instead of creamy peanut butter. Because it already has chunks of peanuts in it, it is a good addition to your no-bake peanut butter cookies.
How to store no-bake peanut butter cookies:
Once the no-bake peanut butter cookies are set, you can easily store them by placing them in a jar. Store the jar in a cool, dry place and enjoy! Moreover, you can also refrigerate these cookies.
Plus, you can also freeze these cookies. They will last for up to a month. Simply let them sit at room temperature and enjoy! These no-bake cookies are super tasteful, easy to store, and have a long shelf-life.
Peanut Butter No-Bake Cookies: The recipe
Preparation Time: 10 minutes
Cooking Time: 5 minutes
Total Time: 15 minutes
Servings: 12 cookies
Ingredients:
1 ½ cups rolled oats
1 cups light brown sugar
½ cup creamy peanut butter
¼ cup milk
¼ cup unsalted butter
A pinch salt
Preparation:
In a saucepan, pour milk. Add butter and light brown sugar. Place the saucepan on medium heat and bring it to a boil. Stir constantly.
Meanwhile, in a bowl, add rolled oats and creamy peanut butter. Mix well.
Pour boiling milk mixture over rolled oats and mix well until you get a sticky mixture.
Prepare a baking tray by lining it with parchment paper.
Use an ice cream scoop to scoop the mixture and place it on a parchment-lined baking tray.
Make sure you place about an inch of space between each scoop. Let it sit until the cookies cool down. Or you can also place the baking tray in the refrigerator.
Once the cookies are set, enjoy them with a glass of milk.