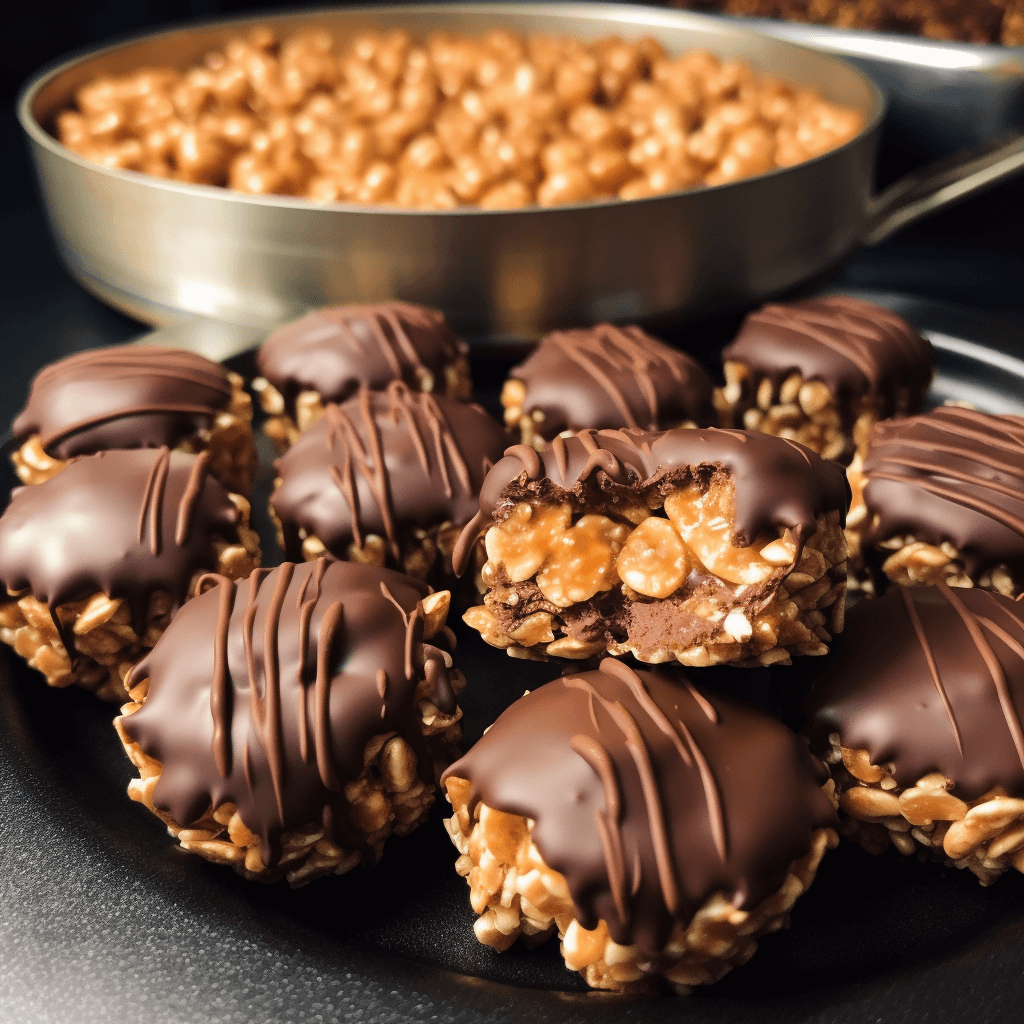 Raise your hand if you love the delightful trio of chocolate, peanut butter, and crispy rice cereal! I'm willing to bet most hands just shot up, including mine. There's just something irresistible about the combination of rich, nutty peanut butter and smooth, creamy chocolate mingling with light, crunchy puffs of rice. It's a match made in sweet treat heaven!
When I'm craving that perfect medley of flavors but don't want to spend hours slaving away in the kitchen, this easy no-bake peanut butter ball recipe is my go-to. In just 15 minutes, I can whip up a batch of these mouthwatering, cocoa-dusted morsels that my whole family devours in record time. I like to keep the ingredients simple – just peanut butter, butter, powdered sugar, and rice cereal. With barely any effort, these five pantry staples transform into the most scrumptious treats that delight kids and adults alike.
I love that you don't need to turn on the oven or stand over a hot stove to make these petite confections. Simply mix up the basic ingredients, shape into balls, coat in crispy cereal, and chill until firm. So easy, even the kids can help roll them! And if you're short on time, the peanut butter mixture can be made ahead of time and rolled into balls later.
These bite-sized peanut butter cocoa gems also happen to be the perfect party snack or homemade gift. Just double or triple the batch for a crowd – they disappear in a flash! Arrange them nicely in candy cups or boxes tied with ribbon if giving as a gift. Your friends and family will be begging you to make these again and again.
So if you're seeking an effortless way to create chewy, chocolatey, nut-filled delights the whole gang will love, give these no-bake peanut butter balls a try. I hope you savor and adore them as much as I do! Now let's get rolling on how to make these irresistible treats.
Let's start with the FAQs:
What makes this peanut butter ball recipe so easy to make?
This no-bake recipe only requires 5 simple ingredients that you likely have in your pantry – peanut butter, butter, powdered sugar, chocolate rice cereal, and cocoa powder. There is no baking required either!
How long does it take to make a batch of peanut butter balls?
From start to finish, you can have these tasty treats ready in just 15 minutes. The prep and cooking time is minimal.
What is the best way to coat the peanut butter balls in the cereal?
For best results, place the chocolate rice cereal in a shallow bowl. One by one, roll the peanut butter balls gently in the cereal, pressing lightly so the coating sticks.
How should you store any leftover peanut butter balls?
Keep them fresh by storing uneaten peanut butter balls in an airtight container in the refrigerator for up to 1 week.
What substitutions can you make to personalize these peanut butter treats?
Feel free to use any cereal or sprinkles instead of the rice cereal coating. You can also swap in semi-sweet chocolate chips for a chocolate drizzle.
Why are these peanut butter balls such a hit for parties and gifts?
Not only are they delicious, but they are eye-catching with their crisp cereal coating.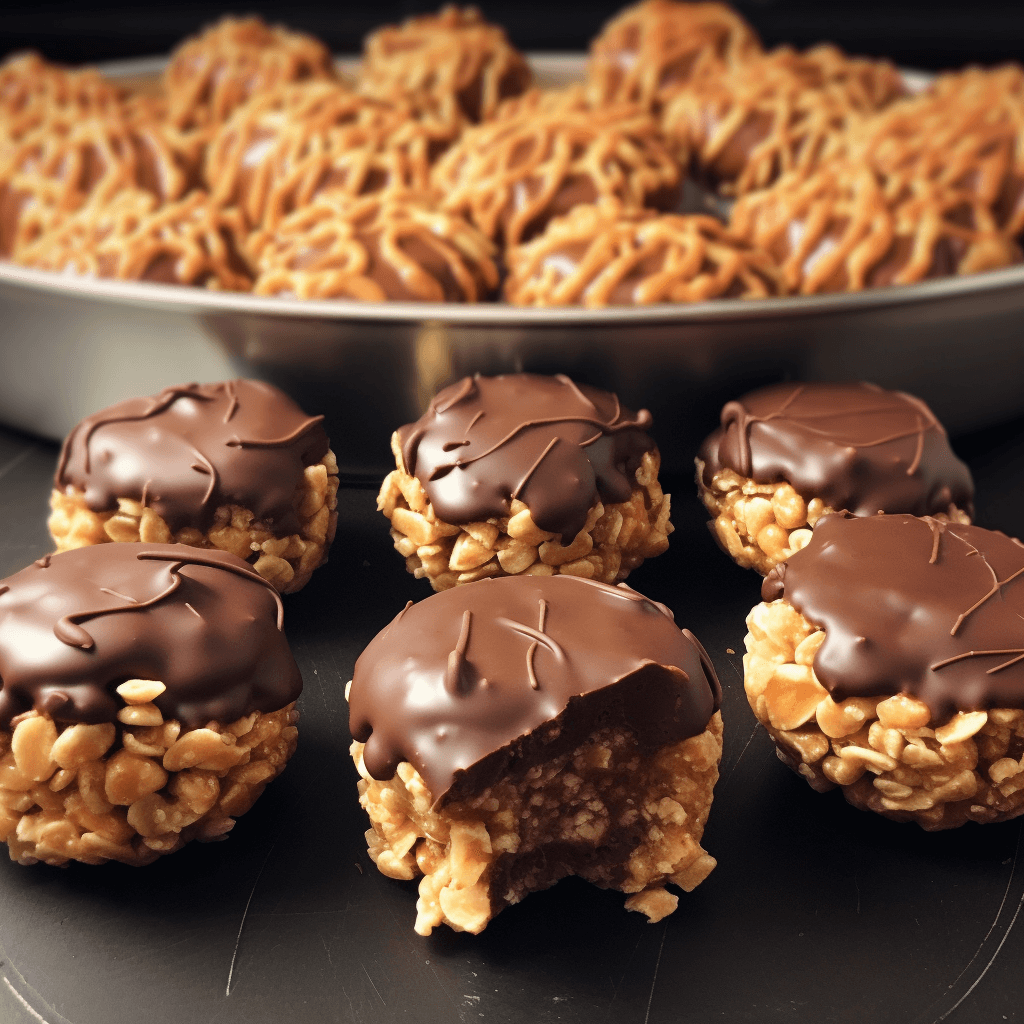 Prep Time: 10 minutes
Cook Time: 5 minutes
Total Time: 15 minutes
Ingredients:
1 1/2 cups creamy peanut butter
1/2 cup butter, softened
1 (16 ounce) package powdered sugar
3 cups chocolate rice cereal
Instructions:
In a large bowl, combine the peanut butter and butter until smooth and blended. I prefer to use my stand mixer fitted with the paddle attachment on low speed for easy mixing.
Gradually add in the powdered sugar, 1/2 cup at a time. Make sure to mix well after each addition so it incorporates fully into the peanut butter mixture.
Once all the powdered sugar has been added, mix for 1-2 more minutes until uniform in texture. At this stage, the mixture should be thick enough to roll into balls.
Line a baking sheet with parchment paper or wax paper. Scoop tablespoon-sized portions of the peanut butter mixture and roll into balls using your hands. Place on the prepared baking sheet.
Put the chocolate rice cereal in a shallow bowl. One by one, roll the peanut butter balls in the cereal to coat all sides. Gently press the cereal into the balls if needed to help it adhere.
Place the coated balls back on the baking sheet. If desired, lightly press additional cereal onto the tops to help decorate.
Refrigerate for at least 30 minutes before enjoying to allow the coating to set up. Store leftovers covered in the refrigerator for up to 1 week.
CookingTips:
For crunchier cereal coating, gently crush the rice cereal into smaller pieces before coating the balls.
Substitute semi-sweet chocolate chips or sprinkles for the cereal coating if preferred.
For gift-giving, arrange coated balls in cupcake liners or candy boxes.
Make a double or triple batch for parties. These disappear fast!