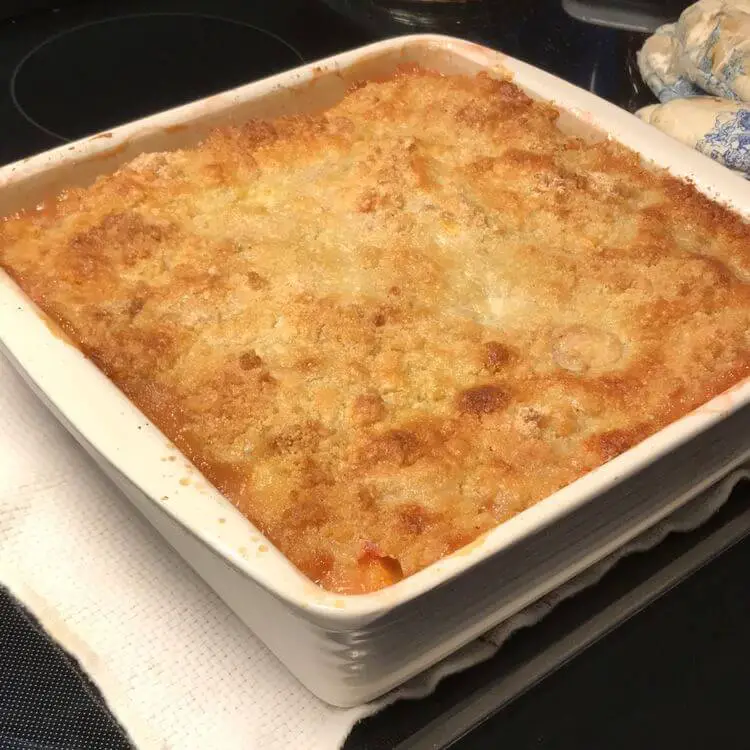 Peach season is among us and I wanted to create a dessert that would make the most of the peaches. I was also looking for a dessert that I could make using Paleo ingredients.
Here I come with the recipe for making Paleo Peach Cobbler. The recipe is super simple and easy to work on. Ingredients are sectioned as per the usage along with the standard quantities. If you want to double it, then do it to manage large servings.
Peach Cobbler is the favourite dessert among peach lovers throughout the summer season. I have been eating this since I was 10 years old. I grabbed this recipe from a chef living next to my door. Since my childhood, I have been crazy about his recipes. You should try this one and then let me know how you experienced it.
This is a gluten-free recipe as gluten intolerance is now becoming a common problem. The preparation time is fifteen minutes and the cooking time is 35 minutes.
Ingredients
Peach Filling
Medium-Large Peaches (peeled and sliced) – 6 (5 cups)
Maple Sugar – 2 tbsp
Cinnamon – ½ tsp
Arrowroot Flour – 2 tsp
Sea salt – 1 pinch
Toppings
Blanched Almond Flour – 1 ¼ cup
Arrowroot Flour – ¼ cup
Maple Sugar – ¼ cup
Sea Salt – ¼ tsp
Ground Cinnamon – 1 tsp
Aluminum Free baking Powder – 1 ¼ tsp
Refined Coconut oil melted – 3 tbsp
Unsweetened Almond Milk – 3 tbsp
Pure Vanilla Extract – ½ tsp
Directions
Prepare the oven for baking. Preheat it to 375 degrees Fahrenheit. Apply non-stick cooking spray on a baking dish or either apply coconut oil with the help of a brush.
Put filling ingredients in a bowl and mix well. Now take peaches and coat them properly with the filling ingredients. Now put them in this mixture in the baking dish and keep it aside.
Take another bowl and add all the topping ingredients. Mix them well until a smooth batter forms.
Divide this prepared batter into four parts and drop spoon by spoon on the peaches.
Put the baking dish in the oven and bake for half an hour. The filling will turn bubbly and topping brown in shade.
Sprinkle cinnamon on the top layer as per taste. It can be served hot or cooled until it reaches room temperature. It is recommended to let it cool for fifteen minutes before you serve it.
You can serve the cobbler with vanilla flavour ice cream or coconut whipped cream.
Nutritional Value
Per each serving,197 kcal of calories,
18 grams of carbs,
3 grams of protein,
14 grams of fat,
What can I use if I don't have maple sugar?
You can use coconut sugar instead of maple sugar.
I don't have arrowroot flour. What can I add instead of it?
You can add tapioca flour if you don't have arrowroot flour.
Every meal is incomplete without a dessert at the end. Cook peach cobbler as a dessert and fill the sweetness gap. Comment if you have any queries.