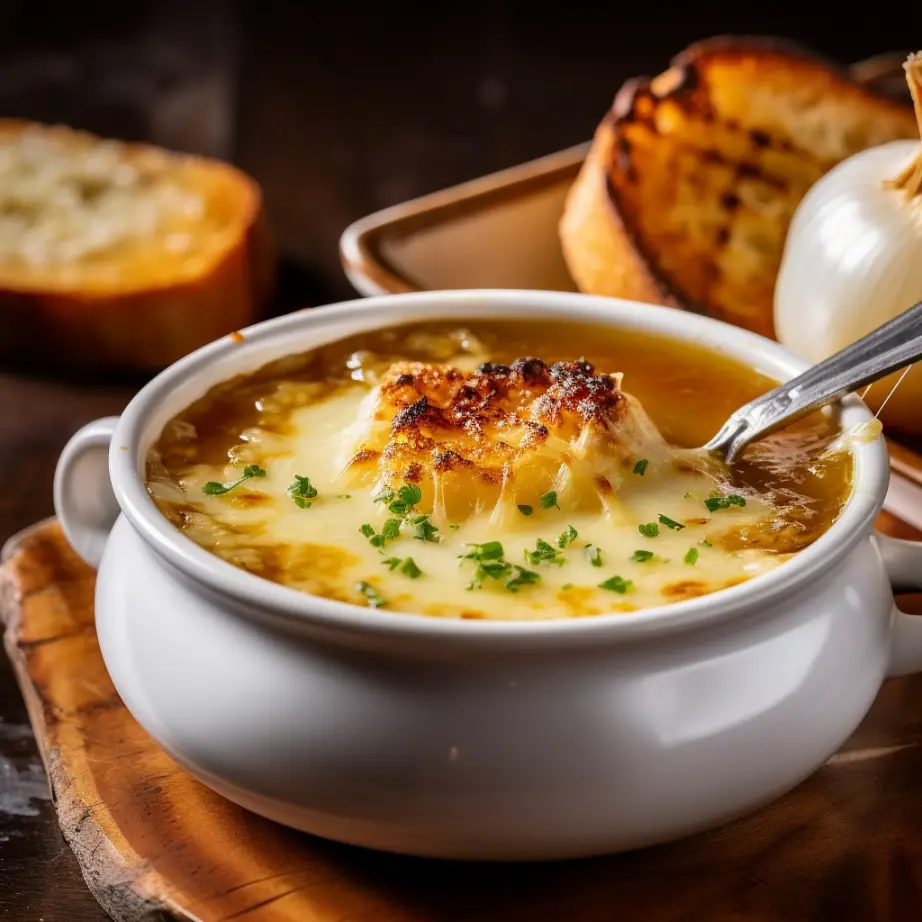 Hey there, culinary adventurer! 🍲
Ever found yourself reminiscing about that time you had the delectable Walkabout Onion Soup at Outback Steakhouse? Guess what? You're about to bring that delightful experience right into your kitchen. Ready for an aroma-filled adventure? Let's dive in!
Why should you give this soup a go?
This creamy, dreamy soup isn't just a mere appetizer; it's a comforting hug in a bowl. With each spoonful, you'll taste the depth of flavors from sweet onions, savory broth, and a touch of herbs. Sounds tempting, right?
Can I use a vegetarian broth instead?
Absolutely! If you're looking to make this vegetarian, swap out the beef broth for a rich vegetable broth. Remember, the key is to ensure the broth is flavorful!
Any ideas on making this dairy-free?
You can use a dairy-free alternative for the heavy cream, such as coconut cream. If using butter, switch to a dairy-free margarine or olive oil.
Can I freeze the soup?
Yes! This soup freezes quite well. Pour cooled soup into freezer-safe containers, leaving an inch of space for expansion. It can be frozen for up to a month.
How can I make my soup spicier?
Feeling fiery? Add a pinch of cayenne pepper or a dash of hot sauce to elevate the heat!
What can I pair this soup with for a full meal?
The creamy onion soup pairs delightfully with a crisp salad, crusty bread, or even a grilled chicken breast.
I'm not a fan of thyme and sage. Any herb substitutes?
Certainly! You might enjoy rosemary or basil as substitutes. Feel free to experiment with your favorites.
Prep Time: 10 minutes
Cook Time: 1 hour
Total Time: 1 hour 10 minutes
Ingredients:
2 medium sweet onions, thinly sliced
2 tablespoons butter
8 cups beef broth
1 cup water
1 cup heavy cream
3 tablespoons cornstarch
2 teaspoons salt
1/2 teaspoon black pepper
1/2 teaspoon white pepper
1/4 teaspoon ground thyme
1/4 teaspoon ground sage
Optional toppings: Provolone or mozzarella cheese & croutons
Instructions:
Melt butter in a large pot over medium heat and sauté onions until translucent.
Add beef broth and water, bringing to a boil.
Reduce heat, add salt, peppers, thyme, and sage, and simmer for 45 minutes.
Mix cornstarch with a bit of water to form a paste and whisk into soup for thickening.
Stir in heavy cream and heat for 10-15 minutes.
Serve in bowls with optional cheese and croutons. Broil briefly for melted cheese if desired.
Cooking tips:
Opt for fresh, firm sweet onions for a mild sweetness.
For deeper flavor, caramelize the onions to a golden brown before adding broth.
Ensure even onion slicing for consistent cooking. A mandolin helps.
Use high-quality beef broth or make your own for best flavor.
If the soup is too thick, thin with more broth or water. If too thin, simmer longer or add more cornstarch.
For a lactose-free version, use lactose-free cream. For a vegan twist, try almond or coconut cream.