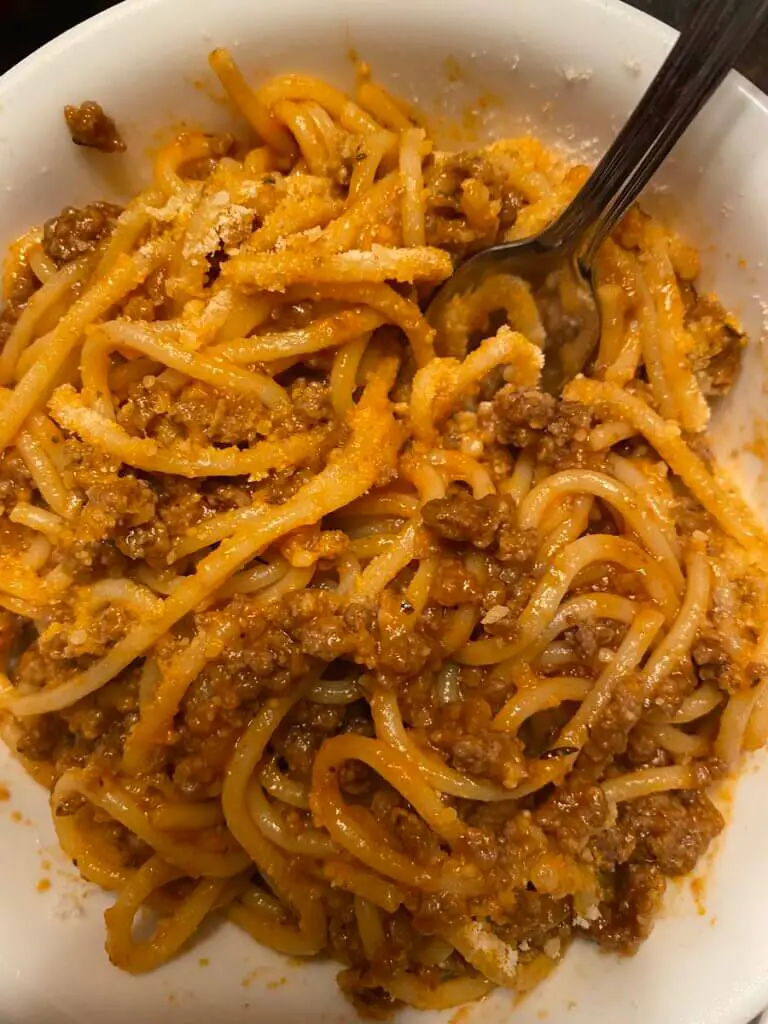 Old school spaghetti is a simple and delicious dish you can enjoy as a dinner with your friends and family. The al Dante spaghetti is served with a rich, meaty and tomato-y sauce. Slow-cooked, this sauce is loaded with flavours and is a perfect treat. This old school spaghetti dish is wholesome and very tasteful.
How to make old school spaghetti?
Making old school spaghetti is very easy. The whole process rotates around two main ingredients, i.e. spaghetti and the sauce. Although cooking the spaghetti is pretty basic, making the sauce is also not very difficult. It's the cooking time that it elaborates. But the preparation is very simple.
You have to start by sautéing the ground beef. Then add all the ingredients to it and let it simmer. The key to flavours is simmering. You have to let the ingredients simmer at low flame so that every ingredient release flavour and soak it up. Once the sauce is done, you just have to pour it over the spaghetti and voila!
How to store old school spaghetti sauce?
You can store this sauce by placing it in an airtight container and refrigerating it for up to 3 days. Furthermore, you can also freeze this sauce. Divide it into equal portions and freeze them in a plastic zip-lock bag. Now you just have to take out a portion, thaw it and serve it overcooked spaghetti. This sauce lasts for up to 2 months in the freezer.
Old school spaghetti – the recipe
Preparation time: 10 minutes
Cooking time: 15 minutes
Total time: 25 minutes
Servings: 4
Ingredients:
250 g dried spaghetti
1 tbsp olive oil
1 lb. Lean ground beef
½ cup chicken stock
1 ½ cup tomato puree
½ cup Tomato Paste
5 garlic cloves, minced
2 tbsp sugar
¼ tsp Onion Powder
¼ tsp dried thyme
¼ tsp dried oregano
Black pepper, to taste
Salt, to taste
2 tbsp parmesan cheese, grated
Freshly Chopped basil, to taste
Preparation:
Fill a pot with water and place it over medium heat. Season it with salt and bring it to a boil. Add spaghetti and cook for about 8 minutes or until they are al dante. Once done, drain the spaghetti, run cold water over them and set them aside.
In a large pot, heat olive oil.
Add ground beef and break it apart using a wooden spoon.
Add minced garlic and continue to cook for five more minutes.
Now add tomato paste, tomato puree, chicken stock, sugar, onion powder, dried thyme, dried oregano, black pepper and salt.
Mix well and let the mixture come to a boil.
Reduce the heat and let it simmer at low to medium flame for about 2 hours. Don't forget to stir occasionally.
Once the sauce is done, adjust the taste by adding more salt.
Serve the sauce over cooked spaghetti.
Garnish with freshly chopped basil and grated parmesan cheese, and enjoy.