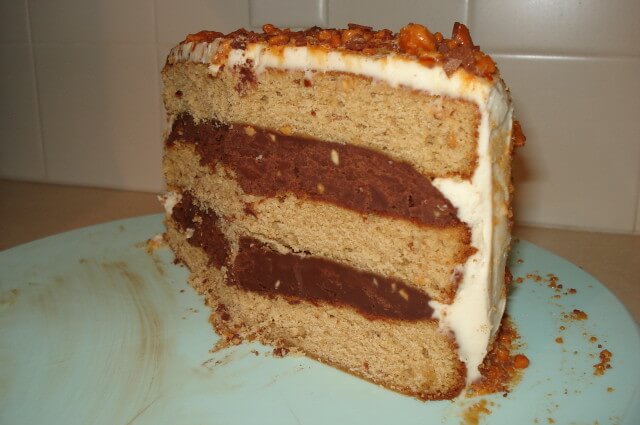 Peanut butter is a superfood that provides high doses of protein, vitamins, and nutrients. It also has an extraordinary flavour that makes it a great ally of various cuisines as Asian and some African. Peanut butter pie is a delicious way to eat this nut.
Of American origin, it was called with different names to that seed product of the hybridization of two wild species, crossing the ovule of the Arachis duranensis (in the north of Argentina) with the pollen of the Arachis parenesis (Brazil). This combination was a consequence of the mixture of human harvesting and migration, and insect pollination. This occurred no less than 9,400 years ago. The ancient inhabitants of these vast regions crossed the Andes mountain range and took it to Mesoamerica, specifically Mexico.
In the Andean region, it was called inches, which is the Quechua name for the seed; in Mexico, it was called tlalcacáhuatl, in Nahuatl, and the Caribbean, in the Taino language, it was called peanut. These last two names are the best known for this seed so full of flavour and goodness.
Ingredients:
26 Oreo cookies or the equivalent in Maria cookies.
95 grams of melted butter
250 grams of Philadelphia type cheese
300 grams of peanut butter
150 grams of powdered sugar
½ teaspoon vanilla essence
250 ml of whipping cream
Some peanuts for garnish (optional)
How to prepare the peanut butter cake:
Preparations:
Crush the cookies to a powder. Add the melted butter and mix until you have a paste.
Line the bottom and half of the walls of a cake pan with this dough. Spread evenly over the entire surface and press with your hands to compact. Set aside in the refrigerator for one hour.
In a bowl, whip the cream with half of the sugar until you obtain a cream similar to whipped cream. Set aside a little to decorate the cake. Set aside.
In another bowl, beat the cheese and peanut butter until smooth.
Add the rest of the sugar and the vanilla little by little. Continue beating.
Fold the whipped cream with the cheese and butter mixture with wrapping motions to keep the cream from dropping.
Cover the cookie base with this cream, smooth the surface and refrigerate for two more hours.
Before serving, decorate with the remaining cream and peanuts. Peanut butter cake
This delicious peanut butter pie does not need an oven and is so delicious that you won't have any leftovers for the next day. Surprise your family with this spectacular and straightforward recipe.