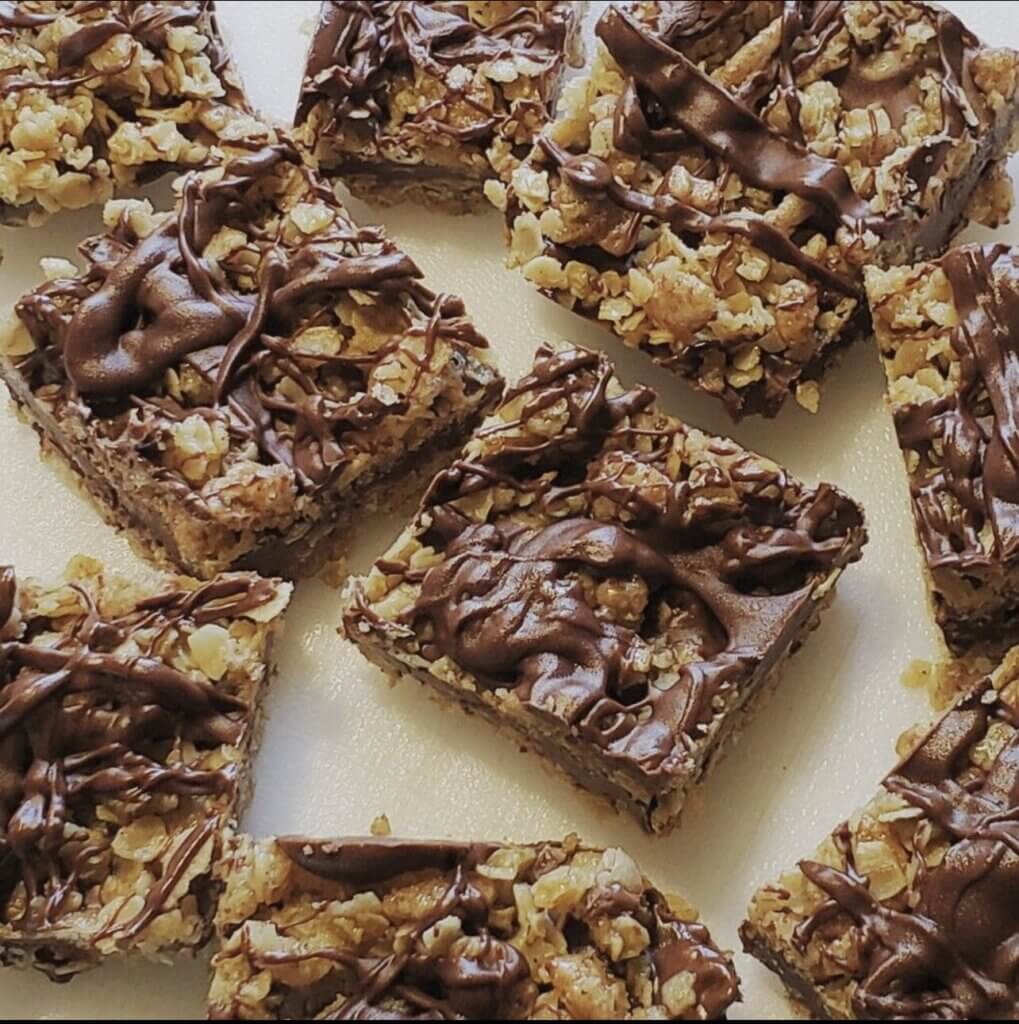 Hello, dear friends of "Life with Jeviko"! Welcome back. Summer in Arizona can feel like living on the surface of the sun, with temperatures soaring up to a scorching 115 degrees. But let me tell you, my sweet tooth doesn't take a vacation, no matter how much the mercury rises. So, what's a dessert-lover to do when turning on the oven feels like adding fuel to the fire?
Today, I have the perfect solution for all my fellow heat wave warriors – an indulgent, easy-to-make treat that needs no baking at all. Allow me to introduce you to the No-Bake Chocolate Oat Squares – a scrumptious combo of oats, chocolate, and peanut butter that will have you coming back for seconds.
Imagine biting into a luscious sandwich of oats and creamy, melt-in-your-mouth chocolate, with an extra chocolatey surprise on top. This is what you'll get with these squares. They're like a deluxe granola bar – only more decadent, more chocolatey, and oh so satisfying!
Let's dive into making these chilly treats!
Ingredients:
1 teaspoon of pure vanilla extract
2 sticks (1 cup) of butter
3 cups of quick-cooking oats
1/2 cup of creamy peanut butter
A handful of chocolate chips for a delightful drizzle
1/2 cup of packed brown sugar
1 cup of semisweet chocolate chips
Instructions:
Ready your equipment. You'll need a 9×9 inch pan. Lightly grease it to prevent our lovely squares from sticking. This tiny act ensures a smooth exit for your bars when they're set and ready.
Time to prepare the oat mixture. In a medium saucepan, melt your butter, stirring in the brown sugar and vanilla once it's all liquid gold. This buttery, sugary concoction gives our oats a lovely sweet, caramel-like flavor. Next, stir in your oats and let it all simmer together for a few minutes. This is when the oats absorb all the sweet, buttery goodness.
Transfer half of your oat mixture into your pre-greased pan. Press it down to form a firm base for our chocolate layer. You can use a spatula or even your clean hands. Keep the remaining oat mixture aside, we'll need it later.
Now comes the heart of our squares – the chocolate layer! In another saucepan, gently melt your chocolate chips and peanut butter together on low heat. The silky-smooth blend of chocolate and peanut butter makes the middle layer absolutely divine.
Pour this creamy chocolate-peanut butter mix over the oat layer in the pan. Spread it evenly to ensure every bite has a taste of this rich, gooey center.
Crumble the remaining oat mixture over the chocolate layer, gently pressing it in. This step creates a perfect crunchy contrast to the creamy layer beneath.
Melt some more chocolate chips and artistically drizzle over the top. This not only adds an extra dose of chocolatey goodness but also makes the squares a visual delight.
Patience, my friends! Cover your pan and let it chill in the refrigerator for a few hours. This wait allows the layers to set and the flavors to meld together. Bring the squares to room temperature before you cut into them.
Note:
Quality of Ingredients: Use high-quality chocolate chips for a rich, deep chocolate flavor. Your peanut butter should be creamy and without any added sweeteners or oils.
Even Layers: When assembling the layers, ensure they're even. This creates a balanced flavor profile and makes it easier to cut the squares.
Gentle Heat: Whether melting butter or chocolate, always use a low heat to prevent scorching and maintain the best flavor.
Cool Completely: Let the bars cool completely in the refrigerator before cutting to ensure they maintain their shape.
Sharp Knife: When cutting your squares, use a sharp knife and make clean, confident cuts. This will keep the layers intact and your squares looking perfect.
Storage: Store these squares in an airtight container in the refrigerator. They're best enjoyed within a week.