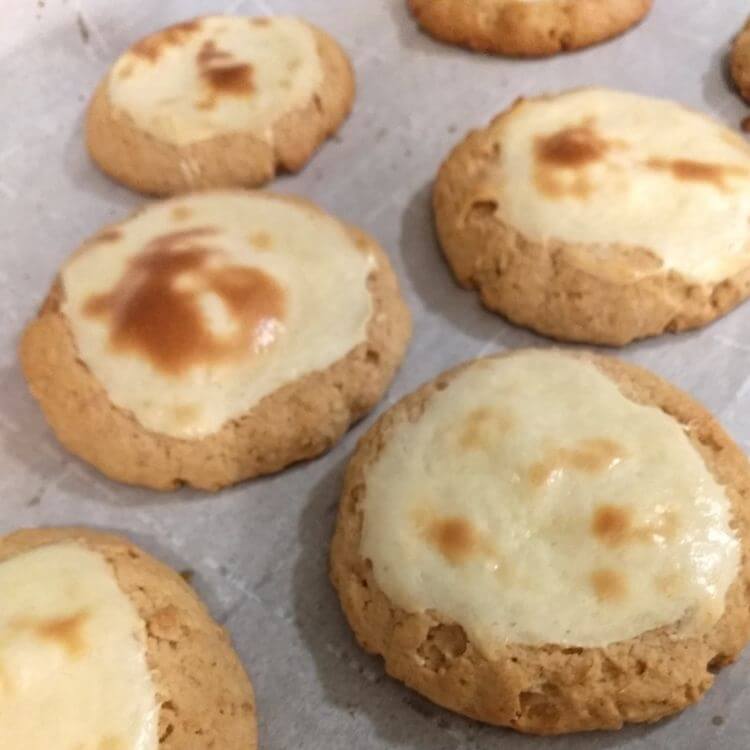 The New York cheesecake cookies recipe is a delicious, smooth, and creamy dessert that has always been a favorite. Anyone in the world can make this simple cheesecake. When it has a lot of flavors, it's always a beautiful dish to look at and delicious to eat, especially with the crispy cookies and the refreshing cream cheese and lemon cream.
Even though all the ingredients are simple, making cheesecake can be intimidating. You must cook your cheesecake in some water bath and be concerned about the water bath leaking into the cake, the cake surface cracking, and under or overcooking it.
The New York Cheesecake cookies are a twist on the traditional cheesecake recipe. We love how crispy, chewy, thick, and soft they are, not to mention how delicious the creamy and lemon cheesy filling is. This recipe omits sugar during making your dough because the Graham crackers already contain a lot of it. They are sweet and delicious enough with a super topping.
However, after baking it countless times over the years, we've discovered that with the right appropriate recipe along with a few pointers, a creamy New York cheesecake is entirely doable, even for the absolute beginners.
Ingredients:
1 and ¼ of a cup of Graham Cracker crumbs
1 cup of flour
1 teaspoon of baking powder
1 stick of softened and unsalted butter
1 separated egg
1 cup of softened light cream cheese
1/4 of a cup of granulated sugar
Half a teaspoon of vanilla extract
1 tablespoon of a medium-sized lemon's zest
Instructions:
Start by preheating your oven to 350° and line a baking sheet with parchment paper.
Combine the graham cracker crumbs, flour, and baking powder in a large mixing bowl.
In another medium-sized mixing bowl, combine the butter and the egg white using an electric mixer until it's all well combined.
Blend your butter and egg mixture into the graham-flour mix until it's all well combined.
In another separate mixing bowl, combine the cream cheese, lemon zest, granulated sugar, vanilla extract, and egg yolk until it's all smooth and creamy enough.
Get the dough placed on your prepared pan with 1/8 of a cup of a measuring spoon, flatten it slightly, and make some small shaped like a ball dent on top with the use of a teaspoon ( or also your finger if you want). Repeat this with the remaining dough.
You can now get the cream cheese filling into the cookie indentations.
Bake everything for almost 15 minutes, or until you notice your cookies getting lightly golden brown and the top of the filling is all set. Allow the cookies to cook for a few minutes on your baking sheet before transferring them to a cooling rack.
Tips:
This recipe can be made with the Graham cracker crumbs or Graham crackers, as we do. You should break the crackers into small pieces and place them in a food processor, pulsing on and off until all the crackers are evenly crushed. This recipe also calls for 1 ¼ Graham Cracker crumbles, which is approximately about 16-17 of the Graham Cracker Squares well blended.