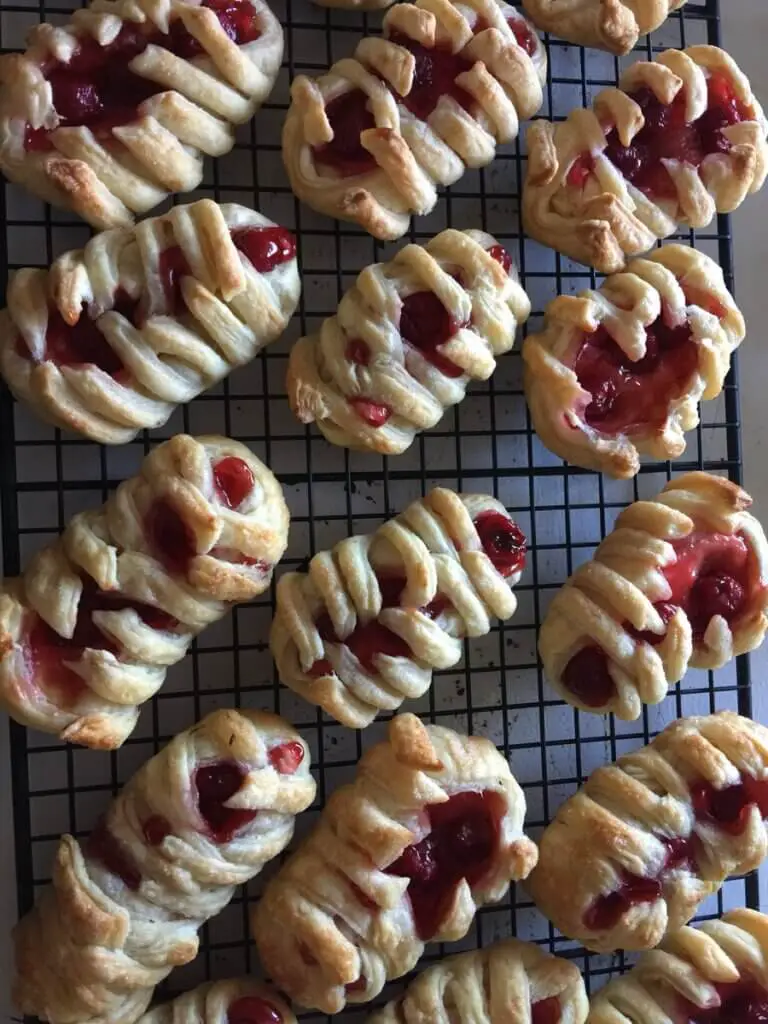 The Cherry Cheese Danishes are so simple to make and delicious! If you enjoy the cheese and cherries Danish, you need to try these. In just about 20 minutes, you'll enjoy the warm Danish with some coffee or tea. The filling on these is fantastic, and everyone who eats them raves about it. They also come together quickly, allowing you to make them on any lazy Sunday morning. These would also be ideal for a Christmas morning.
Yeah, sure, because they take a lot of time to make, you should consider saving some for special occasions. Creating the perfect, tender pastry requires a lengthy rolling, kneading, resting overnight, and rolling out again. Most people think it's easier to buy them from the bakery because it's less work.
We recommend using our super sneaky shortcut to make these homemade Danish easy. You can skip all of the kneadings and rolling and start with a can of refrigerated crescent dough. All you have to do is cut it into circles, press them flat, and load in the filling, which is also super simple to make because it's prepared with canned cherry pie filling. Then bake them, make the glaze, and drizzle it on after they've cooled a little.
They are best served hot from the oven and are a treat that rivals the bakery version. And when everyone compliments you on how much trouble you went to, all you have to do is smile modestly and say nothing.
Ingredients:
1 can or 8 oz of refrigerated crescent dough sheet or crescent dinner rolls
A third of a cup of spread cream cheese
3 tablespoons of powdered sugar
10 teaspoons of cherry pie filling
Half a cup of powdered sugar
3 teaspoons of milk
Instructions:
Start by heating the oven to 375°, remove the dough from the can, but be careful to unroll it. Make about 8 slices of dough. Get a cookie sheet, and space them around 2 inches apart. Press each cut into 3 inch round pieces, leaving a slight ridge around the outer edge.
Use a small mixing bowl, and combine the cream cheese and 3 tablespoons of powdered sugar.
Spread about 2 teaspoons of cream cheese mixture in the center of each piece in the dough.
Add 1 teaspoon of cherry pie filling on the top of each piece.
Bake everything for about 15 minutes, or until you notice it getting golden brown. Let it cool for about 5 minutes on your cookie sheet before transferring it. Combine half a cup of powdered sugar and 3 tablespoons of milk in a small mixing bowl. Begin with 2 teaspoons of milk and gradually add more to achieve the desired consistency. Drizzle the glaze over the Danish and serve it warm.
Tips:
You may use the leftover filling of the cherry pie for some ice cream, brownies, or even cake.
The Danishes are best served the same day they're made, but you can make a large quantity and store for the coming days. It's still delicious.