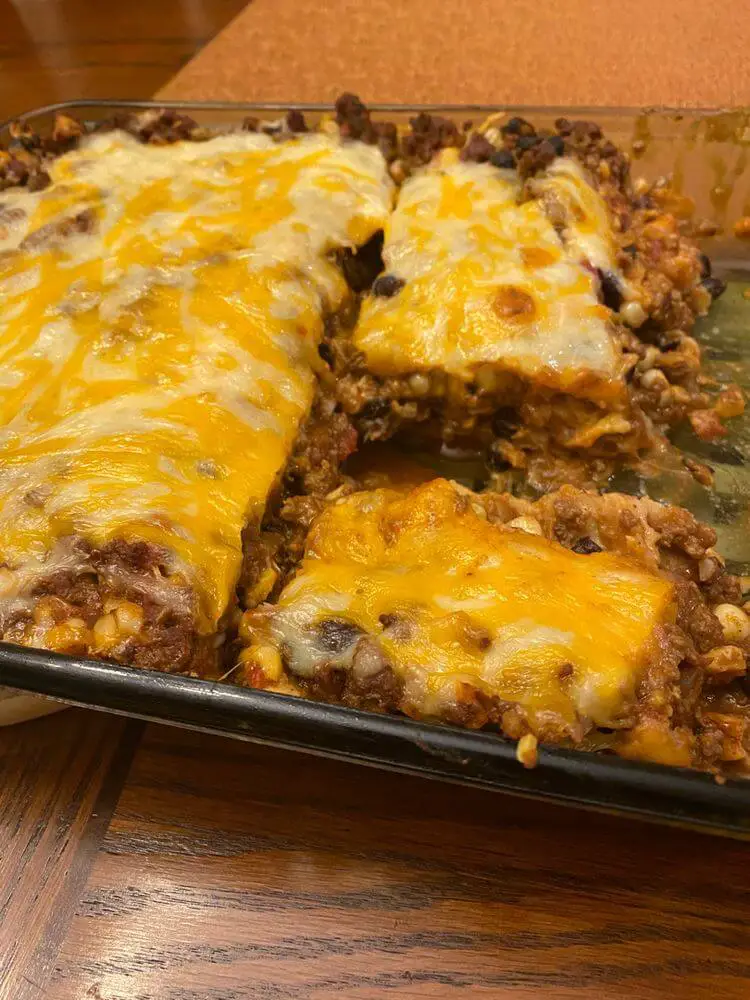 This recipe is good every time. Invite friends or your family to make it worth the effort when you decide to make it. The best of Mexico and its spiciness.
Ingredients:
1 tablespoon extra virgin olive oil.
1 large onion, chopped
1 clove garlic, minced
1 teaspoon ground cumin
1 ½ teaspoon of chili powder
1 can (400 grams) diced fire-roasted tomatoes, drained, reserving 1/3 of the juice in a cup
¼ cup tomato paste
1 cup (440 grams) black beans
1 ½ cups frozen corn
3 cups of chopped spinach
Salt and ground black pepper
8 corn tortillas
2 cups (225 grams) Cheddar cheese
Optional: chopped fresh cilantro, chopped fresh jalapeño, sour cream, salsa.
Preparation:
Preheat oven to 205° C. Coat a 20×30 cm or 20×20 cm baking dish (or similar sized casserole dish) with cooking spray.
Heat the olive oil in a large skillet over medium-low heat and add the onion, garlic, cumin, chili powder. Stir fry for a few minutes until the onion is soft and the spices are fragrant. Stir in the tomatillos, saved tomato juice, tomato paste, beans, hominy, corn, and spinach. Stir and cook for another minute or two until the spinach has wilted, and the corn has melted. Add salt and pepper to flavor.
Place two corn tortillas at the bottom of the prepared casserole dish and top with ¼ of the bean mixture, spreading evenly. Sprinkle with ½ cup of cheese. Repeat until you have used all the ingredients, ending with the cheese.
Bake for about 20 minutes until the casserole is cooked through. Let excellent for about 5 minutes before cutting.
Serve with additional ingredients. If desired, I recommend it!