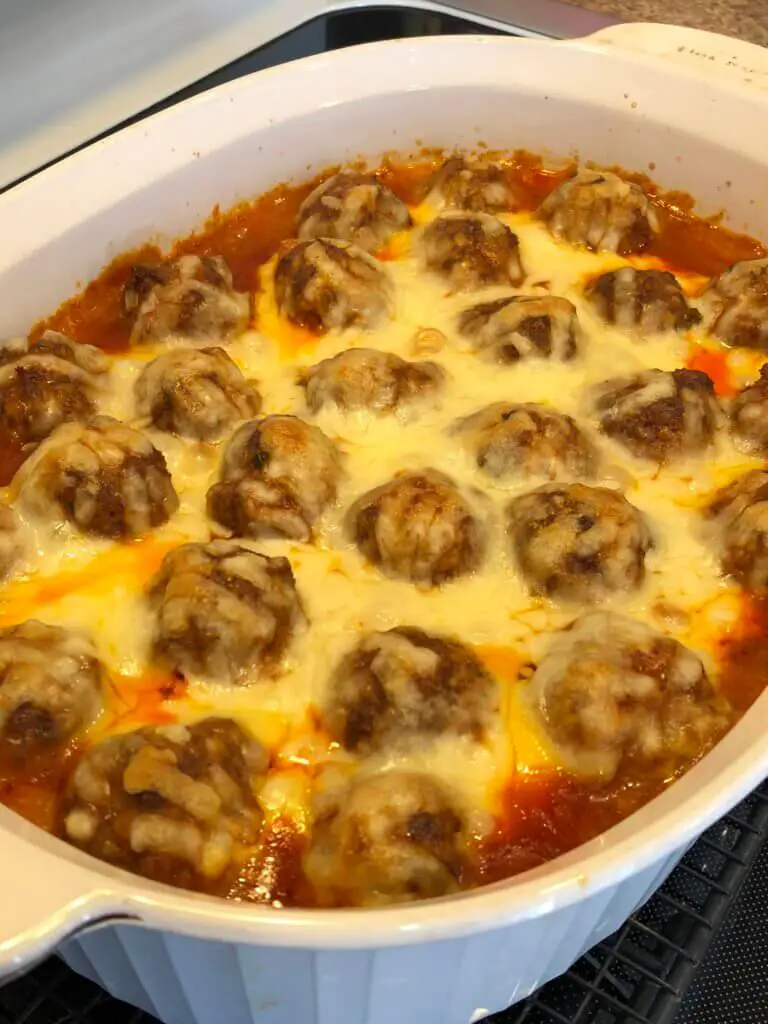 Low Carb Enchilada Meatballs Is a quick and healthy dish that is perfect for you if you are on a keto diet. It is easy to make and loaded with flavors.
What to serve with enchiladas meatballs?
This low-carb Enchilada Meatballs dish is tasteful and wholesome. You can serve it with several sides to make it a complete meal:
Salad: Serve it with either a fresh salad or a creamy one; you can enjoy this meatball dish by adding crunchy texture and freshness to the salad.
Mac and cheese: You can either try a keto-inspired mac and cheese recipe or choose a regular one. It pairs really well together.
Mashed potatoes: Fluffy and creamy mashed potatoes are a delight with everything, and this Low Carb Enchilada Meatballs recipe is no different.
Cauliflower rice: cauliflower rice is healthy and yet another keto dish that completes your keto meal with Low Carb Enchilada Meatballs.
How to store enchiladas meatballs?
Once the meatballs cool down, you can flash freeze them for 3 hours in the freezer. Now, place them in a zip lock bag and freeze for up to a month. This way, you can use them whenever you want and enjoy a delicious low-carb casserole dish.
Moreover, store the leftover enchiladas meatballs by placing them in an airtight container. Refrigerate, and they will last for up to 3 days. Reheat in the microwave and enjoy!
Low Carb Enchilada Meatballs – The recipe
Preparation time: 15 minutes
Cooking time: 30 minutes
Total time: 45 minutes
Servings: 4
Ingredients:
For the meatballs
¾ lbs. lean beef, ground
¼ lbs. ground pork
1 whole egg
½ cup cheddar cheese, grated
3 tbsp enchilada sauce
½ tsp onion powder
2 garlic cloves, minced
1 ½ tsp jalapeno, chopped
¼ cup cilantro, finely chopped
½ tsp black pepper
Salt, to taste
For the casserole
¾ cup enchilada sauce
1 cup Mexican cheese, shredded
3 tbsp Mexican crema
2 tbsp cilantro, finely chopped
Preparation:
In a large bowl, add ground beef, ground pork, egg, cheddar cheese, enchiladas sauce, jalapeno, onion powder, minced garlic, cilantro, black pepper, and salt. Mix well so that everything is well incorporated.
Use a small ice cream scoop or a tablespoon to scoop a portion of this mixture, and you can also use your hands to shape the mixture into small equal sized balls.
Place these meatballs on a parchment-lined baking tray. Make sure they have some space between them.
Place the baking tray in a preheated oven at 400 degrees F for about 15 minutes. Flip the meatballs halfway into the cook for even cooking. Once done, take them out of the oven and set them aside.
Meanwhile, prepare the casserole or baking dish by spreading enchiladas sauce at the bottom of the dish.
Carefully arrange the baked meatballs over the enchiladas sauce.
Spread Mexican cheese on top and place the dish in the oven for 15 more minutes.
Once done, take the dish out of the oven. Drizzle Mexican crema on top and garnish with freshly chopped cilantro.
Serve!