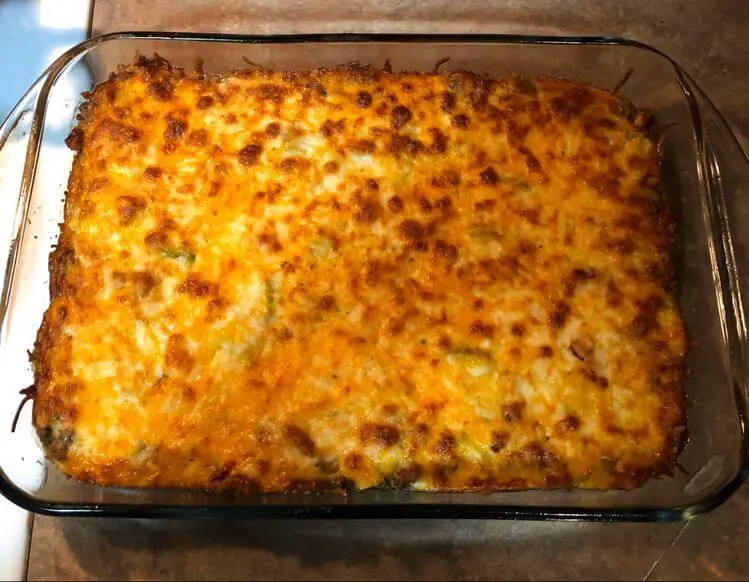 Low-Carb Bacon Cheeseburger Casserole is an amazing dish for those who are cheeseburger lovers but are on a strict low carb diet. This dish is made using all the ingredients of a burger minus the burger buns. This casserole is loaded with juiciness from the cooked meat, crispiness from bacon, the richness of eggs, and cheesiness from the cheddar cheese.
There are so many ways you can enjoy this dish! It is a great lunch or dinner idea, however, you can enjoy it for breakfast as well. And if you are really missing the burger buns, you can use fresh lettuce leaves and place the cheeseburger in them. Wrap the lettuce leaves and enjoy! This adds a crunch and flavour to this dish.
This bacon cheeseburger casserole is super healthy. It is low in carbohydrates and thus is a good choice for those who like to follow a specific diet. You can make this dish in advance and store it for later as well. Place the leftover in the refrigerator and enjoy. Plus, you can also freeze this casserole. Whatever you do, this dish is simple, quick, and very tasteful. You can add vegetables to bring more taste to it.
Low-Carb Bacon Cheeseburger Casserole– the recipe
Preparation time: 10 minutes
Cooking time: 45 minutes
Total time: 55 minutes
Servings: 4
Ingredients:
1 lb. ground beef
½ lb. bacon
1 small onion, chopped
1 garlic clove, mined
1 cup cheddar cheese, grated
3 tbsp cream cheese
1 tbsp chilli sauce
1 tsp sriracha
1 tbsp Worcestershire sauce
¼ cup half and half
4 large eggs
1 tsp fresh parsley, chopped
1 tbsp Dijon mustard
1 tsp black pepper
1 tsp salt
Preparation:
Using a sharp knife, dice bacon into equally small pieces. Set aside
Place skillet over medium heat. Add diced bacon and cook for about 5 to 6 minutes or until they are crispy. Once done, take them off the skillet and set them aside. Discard the grease.
In the same skillet, add ground beef and cook for about 5 to 8 minutes or until it gets brown colour.
Add chopped onion and minced garlic and continue to cook for about five more minutes.
Next, add cream cheese, chilli sauce, Worcestershire sauce, Dijon mustard, salt and black pepper. Mix well and cook for a minute or two.
Grease the baking dish with cooking spray and pour the beef mixture on it. Spread it evenly at the bottom of the dish. Sprinkle cooked bacon evenly.
In a medium bowl, crack eggs and whisk them. Add half and half and continue to whisk.
Next, add sriracha and black pepper.
Pour egg mixture over the bacon and ground beef mixture.
Top it with shredded cheddar cheese and sprinkle chopped parsley.
Place this baking dish in a preheated oven at 350 degrees f for 30 minutes, or the top gets a golden colour.
Once done, take the baking dish off the oven and serve.