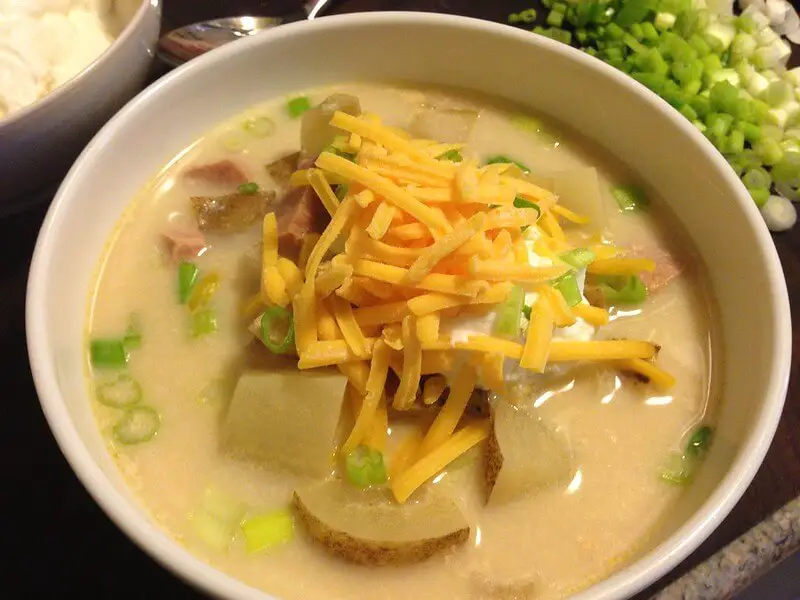 In this satisfyingly creamy and cosy soup, all of the flavours of a loaded baked potato come together brilliantly!
Working from home has the advantage of allowing you to scavenge the kitchen and eat whatever you want, such as this loaded baked potato soup. This delicious and cosy soup is so rich and creamy, cheesy, bacony, well carb-loaded, and comforting at the same time. It will quickly become one of your all-time favourite soups! How can you say no to the melting cheddar cheese and crunchy bits of bacon?
It's got a hearty broth, baked potato toppings, and plenty of spoonfuls. What more could a loaded potato soup ask for? This soup is a tried-and-true recipe for putting comfort food on the table in under 40 minutes. To make this a restaurant-worthy lunch at the comfort of your home, top it with some cheese, bacon, and green onions after it has gotten fluffy and thick.
Ingredients:
1 cup of half and half
Half a teaspoon of garlic salt to get some more taste
4 tsp of unsalted butter
A quarter of a yellow onion
4 perfectly scrubbed potatoes
1 cup of sharp cheddar cheese
1 cup of mild cheddar cheese
1/3 cup of all-purpose flour
1tsp of kosher salt to bring the taste
8 slices of bacon
Another half teaspoon of black pepper
1 cup of sour cream
2 minced garlic cloves
Some fresh chives for garnish
2 cups of chicken stocks
2 small cups of low-fat milk
Instructions:
Start by microwaving your potatoes for about 15 minutes, or until they get cooked, after getting them pierced many times with a fork. Lessen the potatoes gently and set them to cool. Get the skins removed and cut them into chunks once they're cold enough that you can handle them.
In the meantime, keep frying the bacon until it gets crispy in a pan over some medium heat. Drain it and let it cool on a platter lined with paper towels. Only keep 1 tablespoon of the bacon fat from the pan; the remaining should be discarded. Get the bacon crumbled into small pieces after it gets cold.
Get the butter melted in a large pot over some medium heat. Keep cooking for some minutes, or until the onions get soft, with the reserved fat of bacon, onion, and garlic. Stir steadily for 2 minutes while slowly whisking the flour into the pan. Mix in the milk and half-and-half slowly. Continue whisking until the mixture gets completely smooth. Slowly pour in the chicken stock, stir in the kosher salt, pepper, and garlic salt, then bring it to a gentle simmer. Maintain the mixture at low for 5 minutes, or until you notice it getting thick somewhat.
Suppose you want to garnish it with bacon and cheeses. Set aside a quarter of each. Combine the cheeses, sour cream, and bacon in a mixing bowl, then turn off the heat in the pot. According to your desires, scoop some potato chunks into the pan, breaking them into small pieces or keeping them lumpy. Serve everything immediately with your favourite toppings, such as chives, bacon, or cheese.