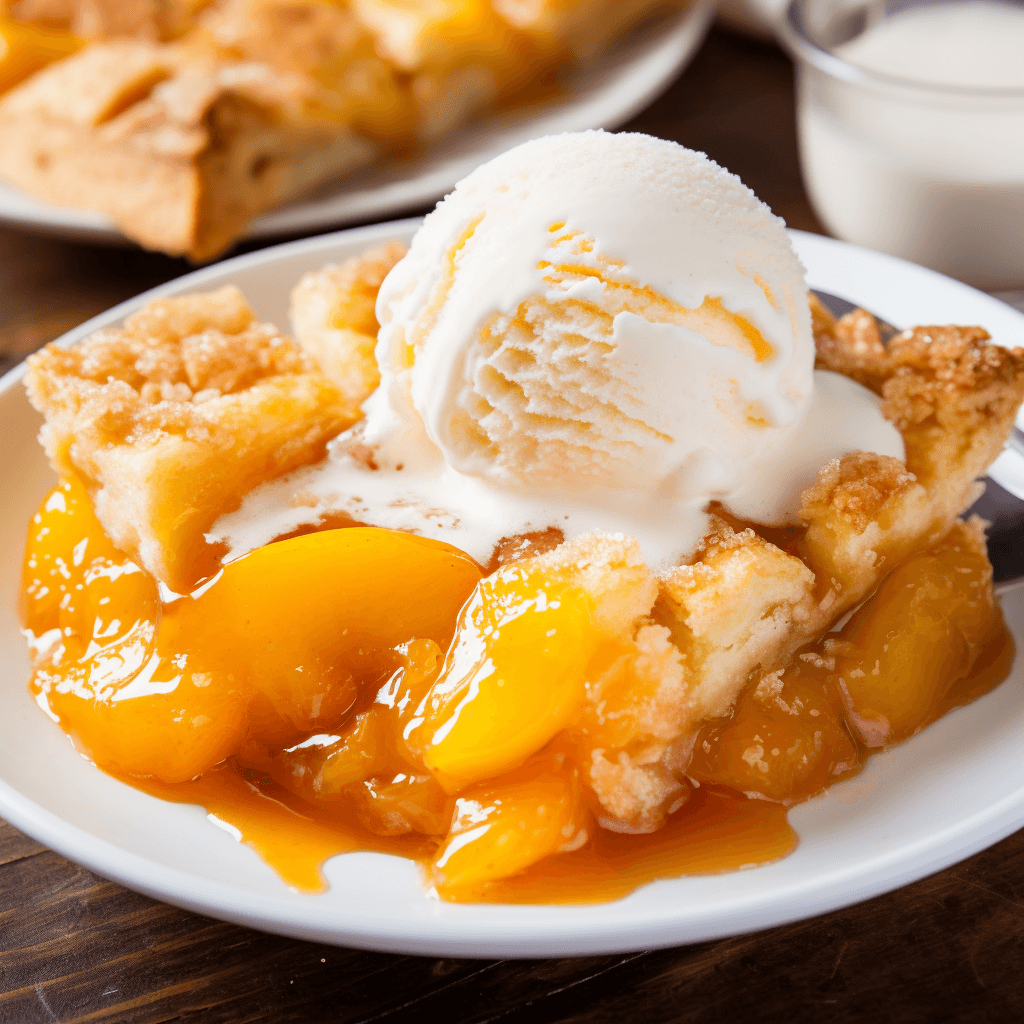 Have you ever craved a dessert that's warm, comforting, and ooey-gooey all at once? One that fills your kitchen with the aroma of fresh baking and sweet fruit? I've got the perfect remedy for such cravings, a dish that transports me back to my grandma's kitchen – the Peach Cobbler. And guess what? This isn't just any peach cobbler, it's a recipe so straightforward that you'd wonder why you hadn't tried it sooner. Let's embark on this peachy journey together! 🍑
Why Try This Peach Cobbler?
Because it's pure magic in a dish! With minimum effort, you get a dessert that:
Warms the soul with its fruity goodness.
Has a golden crust that's the perfect combo of soft and crisp.
Is effortlessly chic for any gathering or a cozy night in.
Can I use fresh peaches?
Absolutely! If you have fresh peaches on hand, you can substitute them in. Just remember to add some sugar to sweeten them up.
What if I'm not a fan of peaches?
That's the beauty of this recipe! You can replace peaches with berries or any other fruit of your choice.
How do I store leftovers?
If you have any (I bet you won't 😋), store them in the fridge in an airtight container.
Prep Time: 15 minutes
Cook Time: 40-45 minutes
Total Time: 55-60 minutes
Ingredients:
1 can (28 ounces) of sliced peaches in their lush syrup
1 cup of sugar for the right amount of sweetness
1/2 cup (or one stick) of unsalted butter (Because butter makes everything better, right?)
Optional: A hint of vanilla extract
1 cup of milk to bring everything together
1 cup of self-rising flour (The secret to that fluffy texture!)
A pinch of ground cinnamon or nutmeg to spice things up!
Instructions:
Get your oven humming and adjust the temperature to a snug 350°F (175°C).
While waiting, transition that butter from solid to a luscious melt. When it's smoothly melted, transfer it to a 9×13-inch baking dish, creating a rich foundation for the cobbler.
Now, in a separate vessel, combine the flour, sugar, and milk in an almost dreamlike dance. Feel the urge to be extra? Infuse a hint of vanilla extract. This blend is the heart of our splendid crust.
Time for the stars of our show, the peaches! Drape them over your prepared mix, resisting the urge to merge. They'll find their cozy spots.
Now, for an aroma that evokes a warm hug, dust a subtle hint of cinnamon or nutmeg.
Pop your masterpiece into the oven. Watch as it transforms over 40-45 minutes into a shimmering golden delight.
Once baked to perfection, give it a moment. Bask in its glory before scooping out a serving. Perhaps crown it with a generous scoop of cream or ice cream.
A quick sidebar for those in a flour predicament: No self-rising flour? Mix together all-purpose flour, baking powder, and a pinch of salt as a nifty replacement.
Cooking tips:
When baking, measure with care. Your ingredients' amounts should be spot on for the best results.
Each oven behaves differently. Occasionally use an oven thermometer to gauge its accuracy and adjust your baking time or temperature accordingly.
For ingredients like butter and eggs, room temperature is ideal. It ensures even blending and consistency.
Even if curiosity strikes, resist the urge to open the oven door too often. Consistent heat is crucial.
Fresh baking powder and flour make all the difference. They improve both the rise and flavor.
With spices like cinnamon or nutmeg, a little often goes a long way. Start small and add more if needed.
A smooth batter is the goal. Whisk until you achieve a lump-free texture.
Your peach cobbler deserves a cozy spot. An airtight container keeps it moist and flavorful.
Pairing your cobbler with ice cream? Opt for a quality brand to enhance the overall taste.
Peaches are a classic choice, but the cobbler world is vast. Experiment with berries, apples, or a mix of fruits.
Remember, cooking isn't just about following steps; it's about infusing every dish with a dash of love and a sprinkle of passion. Happy baking! 🍑🌟