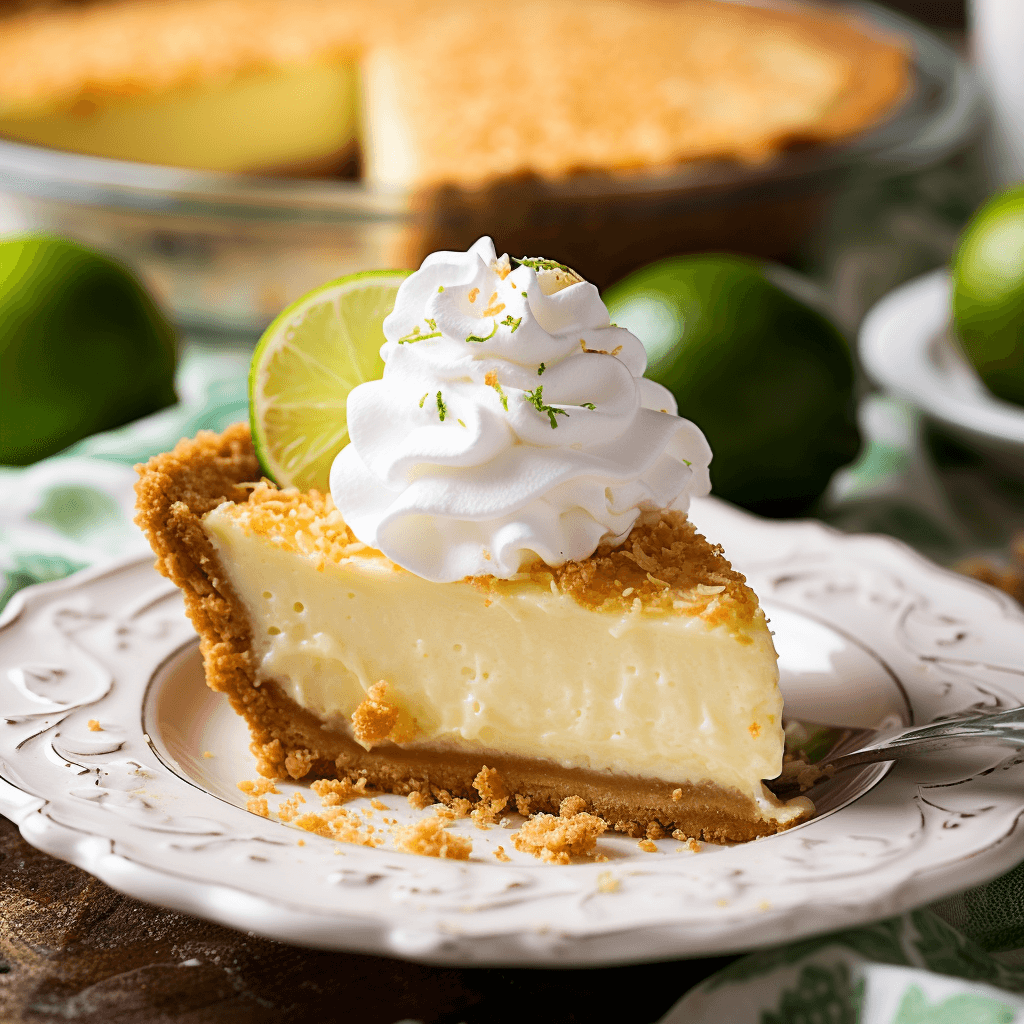 Hey there, lovely people! Welcome back to Life with Jeviko. 😊 Today, we're diving into a recipe that'll make you feel like you're vacationing on a tropical island, even if you're just chilling in your PJs. Get ready to awaken your taste buds with my zesty, creamy, and absolutely drool-worthy Key Lime Pie!
Why This Key Lime Pie Recipe Deserves a Spot in Your Cookbook
Why should you try this dish, you ask? Well, it's the perfect blend of tangy and sweet, with a buttery graham cracker crust that's a straight trip to flavor town. Plus, limes are packed with vitamin C. So technically, this is also good for you. 😉 Let's get started, shall we?
But wait, what makes Key Lime Pie so special?
It's the euphoric marriage of a crumbly, buttery crust with a lusciously tangy filling that gives you an invigorating citrus punch in every bite. This is not just a pie; it's an experience!
Do I really need key limes? Can't I just use regular limes?
Technically, you can use regular limes, but key limes have a unique, more aromatic profile that imparts an authentic tanginess to the pie. So, for that extra zing, key limes are your best bet!
I'm not a baking expert. Is this recipe beginner-friendly?
Absolutely, yes! This recipe is so straightforward that even if you've never baked before, you can pull off a pie that will earn you the title of "Home Baker Extraordinaire" among your friends and family.
Why should I use fresh lime juice instead of bottled?
Fresh lime juice is bursting with flavor and zesty goodness that bottled juice just can't replicate. Trust me, it's worth the little extra effort!
Do I need any special equipment?
All you need is a 9-inch pie plate, a couple of mixing bowls, and a whisk. Simple, right?
So, roll up your sleeves and join me on this culinary escapade as we journey through each delectable layer of this fantastic Key Lime Pie. From the crust to the filling and all the way to the whipped cream topping, I'll guide you every step of the way! 🌟🍋
Ready? Let's get started!
Prep Time: 20 minutes
Cook Time: 15-17 minutes
Total Time: 35-37 minutes
Ingredients:
For that Heavenly Crust:
1 1/2 cups graham cracker crumbs
1/4 cup sugar
1/4 cup melted butter
For the Luscious Filling:
Two 14-ounce cans sweetened condensed milk
1 cup fresh key lime juice (roughly 6 limes)
4 large egg yolks
1 teaspoon grated key lime zest
For the Grand Finale:
Whipped cream (for that luxurious dollop)
Additional lime zest (because why not make it pretty?)
Instructions:
Fire up your oven to 350°F. Trust me, preheating is crucial. It ensures that your pie bakes evenly from the get-go!
Take a medium-sized bowl and throw in your graham cracker crumbs and sugar.
Drizzle the melted butter over this heavenly mixture.
Mix it up until the crumbs soak up all that buttery goodness.
The butter acts like a glue here, binding those crumbs and creating the perfect base for your pie.
Now press this mixture firmly into the bottom and sides of a 9-inch pie plate.
Bake this for about 8 to 10 minutes until it takes on a delectable golden hue.
In a large bowl, whisk together the sweetened condensed milk, freshly squeezed key lime juice, egg yolks, and that aromatic lime zest.
Fresh lime juice is your secret weapon here; it gives the pie its signature tangy kick.
Pour this liquid gold into your prepared crust.
Slide your pie into the oven and let it bake for 5 to 7 minutes. You'll know it's done when the filling firms up a bit but still has a slight jiggle to it.
Let your pie cool down and solidify its flavors. Once it's room temperature, garnish it with a generous swirl of whipped cream and some extra lime zest for that gourmet touch.
Cooking tips:
Preheat Your Oven: Don't skip this! A properly preheated oven ensures your pie bakes evenly.
Fresh Over Bottled: Use fresh key lime juice instead of bottled for an authentic, tangy punch.
Crust Consistency: Make sure the graham cracker crumbs are evenly coated with butter for a perfect, non-crumbly crust.
Filling Texture: Whisk the filling ingredients well but don't overdo it; you want a smooth, creamy texture without air bubbles.
Test for Doneness: The filling should be set but still have a slight jiggle in the middle. No cracks should appear.
Cool Before Topping: Let the pie cool to room temperature before adding your whipped cream for a more structured look.
Garnish with Zest: Add extra lime zest for color and a zingy aroma.
Sizing Matters: If using a different-sized pie plate or baking dish, adjust the baking time accordingly.
Optional Meringue: For a twist, try a meringue topping. Remember to bake until golden.
Storage: This pie tastes even better after a few hours in the fridge, making it a great make-ahead dessert.
Armed with these tips, you're all set to create a Key Lime Pie that's bound to make taste buds dance with joy! Happy baking! 🥧💫