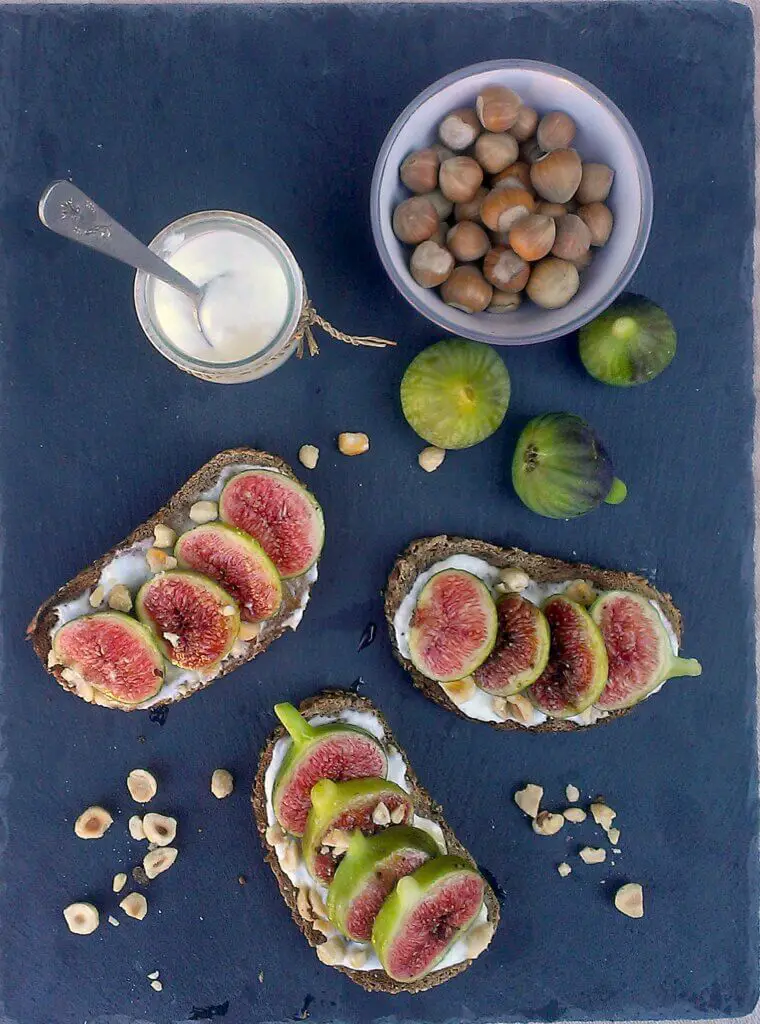 I've finally got round to make a recipe featuring both honey and figs. I have no idea why I haven't posted one before because this is a combo I love. Anyway, my fig tree has finally started growing stuff, which means that there are a lot more recipes like this coming. And you know that this is part of the 3/1 seasonal challenge that Stephanie and I are hosting, so definitely there will be more figgy recipes coming.
Toasted multi-grain bread, smeared with creamy ricotta and topped with ripe figs and crunchy bits of hazelnuts. Add a drizzle of honey and you're in heaven. It doesn't get any healthier, easier, or tastier than this!
Originally, I planned on making some kind of pancake or waffle for the breakfast part of the challenge. But you guys know that I'm a sucker for all things toast, so I decided that toast was the way to go.
And what a great way, man.
I expected these crostini to be tastier, but I certainly didn't expect them to have that much success at home. Everybody loved them. LOVED them with a capital L… You guys need to try these, they are so nice.
Let's move on and talk about me now, we'll get back to the crostini later, ok?
It was my first day of school today… but I don't have much to tell, like, I've only been there for an hour or so. The first day is the easiest one, you know. I just had to attend a meeting, no lessons today… so wishing all days were like this 😉
Good thing is that I'm back to swimming lessons (yay, I missed swimming so much!) and now I can't believe how darn tired I am. Man, it was exhausting and grueling… and I love swimming, but I got really tired today. Lack of training, I suppose. Anyway, I loved the session; it felt nice being back in the water and seeing my old swimming group again. I can't wait for the next class!
On the bad side I forgot to take my towel with me, and… have you ever tried to put on super skinny jeans with wet legs?
Do. Not. Ever. Try.
I would have rather walking my way home on my undies, and I'm not kidding here. Putting the jeans on was more tiring than the swimming workout itself. Luckily, I had these crostini to make up for it.
Ingredients
4 figs (sliced)
4 medium slices multigrain bread (toasted)
1/4 cup ricotta
a handful of hazelnuts (chopped and toasted)
a drizzle honey
Directions
Toast the bread
Smear ricotta on the bread
Slice the figs and arrange them on top of the bread
Sprinkle with chopped hazelnuts and drizzle with honey