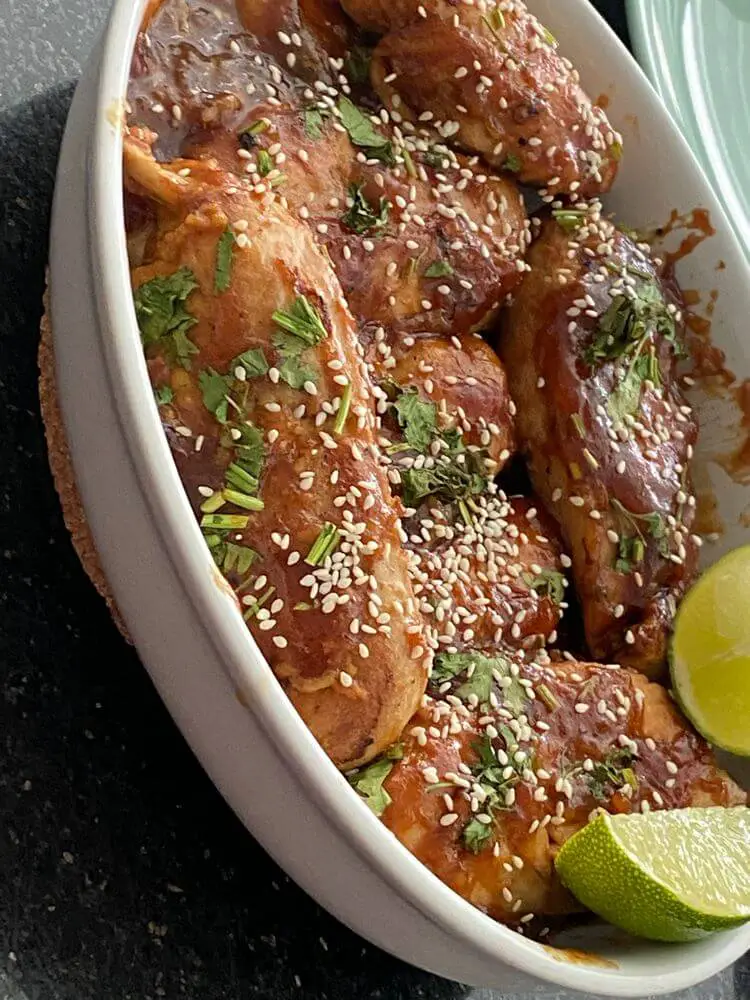 Honey-baked chicken is simple, easy to make, and a quick fix for your lunch or dinner. This recipe offers a perfect combination of sweet and savory flavor. The honey not just makes it sweet but gives it richness, and the sticky sauce you get is simply divine.
This recipe is super easy to make. Since it is in a one-pan dish, you just have to pour the marinade and let the chicken cook.
What to serve the honey-baked chicken with?
Honey-baked chicken is a delicious main course. So, you can serve it with a number of sides:
• Rice: Honey-baked chicken goes so well with cooked rice. You can serve it with plain white or brown rice or garlic rice. It is a perfect wholesome meal.
• Vegetables: You can serve it with steamed, sautéed, or roasted vegetables. Vegetables go well with almost everything, and this dish is no different. You can serve it with carrots, peas, bell pepper, and broccoli.
• Couscous: Serve it with couscous, and I bet you will love the combination. It will turn this dish into a perfectly healthy meal.
• Mashed potatoes: Fluffy and creamy mashed potatoes taste very well with this honey-baked chicken.
• Salad: Serve this dish with either fresh garden salad, feta cheese salad, or creamy potato salad. It tastes really good with almost every salad.
• Ramen: If you are a noodle lover, you can serve with a dish with noodles as well. Pair with a runny egg and enjoy!
How to store honey baked chicken?
You can store the leftover chicken by placing it in an airtight container. Refrigerate for up to 3 days. Moreover, you can also freeze honey-baked chicken. Place the leftover chicken in a plastic zip-lock bag and freeze. It will last for up to a month in the freezer. Let it thaw, and then reheat in the oven.
Honey Baked Chicken: The Recipe
Preparation Time: 10 minutes
Cooking Time: 60 minutes
Total Time: 1 hour 10 minutes
Servings: 4
Ingredients:
4 Chicken Breast
½ cup Honey
½ cup unsalted Butter, melted
1 tbsp light soy sauce
2 tbsp Dijon Mustard
¾ tsp garlic powder
Black pepper, to taste
Salt, to taste
Sesame seeds, for garnish
Preparation:
Pat the chicken breasts dry using a kitchen towel. Score them lightly using a sharp knife.
Season the chicken generously with salt and black pepper on all sides.
Place the chicken breasts in a baking pan.
In a separate bowl, melt butter. Add garlic powder, Dijon mustard, soy sauce, and honey. Mix well.
Pour about three fourth of this mixture on the chicken breasts.
Place the baking pan in a preheated oven at 375 degrees F for about 60 minutes.
After every 15 minutes, baste the chicken breasts with the remaining honey and butter mixture.
Once the chicken is cooked, take the baking pan out of the oven.
Garnish the chicken with sesame seeds and serve.