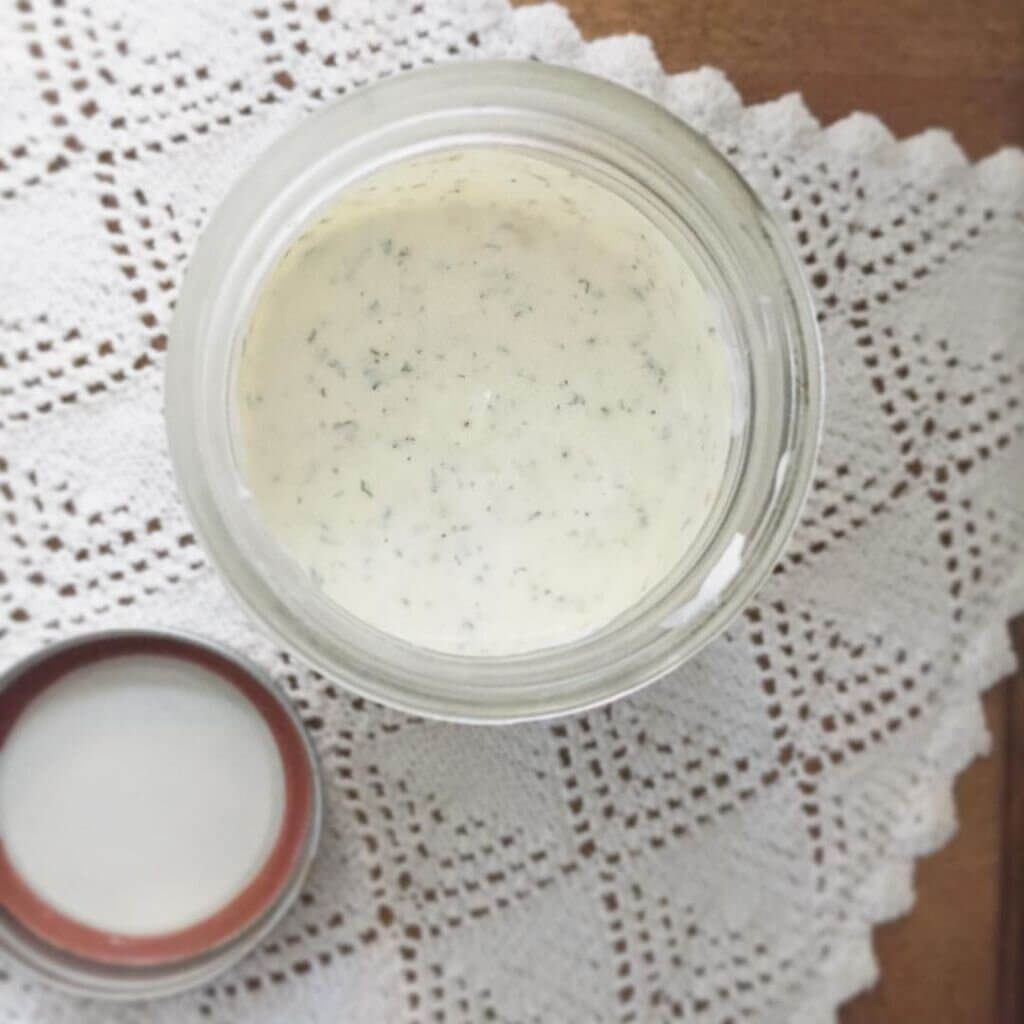 This is the best Ranch Salad Dressing recipe that you can make at home, and it tastes better than store-bought and takes only a few minutes to prepare. The ranch dressing tastes great on salads and as a dip for fresh veggies.
We love dipping the pizza in the ranch dressing or some spicy chicken bits that can be very delicious with ranch on the side as well.
It's a quick and straightforward dressing recipe that takes only a few minutes to get prepared.
It would help if you always kept some in the fridge, so you'll always have it close when you need it.
-Making homemade ranch dressing couldn't be easier. But I've seen some recipes that don't even call for buttermilk, and from what I understand, this is a must. So, we're using buttermilk in this recipe!
-The Dressing may be stored in the refrigerator for up to 3 days – ideal for making ahead!
When preparing your salad dressing from home, you may change the seasonings/ingredients to fit your family's tastes and needs.
Ingredients:
Some Mayonnaise: If you want or must make the dressing lighter, or don't like mayonnaise, use some sour cream or Greek yogurt instead, it'll do the job or maybe better depending on your tastes.
The Buttermilk: The creamier your Dressing will be, the thicker your buttermilk. Modern buttermilks can vary significantly in thickness matters; if yours is very watery, try getting some Greek yogurt and combine it with half the buttermilk to keep things creamy. It's also acceptable to use powdered buttermilk; then rehydrate according to the guidelines on the package.
Fine Herbs: This dried herb mixture we recommend is the traditional method, but if one of these herbs isn't in your cupboard (or you may genuinely despise it), leave it out. If you already possess some fresh chopped herbs on hand, you can surely use them here as well! Double or triple the amount of dry herbs specified.
Instructions:
As previously stated, this is so easy that you need to whisk together all of the ingredients, then taste it and adjust the seasoning/vinegar to your liking. Salad dressing prepared from scratch: finished! Drizzle it over your salad and serve.
Extra Tips: In this recipe, we strongly recommend using some genuine buttermilk (or powdered buttermilk rehydrated according to the package guidelines) since it is essential to the flavor of a classic Ranch Dressing.
This recipe yields little more than 1.5 cups of Dressing. If you still need a greater or lesser quantity, double it or cut it in half.
The Dressing should be stored in a jar or bottle with a tight-fitting cover. And use within three days.