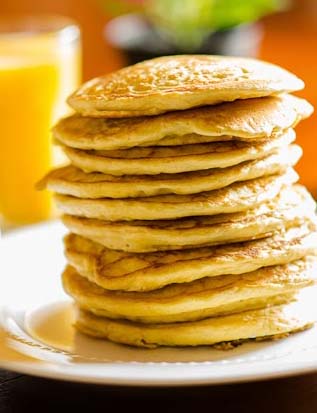 The pancakes of dreams and television are pillowy and practically airborne. The pancakes, in reality, are a mixture. The worse among these often involve gluten flour and have an elastic or cornbread quality. Over the last few weeks, I've been developing the pancakes of my dreams, which needed to have these qualities:
Be gluten-free
Be high in protein
Be as light as possible
Making the pancakes gluten-free was the easy part. Finding gluten-free flours in the most typical supermarket is entirely possible. Discovering high-protein flour is not difficult either. After experimenting with garbanzo bean (or chick-pea) flour in bread recipes, I knew that it was a good candidate for a pancake ingredient. One-half cup of garbanzo bean flour contains 12 grams of protein and 5 grams of fiber. Garbanzo bean flour, however, is not known for its lightness.
One of the lightest, most nutritious flours are made from blanched almonds. A popular ingredient in gluten-free baked treats, almond meal flour has a snowy consistency–it's an essential ingredient for my dream-pancakes recipe. Like garbanzo bean flour, almond meal flour is high in protein and fiber, containing 24 grams of protein and 12 grams of fiber per one-cup serving. The last in the trio of flour in this recipe is gluten-free all-purpose baking flour (rice flour is the main ingredient), which kept the lightness in the recipe while helping to bind the other ingredients.
Along with other typical pancake ingredients, this recipe results in a stack of light, full of protein and fiber, and without sugar (yes, without sugar). The addition of almond milk adds a bit of sweetness; besides, my husband swore off sugar decades ago. He eats the pancakes plain with no syrup, but my son and I will drizzle them with 100-percent maple syrup. If you've had pancake dreams as I have, try my recipe and let me know if they are the stuff of dreams. If you make gluten-free pancakes, what ingredients do you use to ensure lightness?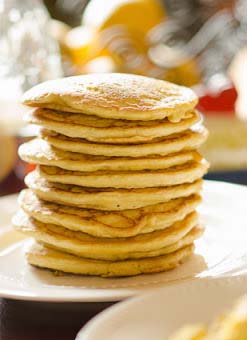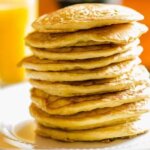 Print Recipe
High-Protein Pancakes
Ingredients
1/2

cup

garbanzo bean flour

1

cup

almond meal flour

1

cup

gluten-free all-purpose baking flour

1/2

leveled teaspoon unrefined sea salt

2 1/2

teaspoons

baking powder

1/2

cup

liquid Egg Beaters

or two large eggs

3

tablespoons

safflower oil

1

cup

soy or almond milk

Non-stick pan spray
Instructions
Add and mix all dry ingredients in a bowl. In a second bowl, add all wet ingredients, mixing thoroughly. Pour wet ingredients into dry ingredients and stir to eliminate clumps. Stir from the bottom of the bowl to ensure that dry ingredients at the bottom are thoroughly incorporated.

Heat pan over medium-low heat. Spray non-stick pan spray in skillet and add approximately two tablespoons of pancake mix to the heated pan. Flip pancake when bubbles or "pinholes" appear over most of the surface of the pancake (you can also lift the pancake slightly and check for a golden-brown bottom). Repeat the cooking process for each pancake and place the pancakes into your stove's warmer or in the oven at 170 degrees Fahrenheit.

Serve with your favorite toppings.