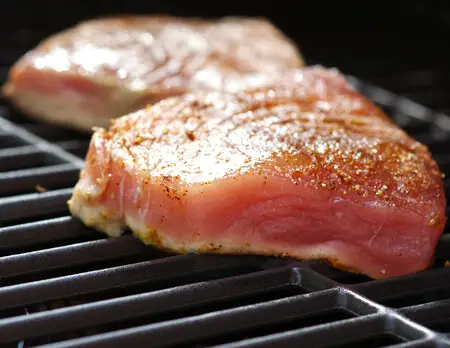 Yellowfin tuna on the grill is one of the delicious summer grill dishes. As a pescetarian and seafood lover, I love to fire up the grill and cook a tuna steak for dinner. Seafood is excellent for the grill. It cooks quickly, is naturally flavorful, and is a source of high-quality protein. The best seasonings are simply salt, pepper, and a squeeze of citrus. I like to try ethnic seasoning blends, like Ethiopian berbere seasoning, for a spicy departure from salt and pepper.
GRILLED YELLOWFIN TUNA–BUYING & GRILLING TIPS
Look for sustainable tuna. The list of supermarkets that offer sustainable seafood is growing. The Greenpeace organization publishes an annual Retail Seafood Scorecard, which ranks U.S supermarkets' policies and initiatives for sustainable seafood. Shoppers should be able to walk up to a seafood counter, ask about the origin of the yellowfin tuna in the display case, and get accurate information. Supermarkets that answer questions about seafood accurately are helping customers by promoting transparency, which allows their Greenpeace rating. Supermarkets also get a grade for not stocking red-listed seafood, such as bluefin tuna, which is endangered. The top four supermarkets for sustainable seafood are Whole Foods, Safeway, Wegmans, and Trader Joe's. Other markets, such as Hyvee, Harris Teeter, Aldi, and Target, have improved their rankings (see the scorecard).
Watch Your Tuna Steak on the Grill. A grilled yellowfin tuna steak that is overcooked is a sad mouthful: tough, chewy, and just disappointing. Watch your tuna as it probes and turn it after four minutes. Grill the tuna for four additional minutes and remove it from the grill to rest for a minute or two before serving.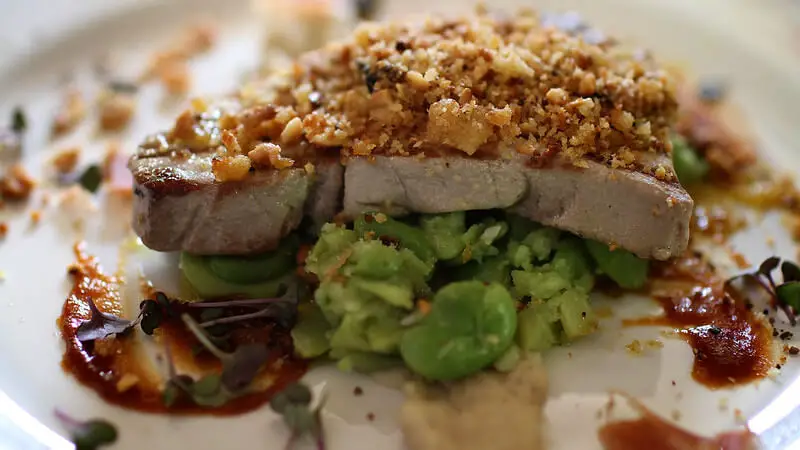 Impress your cookout guests this summer and serve a thick, grilled yellowfin tuna this summer. Shop for sustainable yellowfin tuna or another type of fish, and share your experiences shopping for sustainable seafood at your favorite supermarket.
INGREDIENTS:
3 tuna steaks, 1 inch thick
¼ teaspoon salt
Ethiopian Berbere seasoning (optional)
Cracked Pepper
Juice of 1 fresh lemon
INSTRUCTIONS:
Unwrap tuna steaks and season with salt, seasoning, and cracked pepper. If using Berbere seasoning, rub it on both sides of the tuna. Keep tuna steaks in the refrigerator until ready to place on the grill.
Start the grill and turn the gas grill to medium-high or bank coals in one area of a charcoal grill. Place tuna steaks on the grill. Turn tuna steaks once after four minutes.
Roast 4 minutes more on the other side. Remove tuna steaks from the grill and squeeze each with fresh lemon. Let tuna steaks rest for two minutes and serve.