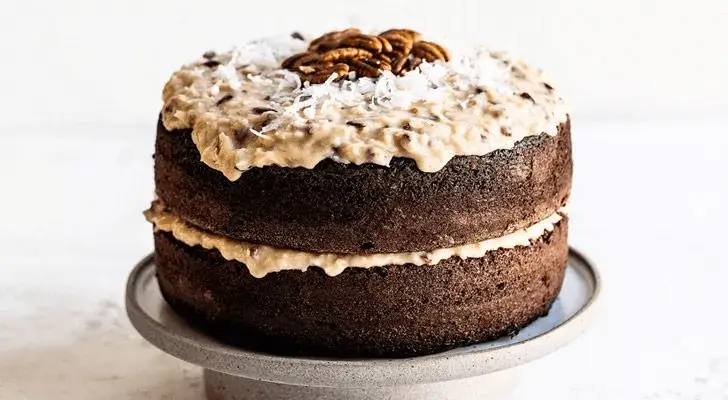 German chocolate cake is a classic one. The alternating layers of rich chocolate cake with decadent chocolate frosting and a surprise from the coconut pecan filling will blow your mind away and seduce your taste buds. It is rich, sweet, nutty, and more than expected.
We have the perfect recipe for you to try this weekend. The recipe might belong, but we assure you that this cake is worth all the effort and time in the kitchen. So let us make this recipe now!
German Chocolate Cake – The Recipe
Preparation Time: 30 minutes
Cooking Time: 40 minutes
Resting Time:
Total Time: 1 hour 20 minutes
Servings: 10 to 12
Ingredients:
For Chocolate Cake:
2 cups All-purpose Flour
1 2/3 cups Granulated Sugar
1 cup Cocoa powder, unsweetened
1/2 cup Oil; we are using vegetable oil
2 eggs, at room temperature
2/3 cup Sour cream, at room temperature
½ cup Buttermilk, at room temperature
½ cup leftover Coffee, hot
2 tsp Baking Soda
1 tsp Baking powder
1 tsp Vanilla paste, or 1 ½ tsp of Vanilla extract
1 tsp Salt
For Coconut and Pecan Filling:
2 cups shredded coconut, sweetened
1 cup Pecans, chopped
3 Eggs yolks
1 cup Evaporated milk
½ cup Unsalted butter, at room temperature
½ cup Brown Sugar
½ cup Granulated Sugar
1 tsp Vanilla paste, or 1 ½ tsp of Vanilla extract
For Chocolate Frosting:
2 ½ cup Confectionary Sugar
½ cup Cocoa powder
½ cup Unsalted Butter, melted
4 tbsp Evaporated milk
½ tsp Vanilla paste or 1 tsp Vanilla extract
Preparation:
Start with preheating the oven at 350-degrees F.
Prepare two 8 inches round cake pans by lining them with parchment and buttering them.
For Chocolate Cake:
In a medium bowl, combine dry ingredients for the cake.
In a large mixing bowl, whisk an egg with sugar until pale.
Add oil, buttermilk, sour cream, and vanilla to the eggs and mix well.
Gradually add the dry ingredients to the egg mixture and fold in until well combined.
Now add sour, hot coffee and mix well until combined and has a thin consistency.
Divide the batter into the two prepared cake pans and bake them for 30 to 35 minutes. Or check if the toothpick is cooked.
Take the cakes out, rest for at least 5 minutes, and then transfer them from the pan to a cooling rack.
For Coconut and Pecan Filling:
While the cakes are cooling down, start making the coconut pecan filling. Take a clean medium saucepan.
Pour in the egg yolks and evaporated milk, butter, brown, and granulated sugar in the saucepan.
Set the stove at the lowest temperature and stir the ingredient in the saucepan continuously for 2 minutes.
Now crank up the heat to low to medium and constantly stir to form a smooth thick mixture.
Remove the saucepan from heat, add coconut, pecans, vanilla, and mix.
Let the mixture cool completely before layering.
For Chocolate Frosting:
In a mixing bowl, add the lukewarm melted butter and the cocoa powder and whisk them.
Gradually add sugar and evaporated milk and whisk until you get a spreadable consistency.
Fold in vanilla.
Assemble the cake:
Finally, assemble the cake by placing one cake over a cake pan.
Scoop the chocolate frosting and spread it into an even and thin layer.
Now spread-out half of the coconut filling, leaving the ½ inch of the edge of the cake.
Now gently place the second cake, cover the entire cake with remaining chocolate frosting, and decorate it by piping the edges.
Cover the middle top of the cake with the remaining Coconut frosting.
Refrigerate the cake for at least an hour and serve.