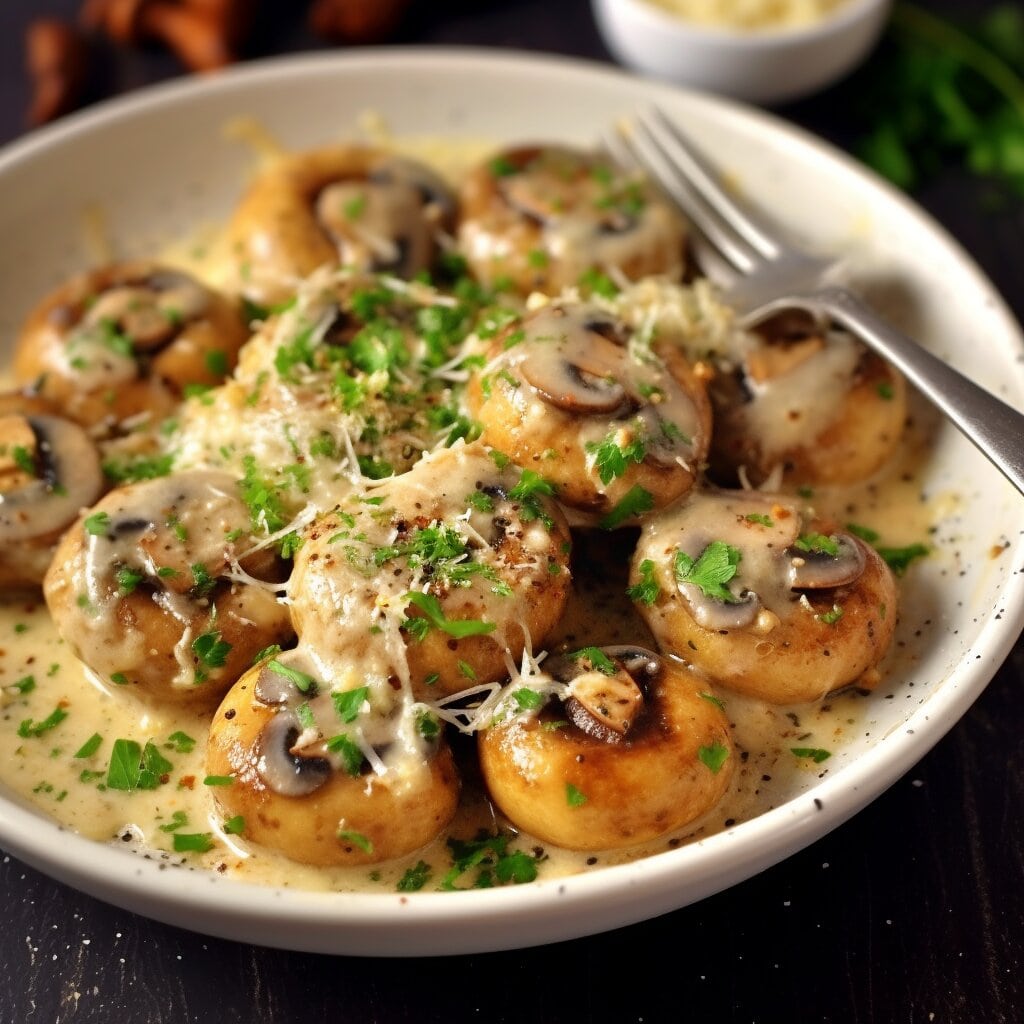 Hello to my extraordinary culinary enthusiasts! It's your trusted food guide, Jeviko, from "Life with Jeviko". Today, I'm about to unveil a recipe that will redefine your relationship with food. Ever indulged in a dish so mesmerizing that each bite feels like a beautifully orchestrated musical piece, with every flavor singing in harmony? Or perhaps a meal so evocative that it transports you back to those cherished memories of laughter-filled dinners and heartfelt conversations by the fireside? Get ready, because that culinary roller-coaster awaits you!
Picture this: the rustic charm of mushrooms, kissed by the golden hue of the skillet, blending seamlessly with the aromatic symphony of garlic's warmth. Now, elevate this concoction with the velvety richness of Parmesan, which drapes these ingredients like a luxurious cloak. Dreamy, right? That, my dear friends, is the enchantment of our Garlic Mushrooms adorned in a lavish Parmesan garb. It promises the sophistication of a five-star eatery, yet holds the heartwarming touch of a home-cooked meal.
But let me tell you, this isn't just another recipe. It's a sensory voyage. A dance through gastronomic alleys, with brief, delightful halts at the corners of decadence and nostalgia. The most thrilling part? You're not merely a spectator; you're the culinary conductor, the epicurean genius behind the curtain. So, if your heart is racing with excitement and your spatula's at the ready, let's embark on this tantalizing journey together. I guarantee, by its conclusion, your heart will be full, your palate pleased, and a tale of flavors will linger, waiting to be retold. After all, isn't the essence of extraordinary food woven in the stories we share?
Why Should You Try This Dish?
Because it's:
Deliciously Gourmet Yet Simple: These aren't your average mushrooms. They're a level up, with flavors that burst in your mouth.
Perfect for Any Occasion: Whether it's a romantic dinner or a family gathering, it fits right in.
Healthy: Mushrooms are loaded with essential nutrients, and garlic? A natural antibiotic.
Quick to Make: Time-crunched? No problem. This dish is your savior.
Unforgettable: Trust me, once you've had it, you'll be making it again. And again. And again.
Why mushrooms?
Mushrooms are not just delicious, they are also packed with nutrients, antioxidants, and vitamins.
Can I use any type of mushrooms?
While you can experiment with different types, I recommend white button mushrooms or cremini for the best flavor and texture in this recipe.
Why Parmesan?
Parmesan has a rich, savory depth that complements the earthiness of mushrooms beautifully.
Can I use pre-minced garlic?
Fresh garlic is best for the most authentic flavor, but if you're short on time, pre-minced works too.
What can I serve this with?
These mushrooms are versatile! Serve them as a side with steak, chicken, or even with some crusty bread.
Prep Time: 10 minutes
Cook Time: 15 minutes
Total Time: 25 minutes
Ingredients:
1 pound of white button mushrooms or cremini, cleaned and halved
4 cloves of garlic, finely minced
1/2 cup of grated Parmesan cheese
2 tablespoons of olive oil
Salt and black pepper, to taste
A handful of fresh parsley, finely chopped (optional)
Instructions:
Prepare the Mushrooms: Start by cleaning your mushrooms with a damp cloth to remove any dirt. Remember not to soak them, as they absorb water quickly. Halving them ensures even cooking and a nice bite.
Sauté in Olive Oil: In a pan, heat the olive oil over medium heat. Olive oil not only adds a wonderful flavor but ensures our mushrooms don't stick to the pan. Once hot, add in the mushrooms.
Add the Garlic: Once the mushrooms start to turn golden, toss in your finely minced garlic. Fresh garlic gives an aromatic punch that will make your kitchen smell divine.
Season: Sprinkle your mushrooms with salt and black pepper. This brings out their natural flavors and melds them with the garlic.
Cheese it Up: Just when the mushrooms are about done, sprinkle the Parmesan cheese generously over them. As the cheese melts and wraps around each mushroom, it elevates them to a creamy, savory heaven.
Serve: Plate up your mushrooms, sprinkle some freshly chopped parsley for a vibrant touch, and serve immediately.
Cooking Tips:
Always choose fresh mushrooms that feel firm to the touch. They should have a smooth appearance and be free of blemishes.
Adjust the amount of garlic based on your preference. The more, the merrier!
For a spicy kick, you can add a pinch of red chili flakes while sautéing.
Freshly grated Parmesan works best. Pre-packaged can sometimes have additives that don't melt as smoothly.