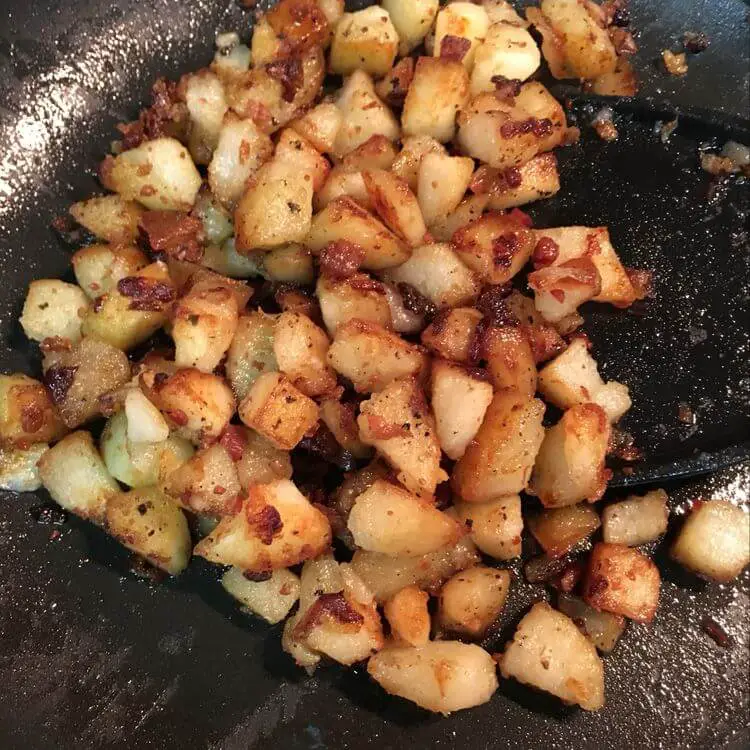 Mashed, baked, sliced, stuffed, or fried, potatoes can be cooked to your heart's content. And as autumn is just around the corner, it's high time to revisit our classic recipes: this simple but no less exceptional recipe for fried potatoes with onions will delight your taste buds! Just follow the recipe…
We LOVE cooking potatoes because there are thousands of ways to eat them: it's simply impossible to get tired of them! Plus, you don't have to be a chef to make a successful potato-based meal… potatoes have it all!
This recipe for fried potatoes with onions, perfect for accompanying your meats and vegetables, will give you an excellent reason to cook today: ready to roll up your sleeves? Let's get started!
INGREDIENTS:
4 large Yukon Gold potatoes
1 large onion, thinly sliced
1 teaspoon butter
1 teaspoon olive oil.
½ teaspoon garlic powder.
1 pinch of dill (or herb/aromat of your choice).
1 pinch of salt and pepper.
PREPARATION:
Start by peeling your potatoes. Cut them into thin slices.
Do the same with your onion.
In a large frying pan, over medium heat, melt the butter and pour in the olive oil.
Place the potato slices and the onion slices in the pan.
Cover the pan and fry for about ten minutes.
Once the ten minutes are up, gently flip your potato slices and onions with a wooden spatula so they don't break. If the potatoes seem too dry, feel free to add a dab of extra butter for the rest of the cooking time.
Sprinkle your potatoes with garlic powder, dill (or herb/aromatic of choice), salt, and pepper, then fry for another 5 minutes, covering the pan again.
Serve immediately. Enjoy!