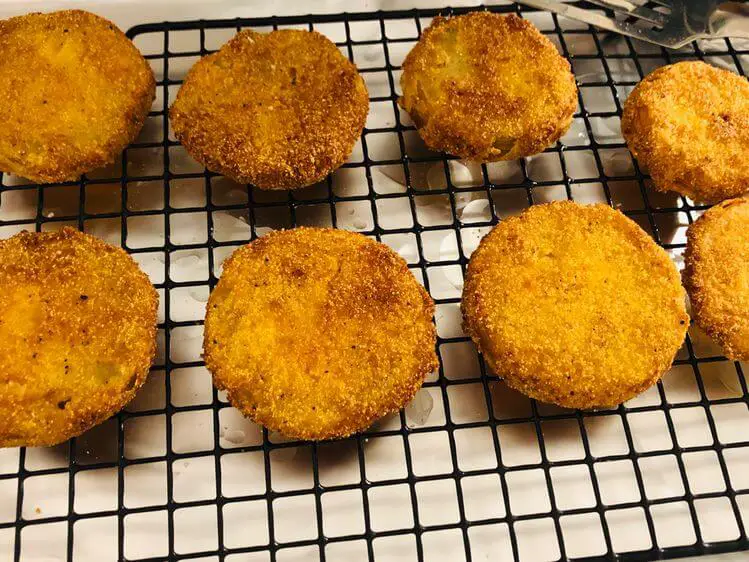 It may be late September, but tomato season is still flourishing in the San Francisco Bay area. Last weekend, I attended a tomato-tasting party, so tomatoes have been on my mind lately. California is so fortunate to have a long growing season for tomatoes. Back home in New Jersey, the growing season is gone in the blink of an eye. It's almost heartbreaking. Although the season is short, the rewards are great; New Jersey produces lovely tomatoes. After all, it's the state vegetable, even though it's technically a fruit.
Do you remember the 1991 film, Fried Green Tomatoes, with Jessica Tandy and Kathy Bates? I loved that movie. Ever since then, I've been intrigued by fried green tomatoes, yet I've never tasted them. So in the spirit of celebrating tomatoes, I am squeezing in one more late summer tomato recipe.
When I bite into a green tomato, I am instantly reminded it's, in fact, fruit and not a vegetable. The taste is deliciously sweet and tangy, tangier than reds.
Before I dive in, a couple of notes about the recipe:
The tomatoes I bought were a little under-ripe, which is precisely what you want for this recipe.
To make two flax eggs, create a mixture of 2 tablespoons of ground flaxseed and six tablespoons of water. Let sit for 15 minutes before cooking. See the post for more info on ingredient replacements.
After slicing the tomatoes, pat them dry with a paper towel and salt them and set them aside while you get the other ingredients in order.
I served the tomato slices simply with organic arugula leaves drizzled with balsamic vinegar. The oil from the tomato slices combines nicely with the vinegar.
Ingredients:
4 green tomatoes, firm
1 cup gluten-free bread crumbs
½ cup gluten-free all-purpose flour
2 flax eggs
¼ cup olive oil, for frying
Season with sea salt and pepper to taste.
Instructions:
If using flax seeds, mix 2 tablespoons of ground flax seeds with six tablespoons of water. Set aside for 15 minutes and then mix well.
Core the tomatoes and slice into ½″ slices. Pat dry with a paper towel and season with salt, and set aside. Stir dry spice blend together and set aside. Place flour, flaxseed mixture/eggs, and bread crumbs into separate bowls. Heat 2 Tbsp. Warm a little olive oil in a frying pan over medium heat. Dip the tomato slices into first the flour, flaxseed mixture/eggs, and then bread crumbs.
In the pan, fry about half of the tomato slices in batter at a time, for 3-5 minutes on a side or until browned… Drain on paper towels. Add more olive oil as needed. Season with sea salt and ground pepper. Serve with salad drizzled with balsamic vinegar. Enjoy!