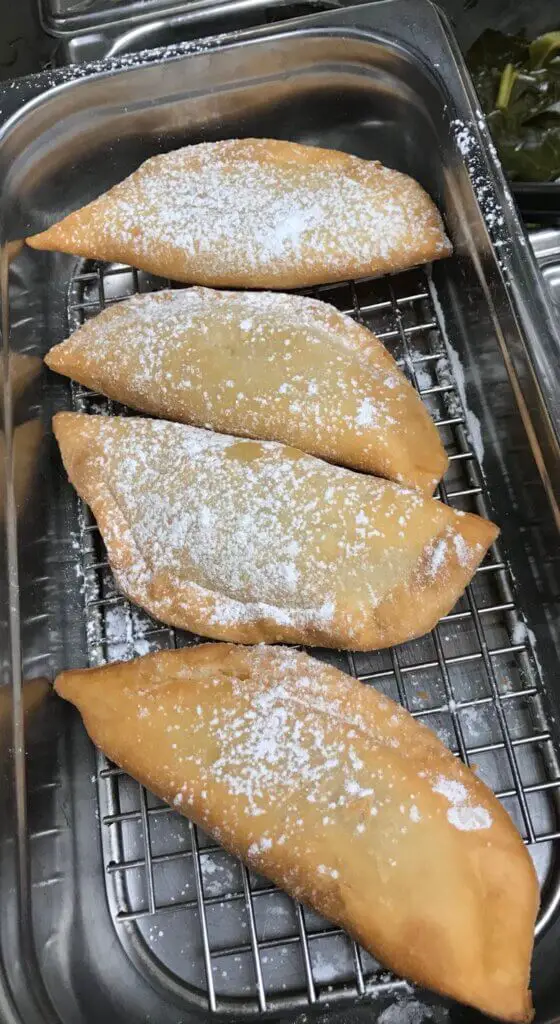 Fried apple pies are a perfect treat for those who have a sweet tooth. The crispy crust and a rich apple filling inside is just the right thing to make your day. These pies are tasteful and perfect for every occasion.
Fried Apple Pies – The recipe
Preparation time: 15 minutes
Cooking time: 20 minutes
Total time: 35 minutes
Servings: 4
Ingredients:
For the Pie crust
1 cup all-purpose flour
¼ cup cold water
2 tbsp unsalted butter, cold
2 tbsp shortening
½ teaspoon salt
For the Peach filling
8 oz frozen apples
1 tsp butter, unsalted
¼ cup granulated sugar
1 ½ tsp lemon juice
For the Glaze
½ cup powdered sugar
1 tbsp milk
¼ tsp vanilla extract
Salt, to taste
Preparation:
For The Pie Crust
In a standing mixer bowl, add all-purpose flour and salt.
Add cubed cold butter and shortening and whisk the ingredients at low to medium speed until everything is well combined and you get a crumbly mixture.
Slowly pour in cold water while the mixer runs until it forms a dough.
Turn off the mixer, and take the dough out of the bowl onto a floured surface.
Knead the dough for a few minutes until it is soft to touch.
Split the dough into 4 parts. Use your hands to roll it into a ball.
Place each ball on a parchment-lined baking tray and press it using a bowl or a glass until you get a flat disc.
Cover the tray with a kitchen towel and place it in the refrigerator for about 30 minutes.
For the Peach Filling
Decore the apples, and cut them into equal slices.
In a saucepan, add granulated white sugar and apples.
Place the saucepan over medium heat and let the apples cook until soft. Stir occasionally.
Once the sauce thickens up, add lemon juice and butter. Mix well.
Turn off the heat and set the saucepan aside. Let it cool down.
For The Glaze
In a bowl, add milk and powdered sugar and mix well.
Add vanilla extract and a pinch of salt. Mix well and set it aside.
Assembly
Take the dough discs out of the refrigerator and roll them until they are 6 inches wide.
Place cooled apple filling in the middle of the rolled dough.
Fold the dough into a crescent and secure the edges with the back of a fork.
Repeat the process until you have used up all the dough pieces.
Cooking:
In a saucepan, heat oil.
Place pies into the oil and fry them for about 3 minutes or until they get a golden brown color. You can also cook these pies in an air fryer at 350 degrees F for about 7 minutes. Flip halfway into the cook.
Once done, take them off the oil and onto a cooling rack.
Drizzle prepared glaze on top and serve.