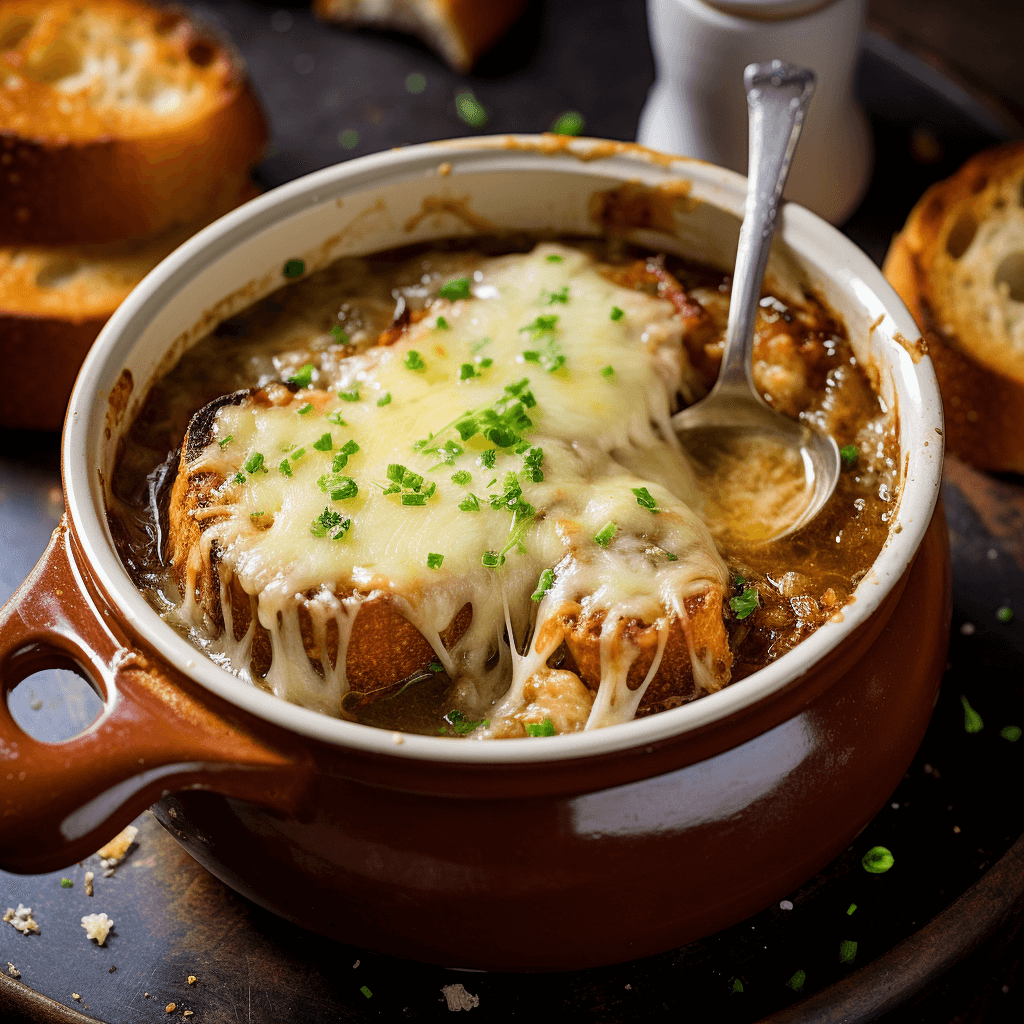 Hey there, lovely people 👋👋 Are you ready to embark on a culinary journey to the heart of France without leaving your kitchen? Today, I'm serving up the secrets to crafting an irresistibly delicious French Onion Soup🫕. Trust me, this dish is like a warm hug on a chilly day, brimming with caramelized onions and gooey cheese.
Why Should You Try This Dish?
French Onion Soup is the epitome of comfort food, with a rich blend of savory, sweet, and cheesy flavors that melt in your mouth. It's easy to make, yet elegant enough to impress anyone at the dinner table. Plus, it's a fantastic way to get in some vitamins and fiber—onions are nutritional powerhouses, you know!
Do I need special onions for this recipe?
While yellow onions are the classic choice for this soup, feel free to experiment with red or white onions for different flavor profiles.
What kind of cheese works best?
Gruyère is the go-to for French Onion Soup, but if you can't find it, Swiss or Emmental cheese make fine substitutes.
Can I make it vegetarian?
Absolutely! Just swap out the beef broth for vegetable broth.
Prep Time: 15 minutes
Cook Time: 1 hour 15 minutes
Total Time: 1 hour 30 minutes
Ingredients:
4 large yellow onions, thinly sliced (about 4 cups)
2 tablespoons unsalted butter
2 tablespoons olive oil
1 teaspoon salt
1 teaspoon sugar
2 cloves garlic, minced
1/2 cup dry white wine
4 cups beef broth (or vegetable broth for a vegetarian version)
2 teaspoons fresh thyme leaves (or 1/2 teaspoon dried thyme)
1 bay leaf
4 slices of baguette, toasted
1 cup shredded Gruyère cheese
Instructions:
In a large pot, melt the butter and olive oil together over medium heat. Why both, you ask? Butter brings in flavor, while olive oil prevents the butter from burning. Add the onions and give them a good stir to coat them evenly.
Sprinkle salt and sugar over the onions. These not-so-secret ingredients expedite the caramelization process, taking the onions from simply sweaty to sumptuously sweet.
Turn the heat down to low and let the onions cook for about 40-45 minutes, stirring occasionally. You're aiming for a rich, golden-brown hue and a heavenly aroma that fills your kitchen.
Once the onions are caramelized, stir in the minced garlic and cook for a couple of minutes. Next, pour in the white wine to deglaze the pot, scraping off any bits stuck at the bottom. This adds a layer of complexity to the flavors.
Pour in the beef broth, then add thyme and a bay leaf. Simmer for about 30 minutes to marry all those gorgeous flavors. Your home will smell like a quaint French bistro!
Preheat your broiler. Place toasted baguette slices in oven-safe bowls, then ladle the soup over them. Generously sprinkle Gruyère cheese on top.
Broil for 3-5 minutes or until the cheese is bubbly and slightly browned.
Remove the bay leaf and sprinkle a tiny bit of fresh thyme for garnish. Serve immediately and enjoy your labor of love!
Cooking tips:
When slicing onions, aim for uniform thinness. This helps the onions to caramelize evenly, bringing out that consistent, sweet flavor we love so much.
If you're feeling adventurous, try a blend of cheeses. Gruyère mixed with a little Parmesan can offer a delightful twist of nutty and salty flavors.
While thyme is the classic choice, feel free to experiment with other herbs like rosemary or sage for a unique twist.
French Onion Soup reheats well, but try to store any leftover toasted baguette and cheese separately to maintain their textures.
If you don't have a baguette, you can make croutons out of any crusty bread you have lying around. Just cube them, toast them with a little olive oil and garlic powder
If you're out of white wine, you can substitute it with a splash of sherry or even apple cider vinegar for acidity.
For an even deeper flavor, you can adapt this recipe for a slow cooker. Just caramelize the onions on the stove first and then transfer all ingredients into a slow cooker. Cook on low for 6-8 hours. Enjoy!!♨