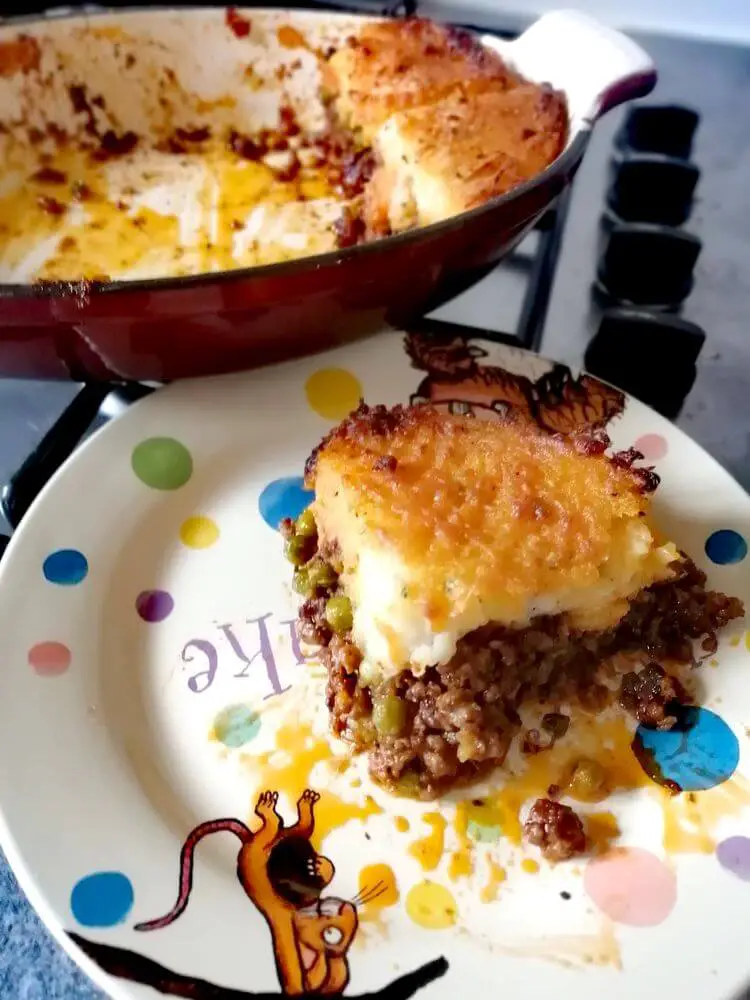 Layers of meat, veggies, and potato mash… An irresistibly comfort food! Perfect for the dinner table. Everyone should eat it at least once!
Shepherd's pie is an English dish made typically using lamb or mutton. We have a beef-eating culture in the United States rather than a lamb-eating society, so "shepherd's pie" is usually made using ground beef.
In Australia, England, and New Zealand, the dish prepared with beef is called "cottage pie," while the dish prepared with lamb is known as "shepherd's pie."
Whatever you call it, a shepherd's pie is essentially a dish in which cooked meat and veggies are placed in the bottom of the container, and then the top is covered with mashed potatoes. The plate is baked until the potato topping is golden brown.
You get mashed potatoes, crispy pieces, meat, and vegetables in one bite. It's great comfort food.
Lamb may be difficult to come by in your local supermarket… If you do not live in the United Kingdom, I feel! So, I often use beef mince in my recipe.
Ingredients:
500 g beef mince
1 cup beef stock
1 celery stalk chopped
1 tsp. Worcestershire sauce
¼ leek stalk chopped
3 tbsp. tomato paste
1 tbsp. vegetable oil
1 tbsp. all-purpose flour
3 tbsp. milk
60 g butter
4 tbsp. peas frozen
3 tsp. pepper
1/4 nutmeg
1 tsp. marjoram
2 tsp. salt
50 g cheese grated
2 potatoes
Instructions:
In a pan, heat the oil. Cook the beef with the chopped celery until it is browned, stirring to break up any lumps. Add Worcestershire sauce and tomato paste to the mixture. Cook, stir to combine, for a few minutes.
Reduce to a low flame, add the stock and flour. Let it cook for 30 min, or until the sauce is thick. A few minutes before the meat is done cooking, add chopped leeks and peas.
Turn off the flame. Add salt, pepper, and marjoram.
Peel and cut the potatoes, then add them to a pot with water. Boil the potatoes for about 15 minutes or until soft and tender. Drain and add to a bowl.
Add the butter, cheese, pepper, salt, milk, and ¼ nutmeg to the pan. Mash or mix the potatoes with a fork or potato masher until smooth.
In a baking dish, place the beef sauce. Spread mashed potatoes on top. Using a fork, ruffle the potato mash to the dish's edges.
Bake it for 25 minutes at 350°F (preheated oven), or until nicely golden brown.
Let it rest for a few minutes before serving. Enjoy!
Recipe note:
You can add your favorite Vegetables like carrots, onion, cabbage, and corn to this recipe.
Don't panic if you do not have Worcestershire sauce; you can use soy sauce, garlic, and lemon juice to your taste.
To freeze the pie, make it but do not bake it. Wrap firmly with plastic wrap and store in the freezer for up to three months. Before putting it in the oven, make sure it's thawed. Bake and enjoy!