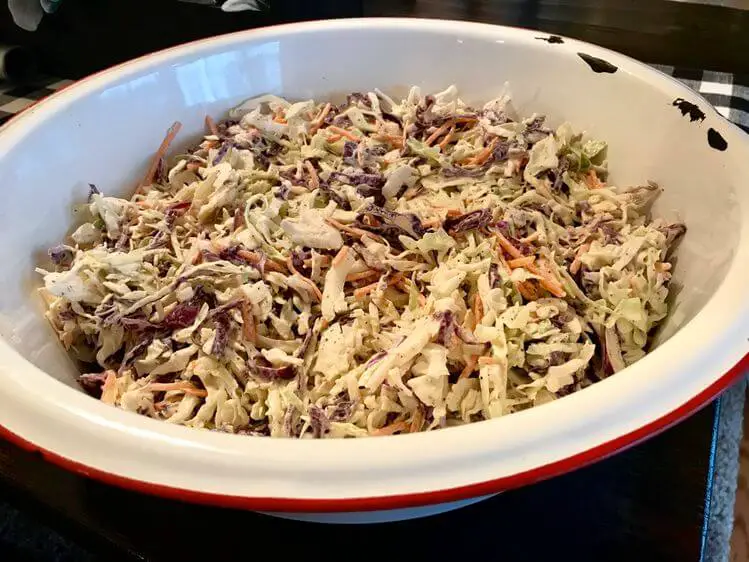 Creamy keto coleslaw, low carb. Made with good homemade mayonnaise. You can replace the mayonnaise with Liberté Mediterranean yogurt. You can also use Apple Cider Vinegar instead of white vinegar.
To save time, I used bagged cabbage already grated. You can always take a head of cabbage and make it yourself. I also like the pre-cut type to make a simple Thai chicken salad.
I prefer to make this quick and easy recipe for a low-carb coleslaw without carrots. As most of us know, carrots contain a lot of natural sugar. Leaving them out cuts down on carbs.
To save even more carbs, I use liquid stevia extract, which contains no carbs. Unfortunately, most coleslaw dressings add sugar.
How to make coleslaw
You will need about 4 cups of shredded cabbage for the recipe. This is equivalent to a 1 pound bag of previously shredded cabbage. But I like to shred mine with the mesh blade of my food processor.
INGREDIENTS:
2 tbsp chopped green onions or fresh chives
1 tbsp of Swerve (erythritol)
1/4 cup homemade mayonnaise
1/8 cup 35% cream
1 tbsp. vinegar
1 tbsp. lemon juice
1/2 tsp. salt (to taste)
1/8 teaspoon pepper (to taste)
1 bag of shredded cabbage, or 5 cups of shredded cabbage and 2 shredded carrots
PREPARATION
In a large bowl, mix all ingredients.
Refrigerate for at least 1 hour before serving to allow all the flavors to combine.
NOTES
This coleslaw can be stored in the refrigerator for 2 to 3 days.