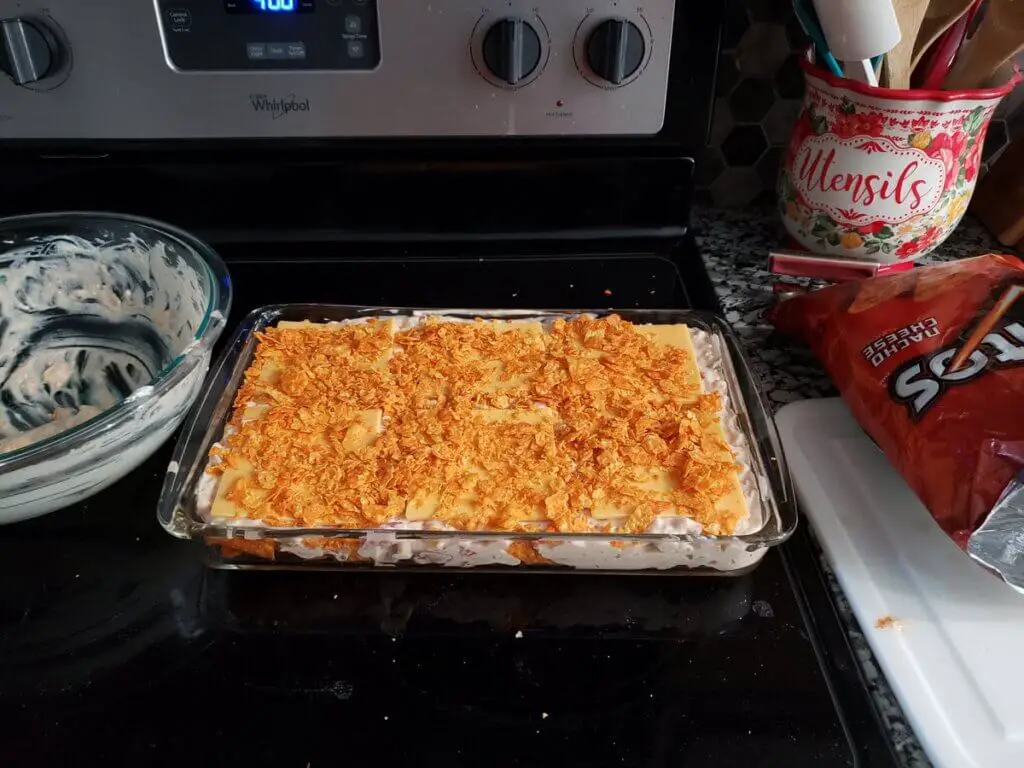 Doritos chicken casserole is a simple yet utterly delicious, creamy, and rich casserole that you can enjoy any time of the day. It is particularly tasteful and an ideal dish for beach parties and gatherings.
Tips for making Doritos Chicken Casserole
Here are a few things you should keep in mind when making Doritos Chicken Casserole:
Although I have used nacho cheese-flavored Doritos, you can choose any other flavor as well.
You can use red beans instead of black beans for this recipe.
Add more vegetables like green beans, broccoli, carrots, potatoes, etc., to add more texture to the casserole. You can add mushrooms as well.
You can use Monterey jack cheese or Colby jack cheese instead of cheddar cheese as well.
You can use cream of mushroom soup instead of cream of chicken soup as well.
Add ranch dressing for more flavor and texture.
How to store Doritos Chicken Casserole?
There are two ways of storing this casserole. Firstly, you can store the leftover casserole by placing it in an air-tight container and refrigerating it for up to 3 days. Reheat it in the oven to get the chips crispy again. Moreover, you can also freeze cooked casserole. Once it is cool enough, cover it with aluminum foil and freeze for up to a month. To reheat, thaw it overnight and then reheat in the oven until it is crispy.
You can also freeze uncooked casserole. Cover it in aluminum foil and freeze for up to 2 months. Reheat it without thawing in the oven until it is warm and the top is bubbly. Enjoy!
Doritos Chicken Casserole- The recipe
Preparation time: 10 minutes
Cooking time: 25 minutes
Total time: 35 minutes
Servings: 4
Ingredients
1 package Doritos, nacho cheese-flavored and lightly crushed
1 ½ cups cooked chicken, shredded
¾ cup canned cream of chicken soup
¾ cup Rotel tomatoes, diced
½ cup sour cream
1 cup canned black beans, drained and rinsed
½ cup bell peppers, chopped
1 cup canned corn, drained
½ cup cheddar cheese, shredded
1 tsp taco seasoning
Freshly chopped cilantro, for garnish
Preparation:
In a large mixing bowl, add cooked shredded chicken, canned black beans, bell pepper, corn, Rotel tomatoes, cream of chicken soup, taco seasoning, sour cream, and half of the cheddar cheese. Mix well so that everything is well combined.
Grease the baking dish lightly with cooking spray.
Spread half of the crushed Doritos evenly at the bottom of the baking dish.
Spread the prepared chicken mixture on the baking dish and even it out using a spatula.
Place the baking dish in a preheated oven at 350 degrees F for about 20 minutes.
Take it out after 20 minutes, and spread the remaining Doritos and shredded cheddar cheese.
Place the baking dish back in the oven for about 5 to 6 minutes or until the cheese melts and get a golden color.
Take the baking dish out of the oven, garnish it with cilantro and serve. Enjoy.