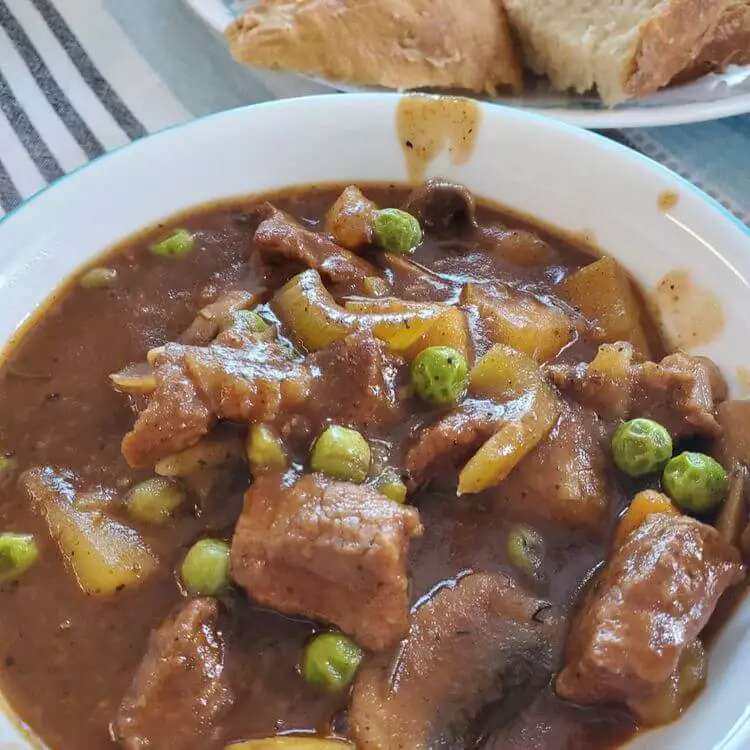 This hearty beef and vegetable stew is a comfort food classic! It's sure to fill the house with its inviting aroma and delight the entire table. It's the perfect meal to warm up after a day of skiing, a long snowshoeing trip or an ice hockey tournament. This meal is prepared quickly and cooked for a long time in the oven, which tenderizes the meat and concentrates the flavours to the maximum. In addition to being nutritious, delicious and ultra-comfortable, this dish is economical! You can even make this beef stew ahead of time to give it even more flavour. Imagine the smoky aromas of this meal welcoming you back from a day of winter outdoor activities: nothing like it to keep your heart warm!
Ingredients:
1 kg (2.2 lb.) stewing beef cubes
30 mL (2 tbsp.) canola oil
2 onions, chopped
15 mL (1 tbsp.) chopped garlic
2 stalks celery, diced
2 sprigs of thyme
1 bay leaf
45 ml (3 tbsp.) flour
1,25 litre (5 cups) beef broth
60 ml (1/4 cup) tomato paste
salt and pepper to taste
6 carrots, cut into pieces
6 potatoes, peeled and cubed
Preparation:
Preheat oven to 190°C (375°F).
Pat meat dry with paper towels. In an ovenproof pan or casserole, heat oil over medium-high heat. Sear a few cubes of meat at a time, 2 to 3 minutes, until golden on both sides. Place cubes on a plate.
Remove excess fat from pan. Over medium heat, sauté onions for 1 to 2 minutes.
Return the meat to the pan. Add garlic, celery and fine herbs.
Sprinkle with flour and stir. Pour in broth and tomato paste. Season with salt and pepper. Heat to a simmer, scraping down the sides of the pan with a wooden spoon to loosen the cooking juices.
Cover and bake for 1 hour.
Add carrots and potatoes to the pan. Cover and cook for 1 more hour, until meat flakes with a fork.