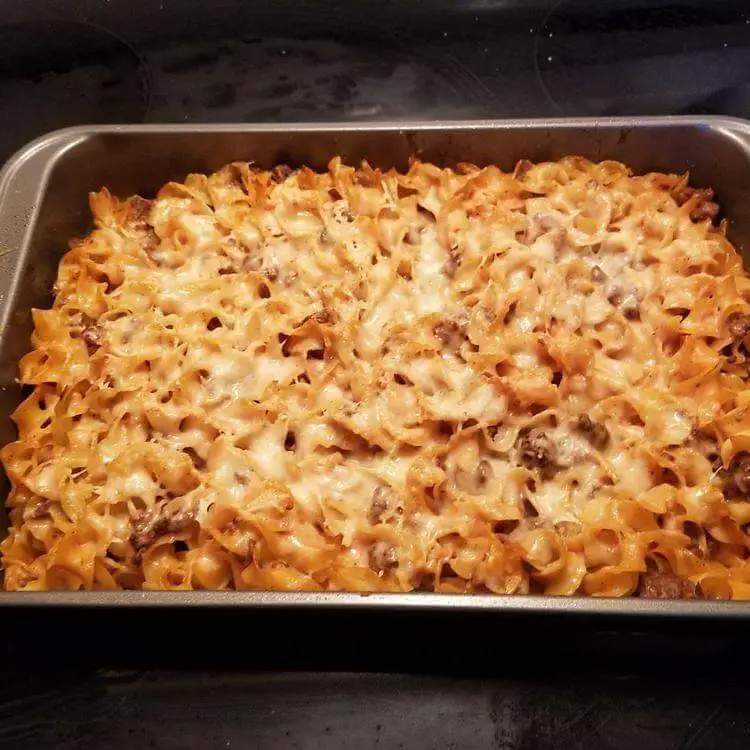 The Amish Country Casserole is a well known budget-friendly, delicious dinner that feeds a whole crowd. This is a recipe that can be made ahead of time and stored in the freezer. This casserole is ideal for transitioning into Fall or at the end of winter into spring. It is, indeed, comfort cuisine at its finest! Tomato soup, Hamburger, onions, garlic, milk, cream of mushroom, egg noodles, Worcestershire sauce, and parmesan cheese, it's all what it consists of. So easy yet so delicious! Everyone will devour everything on their plate. It's also a terrific freezer recipe and ideal for a quick weeknight meal.
For a fast and simple evening supper, prepare this casserole ahead of time and freeze it. Assemble the casserole, but do not bake it yet; instead, get it covered with a foil and let it freeze. Remove the casserole out of the freezer one day prior to making it and jet leave it thawing in the refrigerator. Once you get home from work, just place it inside the oven and your dinner will be ready in no time! We recommend making it with some green beans and a nice salad as a side dish, and it'll become a family favorite in no time! The easiest recipe ever!
Ingredients:
12 oz of medium egg noodles
1 can of tomato soup
1 can of mushroom cream
1 cup of milk
1/8 teaspoon of salt
1/4 teaspoon of pepper
1 pound of ground beef
1/4 teaspoon of garlic
2 teaspoons of Worcestershire Sauce
2 tablespoons of onion flakes
1/4 cup of grated cheese (parmesan)
Instructions:
Start by preheating the oven to 350° Fahrenheit. Try using nonstick cooking spray, and get a coated 9×13 baking dish. Leave it aside for the moment, then drain carefully after cooking the egg noodles according to the package's guidelines. Cook everything and crumble the ground beef in a large skillet, then get the grease removed.
Combine the tomato soup, milk, salt and pepper, mushroom soup cream, minced garlic, dried onion flakes, and the Worcestershire sauce in a large mixing dish. Finally, add the cooked egg noodles along with the ground beef to the pan.
Now you can bake everything while it's uncovered for about half an hour, and top it with the grated parmesan cheese. Just serve it with a salad and some bread, and enjoy!
Vegetables you can get it loaded with:
We've been adding lightly sautéed mushrooms, peas, carrots, and broccoli to the Amish Country casserole since we first started making it. The carrots, on the other hand, took a little more time to get cooked and we didn't really like the finished result.
However, everyone'll enjoy the Mushrooms that have been introduced! And if you do have a bowlful of Mushrooms on hand, just try to add some every time you prepare the casserole. Which we absolutely love to do! Just continue with the instructions after sautéing the mushrooms right before adding the ground beef to the hot oil.