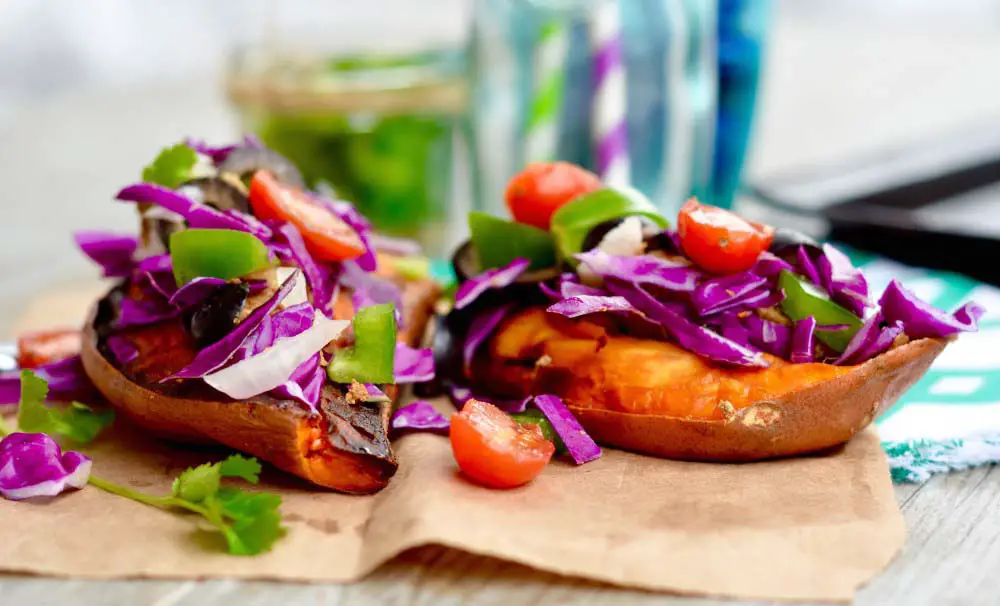 Problems with searching through the internet late at night looking at so much food…
You instantly start craving things you didn't even know existed!
You wake up in the morning and are too tired to make anything, so you just make salad… again.
It's okay though, cause you save it to a pin board and eat it later!
Okay, that may have happened this week, but today I didn't want to make another salad.
paleo stuffed sweet potatoes
gluten free enu ideas
I am pretty much eternally in love with sweet potatoes in any form! I love them crispy, love them as curly fries (which I will have to post the recipe soon!), I love them caramely with the juices bubbling all over the place, and I also love them baked, cut in half, and stuffed with colorful veggies and cumin seasoned chicken!
This recipe is the best! I prepared a batch of these last night and then threw everything in a 8″ by 8″ and put it in the fridge. When I woke up and had to go to an unexpected appointment, boom! My meals were already made! Yay! I love it when that happens, which isn't very often:) All that to say, you can easily prep this meal the night before and have lifesaver when you unexpectedly run out of time to cook… or really just don't feel like cooking.
best paleo blogs
stuffed sweet potatoes
Easy, light, and colorful, these stuffed sweet potatoes will bring you to your happy place!
Ingredients
6 sweet potatoes
1/4 cup olive oil (for the sweet potatoes)
1 teaspoon salt (for the sweet potatoes)
3 chicken breasts
1 1/2 tablespoon olive oil (for chicken)
1 1/2 tablespoon cumin (for chicken)
4 cloves minced garlic (for chicken)
3/4 teaspoon salt (for chicken)
3/4 teaspoon chili powder (for chicken)
1/2 head purple cabbage
1 cup grape tomatoes
1 green pepper
1/2 cup sliced black olives
1/4 onion
1 cup guacamole
Method:
Preheat the oven to 350 degrees.
Slice the sweet potatoes in half and put them on a baking sheet and brush with the olive oil designated for the sweet potatoes.
Cook the sweet potatoes on 350 degrees for 1 hour.
For the chicken, cut the breasts into 1/2 inch chunks and toss the chicken with the spices and olive oil.
Heat a skillet on the stove over medium heat and cook the chicken for 8-10 minutes, turning on occasion to produce equal cooking throughout.
Chop the cabbage, onion, green peppers, and cherry tomatoes and set aside.
Once the chicken and sweet potatoes are cooked, begin to assemble the stuffed sweet potatoes.
Slice the sweet potatoes halves down the middle length wise and fill the center with the chicken and toppings.