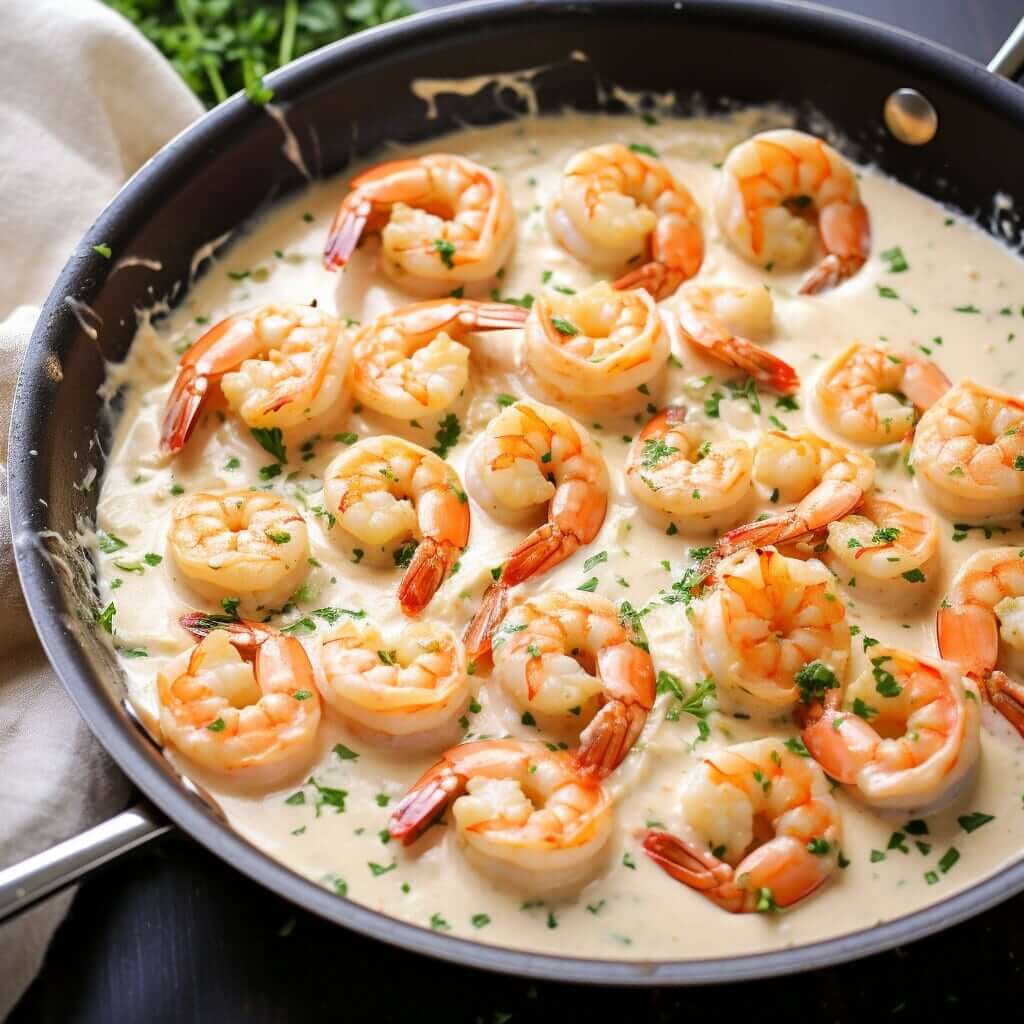 Hello to all the enthusiasts of "Life with Jeviko"! Trust you're enjoying a splendid day. Today, I'm thrilled to unfold a recipe that's close to my soul. Envision juicy, luscious shrimp bathed in a velvety garlic sauce that simply dissolves on your tongue with every morsel. Enticing, isn't it? Join me on this gastronomic journey!
Why should this dish be on your dinner table? This silky garlic shrimp is not only a symphony of flavors but also a breeze to whip up. It's the quintessential dish to dazzle guests or bring a hint of sophistication to a regular weekday dinner. The lush sauce, brimming with the essence of garlic, melds with the supple shrimp in such a harmonious way, it's like a culinary romance. Moreover, sourcing the ingredients is a cinch and the steps are intuitive.
Why is garlic the cornerstone of this recipe?
Garlic infuses a depth and bouquet that accentuates the shrimp's profile. Its robust essence dovetails with the smooth sauce, turning each mouthful into a flavor carnival.
Can I opt for frozen shrimp?
Certainly! Just ensure they're comprehensively thawed before you dive into cooking. However, fresh shrimp do offer a marginally superior consistency and nuance.
What are the ideal accompaniments for this treat?
This creation is splendidly complemented by fluffy jasmine rice, al dente pasta, or even a rustic bread to savor every drop of the sauce.
Could I replace shrimp with another seafood?
Indeed! While shrimp steal the limelight, you can alternate with scallops or fish chunks. Do remember to modify cooking durations as needed.
Why should this dish be on your culinary bucket list?
It's an exquisite fusion of flavor, feel, and fragrance. With elementary ingredients, you can manifest a plate that's worth a chef's nod. And honestly, who could resist the seduction of a velvety garlic sauce?
Preparation Duration: 15 minutes
Cooking Duration: 10 minutes
Aggregate Time: 25 minutes
Ingredients:
1 lb (450g) large shrimp, cleaned and deveined
1 cup rich cream
5 garlic bulbs, minced to perfection
2 tablespoons pure butter
1 tablespoon virgin olive oil
Seasoning: Salt and pepper, as per preference
Fresh parsley, finely snipped (for embellishment)
Grated parmesan (an optional sprinkle)
Instructions:
Shrimp Prep: Ensure your shrimp are pristine, devoid of veins, and dry to touch. This ensures optimal cooking and sauce absorption.
Shrimp Sauté: In a broad pan, unite the olive oil and butter on medium flame. Once butter turns bubbly, lay the shrimp uniformly. Sprinkle with salt and pepper. Sauté until a rosy hue appears uniformly (around 2 minutes each facet). Extract and keep aside.
Creamy Garlic Concoction: In the residual buttery mix, introduce the minced garlic. Gently fry until fragrant, avoiding any charring. Gently cascade the cream, amalgamating continuously, letting the flavors intertwine.
Shrimp's Grand Return: As the sauce gains body, usher the shrimp back into the pan, immersing them in the garlicky cream.
Finishing Flourishes: Shower with fresh parsley and optionally, a dusting of parmesan. Mix to ensure the shrimp luxuriate in the sauce. Serve piping hot.
Cooking tips:
Prioritize plump shrimp varieties as they retain moisture post-cooking.
Guard against prolonging shrimp's time on the flame, to avoid a rubbery outcome.
For a deeper palate, consider a drizzle of white wine post garlic sauté.
For those with a penchant for zest, a sprinkle of chili flakes can elevate the experience.