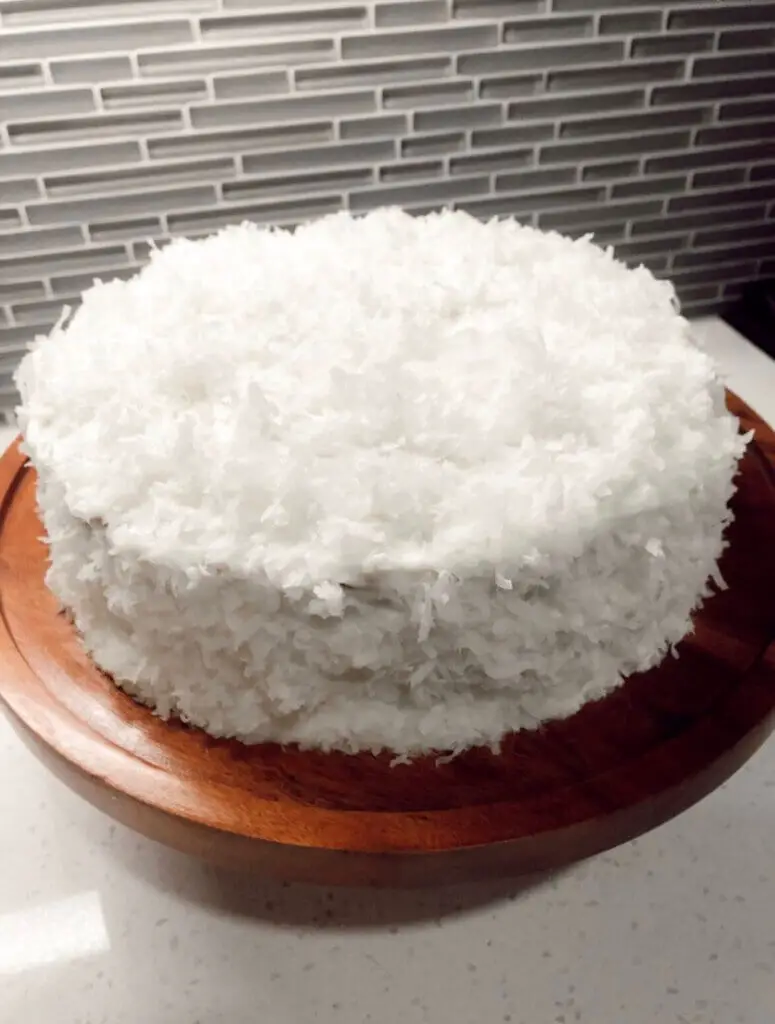 Hello, my awesome readers! Have you ever daydreamed about white sandy beaches, clear blue waters, and the intoxicating aroma of coconuts wafting through the air? Oh, who am I kidding, of course you have! We all yearn for that tropical escape, especially when life gets a little too routine. But what if I told you that you don't have to book a flight to experience a taste of the tropics? Yep, that's right! Today, we're bringing the island vibes right to your kitchen with a recipe that's as close as you can get to paradise without leaving home: the Heavenly Coconut Bliss Cake.
Why Should I Make This Heavenly Coconut Bliss Cake?
Because it's a one-way ticket to flavor town, with creamy, fluffy, and crispy textures that dance in perfect harmony. One bite and you'll forget you're not on a beach somewhere!
I'm Not a Master Chef; Can I Still Make This?
Absolutely! This recipe is beginner-friendly but delivers expert-level taste. We're using a cake mix as the base, so it's practically foolproof!
I'm Not a Huge Fan of Coconut; Will I Still Like This?
The coconut flavor here is not overpowering; it's a balanced tropical delight. But hey, if you're willing to give coconut a chance, this cake might just convert you!
What Makes This Cake So Special?
It's the layers for me! You get the airy lightness of the cake, the rich creaminess of the coconut milk blend, and the crispy finish of the flaked coconut. It's a triple threat!
Can I Make This in Advance?
You sure can! In fact, chilling it for a bit helps the flavors meld together even more. Perfect for gatherings or a much-needed "treat yourself" moment.
Prep Time: 15 minutes
Cook Time: 35 minutes
Total Time: 50 minutes (plus 30 minutes for chilling)
What You'll Need:
Ingredients:
White Cake Mix: 1 package (16 ounces)
Sweetened Condensed Milk: 1 can (14 ounces)
Cream of Coconut: 1 can (14 ounces)
Frozen Whipped Topping, thawed: 1 container (16 ounces)
Flaked Coconut: 1 package (10 ounces)
Instructions:
Preheat your oven to 350°F (175°C). Take a 9×13-inch baking pan and grease it well. Don't skip this; you don't want your cake sticking to the pan.
Make the white cake mix as instructed on the package. The cake mix is the cornerstone of this recipe, so choose a high-quality brand for the best results.
Pour the prepared batter into your greased pan. Easy peasy!
Bake the cake for about 30-35 minutes. How do you know it's ready? Stick a toothpick in the center; if it comes out clean, your cake is good to go!
Once baked, let the cake cool down completely. I mean it—completely. This helps to make sure the next layer absorbs beautifully without making the cake soggy.
In a large mixing bowl, blend the sweetened condensed milk, cream of coconut, and thawed whipped topping. Oh, the aroma of this mixture is a vacation in itself!
Now here's the fun part. Grab a fork and poke holes all over the cake. This allows our heavenly coconut cream mixture to seep in, giving the cake a melt-in-your-mouth quality.
Pour the cream mixture evenly over the cake.
Sprinkle flaked coconut generously over the top. If you want to go the extra mile, toast some additional coconut for that extra crunch and visual appeal.
Pop the cake into the fridge for at least 30 minutes. This ensures that the flavors meld together into one harmonious bite.
And Voila, Dig In!
Your Heavenly Coconut Bliss Cake is now ready to serve. Trust me, one bite, and you'll hear the distant sound of ocean waves and feel sand between your toes!
Quick Tips for Coconut Bliss 🥥:
A high-quality cake mix makes all the difference—choose wisely.
Patience is key; allow the cake to cool fully before moving to the next step.
For an extra layer of love, you can add a dollop of coconut frosting on top.
Feel free to get creative with garnishes. Toasted coconut, anyone?