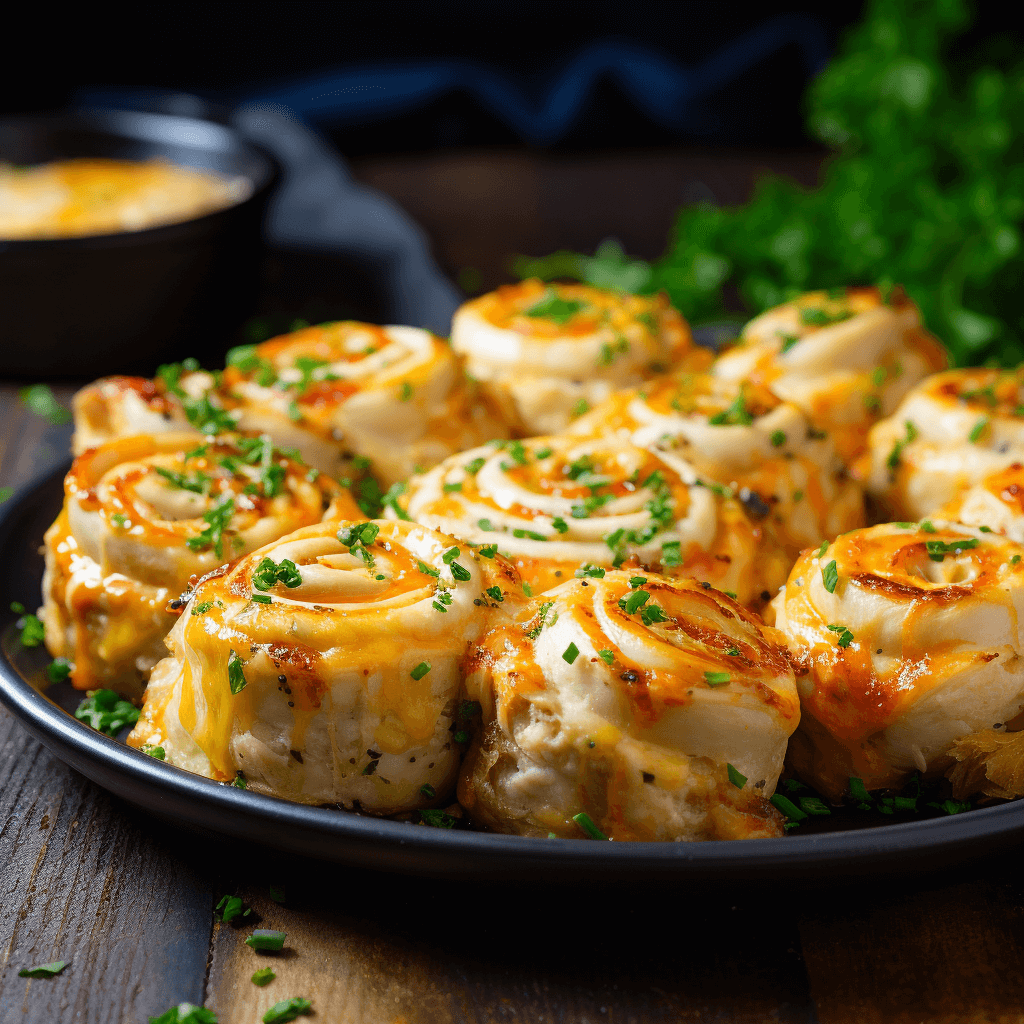 Hey foodies, so today I've got something truly irresistible for you. If you've been on the hunt for a show-stopping appetizer that's as easy to make as it is delicious, then look no further. Introducing my Sensational Chicken and Cheese Party Pinwheels! Perfect for potlucks, game days, or any get-together where you want to impress without the stress. Trust me, once you try these pinwheels, you'll be dreaming about them. Ready to roll? Let's get into it!
These aren't your average pinwheels, my friends. They're a creamy, cheesy delight with a kick of ranch flavor, accented by the savory richness of optional bacon bits. Imagine biting into a soft tortilla rolled up with a heavenly mixture that just melts in your mouth. And did I mention they're ridiculously easy to make? You probably already have most of the ingredients in your kitchen!
I don't have large tortillas, what can I do?
No problem! You can use smaller tortillas; just remember that you'll get mini pinwheels. They'll be cute and bite-sized, perfect for little hands or for a more delicate presentation.
Can these be frozen for later use?
I wouldn't recommend freezing them after they're sliced because the texture of the cream cheese can change. However, you can freeze the whole rolled-up tortilla wrapped in plastic wrap and foil. Just defrost in the fridge a day before you need them and slice before serving.
Can I add some veggies to the pinwheels?
You bet! Thinly sliced bell peppers, spinach, or even shredded carrots would add a delightful crunch and some extra color. Just sprinkle them on top of the chicken mixture before rolling.
Do I have to use chicken? What about vegetarian options?
If you're not into chicken or want to go vegetarian, you can swap the chicken for a plant-based alternative like jackfruit or even chopped, cooked vegetables. The cream cheese and cheddar will still give you that creamy, cheesy goodness.
Prep Time: 20 minutes
Chill Time: 1 hour
Total Time: 1 hour 20 minutes
Ingredients:
Cooked and shredded chicken: 2 cups (A rotisserie chicken is a time-saver!)
Softened cream cheese: 8 ounces (1 package)
Ranch dressing mix: 1 ounce (about one packet)
Shredded cheddar cheese: 1 cup
Cooked and crumbled bacon: 1/2 cup (optional but a delightful addition)
Large flour tortillas: 4 (Feel free to explore with whole wheat, spinach, or sun-dried tomato tortillas for added flavor)
Optional garnishes: Green onions or parsley, finely chopped for a splash of color and flavor.
Instructions:
First up, mix together your cooked, shredded chicken, softened cream cheese, ranch dressing mix, shredded cheddar, and optional crumbled bacon in a large bowl. Make sure everything is evenly incorporated, creating a creamy, savory filling that's going to make these pinwheels irresistible.
Now take a large flour tortilla and lay it out on a flat surface. Think of the tortilla as a canvas for culinary art! Spread an even layer of the chicken mixture over the tortilla, but be careful to leave a small border around the edges to avoid any filling escapees. If you're using any optional garnishes like chopped green onions or parsley, sprinkle those on top.
Once your tortilla is ready, start rolling it tightly from one edge to the other. The goal is a snug but not overstuffed roll. After you've rolled it up, wrap it in plastic wrap or aluminum foil to keep it together.
Next, the rolls take a little chill time in the fridge. Aim for at least an hour. This helps the filling to firm up a bit, which will make slicing much easier. Patience is key here, and the payoff is well worth the wait!
After an hour, your rolls are ready for their big moment. Unwrap each one and place it on a cutting board. With a sharp knife in hand, slice the rolls into one-inch thick pieces. If the ends are a little messy, don't worry—those are the chef's treat
Finally, arrange these perfectly spiraled beauties on a serving platter. They're ready to steal the show at any
gathering or even as a special snack just for you.
Cooking tips:
Use room temperature cream cheese for a smoother, creamier filling. Cold cream cheese can be difficult to blend, resulting in a lumpy mixture. So let it sit out for about 30 minutes before you start.
For an extra burst of flavor, consider marinating your cooked shredded chicken in a bit of ranch dressing for about 20 minutes before combining it with the other ingredients. This will infuse the chicken with even more delicious ranch flavor!
If you're short on time, using pre-cooked rotisserie chicken or even canned chicken can be a life-saver. Just make sure to shred it finely for the best texture.
Using a serrated knife to slice your chilled rolls makes the job much easier. A smooth knife might squish the pinwheels, but a serrated knife will cut through cleanly, maintaining that beautiful spiral.
Want to make these pinwheels a bit healthier? Substitute whole-wheat tortillas for white flour ones or use low-fat cream cheese. You can also add in some finely chopped veggies like spinach, bell peppers, or shredded carrots for an extra nutrition boost.
Feel free to get creative with the cheese. While cheddar is amazing, you can experiment with other shredded cheeses like mozzarella, Colby Jack, or even a Mexican blend for a different flavor profile.