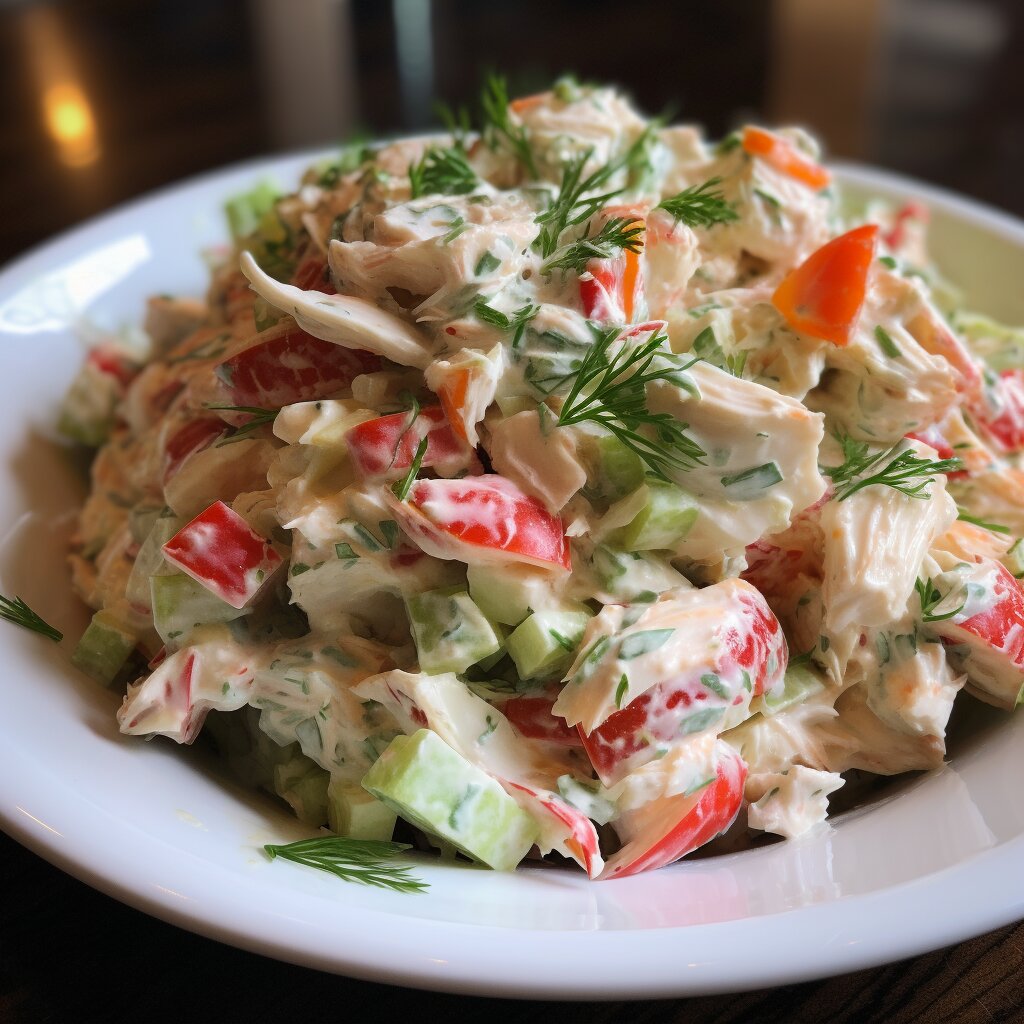 Hello lovely foodies! It's Jeviko here, from "Life with Jeviko". I hope this post finds you in good spirits and hungry tummies. You know, every so often, a dish grabs my heart and makes me fall head over heels in love with it. Today, I'm going to share such a recipe with you. The Crab Seafood Salad! Dive into a bowl full of flavors from the deep blue ocean, combined harmoniously, to make every bite an unforgettable experience. 🌊✨
Have you ever tried a seafood salad that made you close your eyes and travel to a serene beach with your taste buds? If not, this is the recipe that will! But before we go further, let's address some common questions about this dish.
Why should I try the Crab Seafood Salad?
Because it's an explosion of flavors that will dance on your palate! The combination of crab, crisp veggies, and zesty dressing is unparalleled.
Is it complicated to make?
Absolutely not! It's a straightforward dish that even beginners can master. Just follow the step-by-step guide below.
Can I use imitation crab?
You can, but I always advocate for the real deal. There's just something so genuine and rich about the taste of authentic crab.
How long does it last in the fridge?
Properly stored, it should last up to 3 days. But from personal experience, leftovers are rare! 😄
Can I pair it with something else?
It pairs beautifully with a glass of white wine or crusty bread. Though, to be honest, it's a star on its own.
Prep Time: 20 minutes
Cook Time: 0 minutes (It's that easy!)
Total Time: 20 minutes
Ingredients:
1 pound of fresh crab meat (Trust me, it makes all the difference)
1 cup of finely chopped celery (for that delightful crunch)
1/2 cup of mayonnaise (creamy base that ties everything together)
1/4 cup of freshly chopped chives (a mild touch of onion flavor)
2 tablespoons of fresh lemon juice (to awaken the flavors)
Salt and black pepper, to taste (seasoning is everything!)
Instructions:
Prep the Crab: Start by checking the crab meat for any shells. Remember, the experience is all about the smooth, luxurious taste of crab without unexpected crunchy interruptions.
Mix the Base: In a large mixing bowl, combine the mayonnaise, lemon juice, salt, and black pepper. The reason behind mixing these first is to ensure a smooth and even dressing.
Add in the Main Ingredients: Fold in the crab meat, celery, and chives into the dressing. The celery adds a beautiful crunch contrasting the soft crab, while chives lend a gentle kick.
Taste and Adjust: This step is crucial! Taste the salad. Need more lemon for zing or salt for flavor? Add it in. It's all about balancing the flavors to your liking.
Chill and Serve: For best results, cover your salad and let it chill for an hour in the fridge. This allows the flavors to meld beautifully. Serve on a bed of fresh greens or enjoy it solo!
Cooking tips:
Quality Matters: Always go for fresh crab meat. It truly elevates the dish.
Tweak as Needed: Feel free to add more veggies like cucumber or bell peppers for added texture.
Dressing Variation: Not a fan of mayo? Swap it with Greek yogurt for a healthier twist.
Presentation is Key: Serving for guests? Garnish with some fresh herbs or a lemon wedge for that gourmet touch.
Stay Hydrated: Pair this with a chilled glass of white wine for an elegant dining experience.
Serving Options: It tastes delightful on a toasted baguette or inside a wrap. The world is your seafood oyster!