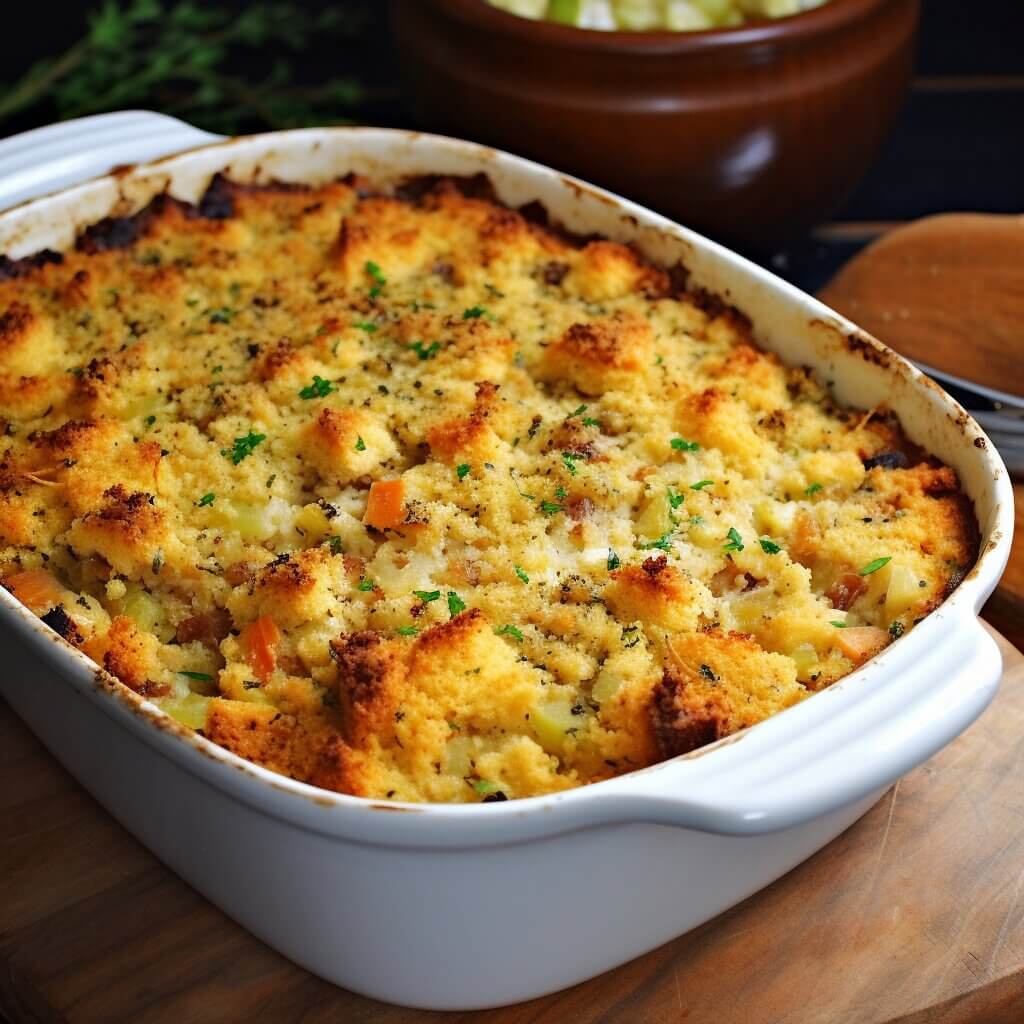 Is there anything in this whole wide world better than a big ol' scoop of savory, moist cornbread dressing next to a perfect slice of Thanksgiving turkey? I think not! In my humble opinion, cornbread dressing is the most essential part of a Thanksgiving feast. It's the hearty, flavorful component that brings everything together on your holiday table.
If you've never experienced homemade cornbread dressing made completely from scratch before, you are missing out, my friend! No more settling for the dried out, bland boxed stuffing mix. I'm going to let you in on my secret recipe for the most deliciously tender, flavorful cornbread dressing you've ever wrapped your taste buds around.
This recipe has been passed down in my family for generations, and it produces the ultimate cornbread dressing every single time. Each bite is infused with the most incredible blend of savory, buttery, herb-y and slightly crispy flavors. It's the perfect balance of soft, fluffy cornbread and sautéed aromatic vegetables. Even people who claim not to like cornbread dressing end up going back for seconds and thirds after tasting this recipe!
Once you try your hand at creating this homemade cornbread dressing masterpiece, you will never, ever purchase that sad boxed stuffing from the store again. I'm dead serious. This will become your new Thanksgiving tradition, requested by everyone year after year.
Now I know you may have some questions before attempting this recipe, so let me see if I can anticipation what's on your mind:
Why is it called cornbread dressing instead of stuffing?
Excellent question! The main difference is that cornbread dressing is baked separately outside the turkey in a casserole dish, while stuffing is stuffed into the turkey cavity before roasting. Baking the dressing allows it to get those crispy edges and ends up being more uniformly moist and easier to make.
Do I really have to make my own cornbread from scratch?
Yes, I'm afraid so! The quality of the cornbread makes a HUGE impact on the final dressing. Store-bought cornbread just won't properly absorb all the amazing flavors of the herbs, chicken broth, veggies. It will likely fall apart and be disappointing. Homemade cornbread is a must!
How far in advance can I make the cornbread dressing?
You can prepare the entire recipe up until the baking stage up to a day in advance. Just store it covered in the fridge until you're ready to finish it off. Before serving, pop it in a 350 degree oven for about 45 minutes until heated through and crisp.
What kind of cornbread works best for dressing?
My all-time favorite is a traditional Southern-style cornbread. Use cornmeal, flour, buttermilk, eggs, baking powder, etc. Avoid anything with sugar in it. You want plain ol' cornbread.
How do I know when the dressing is finished baking?
Test for doneness by inserting a knife into the center. When it comes out clean with no wet crumbs stuck to it, your cornbread dressing is ready to devour! Expect about 45 minutes total baking time.
Prep Time: 15 minutes
Cook Time: 45 minutes
Total Time: 1 hour
Ingredients:
8 cups crumbled cornbread (from an 8-inch pan)
1⁄2 cup unsalted butter, melted
1 cup chopped yellow onion
1 cup chopped celery
1⁄2 cup chopped fresh parsley
1 1⁄2 teaspoons poultry seasoning
1 teaspoon salt
1⁄2 teaspoon black pepper
1 1⁄2 cups chicken broth
Instructions:
The day before you plan to bake the dressing, make a classic Southern-style cornbread from scratch. Allow it to cool fully, then crumble it into small pieces and set aside until needed. You'll need about 8 cups of crumbled cornbread for this recipe.
When ready to prepare the dressing, preheat your oven to 375°F. Liberally grease a 9×13 inch baking dish with butter or nonstick cooking spray.
In a large bowl, combine the 8 cups of crumbled cornbread along with 1/2 cup of melted, unsalted butter. To melt the butter, either microwave it for 30-60 seconds or melt in a small saucepan over low heat.
Next, chop 1 cup each of yellow onion and celery. Mince the vegetables until they are very fine. You want them dispersed throughout the dressing. Add the onions, celery, and 1/2 cup of freshly chopped parsley to the cornbread mixture.
Add 1 1/2 teaspoons of poultry seasoning or sage seasoning blend, 1 teaspoon of salt, and 1/2 teaspoon of fresh cracked black pepper. Stir thoroughly with a wooden spoon until well combined.
Slowly pour 1 1/2 cups of chicken or turkey broth into the cornbread mixture. Continue to stir steadily so that the liquid fully absorbs into the other ingredients. The cornbread should be moist but not overly soggy.
Transfer the dressing mixture to the prepared baking dish, lightly packing it down with a spatula. Smooth the top evenly.
Bake the cornbread dressing uncovered for 45-50 minutes, until the top is evenly golden brown. To test for doneness, insert a knife into the center of the dressing. If it comes out clean, it is finished baking.
Remove the baked dressing from the oven and allow it to rest for 10 minutes before serving. This allows the juices to absorb so the first bite isn't dry.
Serve the cornbread dressing warm, scooping out desired portions with a spoon or spatula. Store leftovers covered in the fridge for up to 5 days. Reheat individual portions in the microwave or oven.
Cooking Tips:
Feel free to add cooked chopped sausage, cranberries, pecans or other mix-ins to the dressing before baking.
For even more flavor, use chicken or turkey stock instead of plain broth.
Make sure your cornbread is stale before using for the best texture.
Don't pack the dressing down too densely in the baking dish. It should be light and fluffy.
Drizzle extra melted butter on top for extra richness before baking.