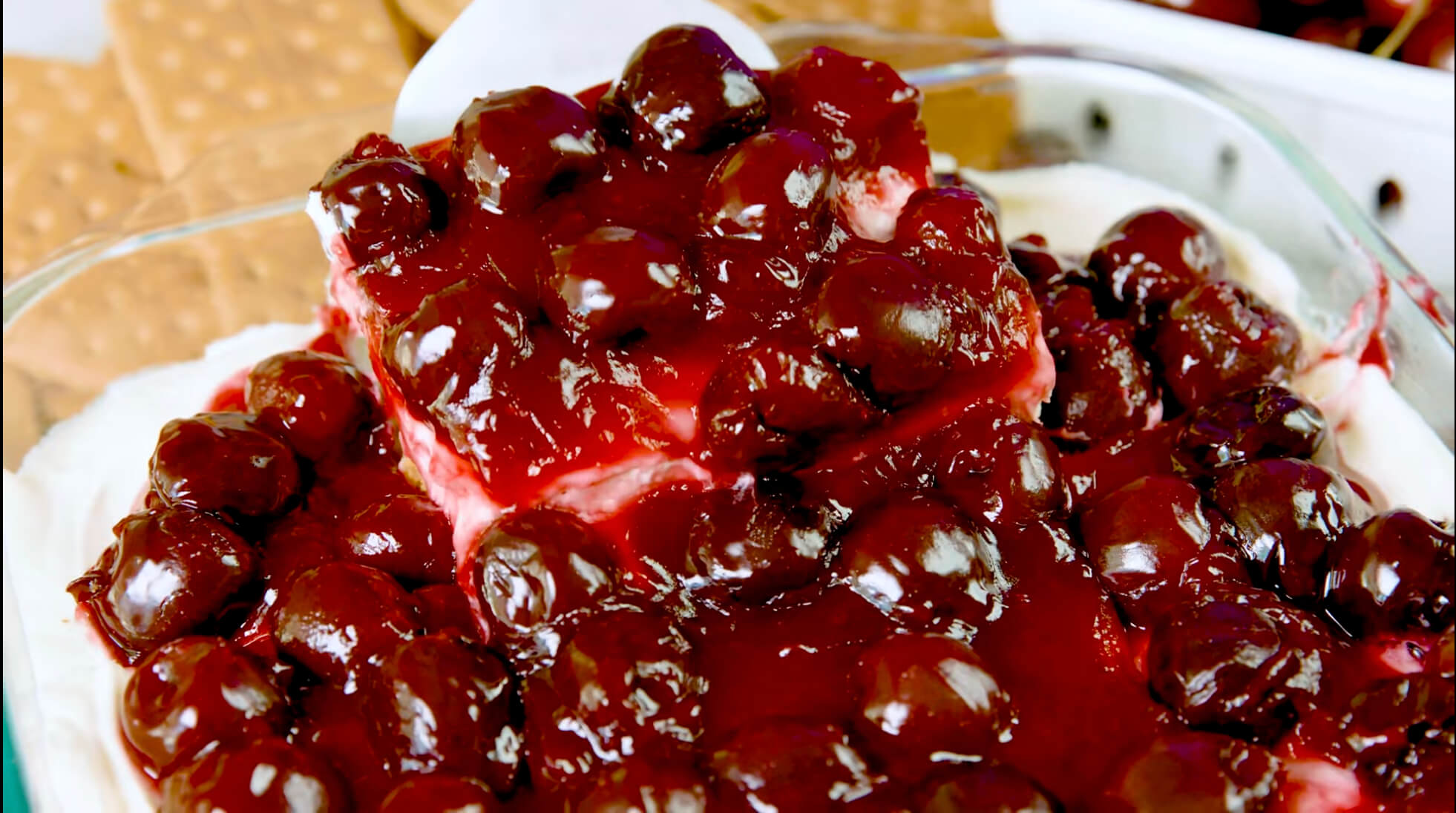 Hey there, fabulous folks! I'm thrilled to welcome you back to "Life with Jeviko". Today, we're embarking on a culinary journey to revisit a sweet, cherished memory from my youth. I'm introducing you to the "classic cherry delight" a dessert so refreshing yet decadent that it'll catapult your taste buds into a world of sheer pleasure! Ready to whip up this magic? Let's dive right in!
Our Classic cherry delight is a beautifully orchestrated trifecta – a toothsome base of graham crackers, a smooth, creamy layer of cream cheese and whipped topping, and a luscious cherry pie filling crowning the top. This isn't an overly sweet dish, but it's just right to tickle your sweet tooth post-dinner. It's the simplicity that makes this dessert a winner. Each layer serves a unique purpose, and together, they make this dessert an absolute showstopper. This humble yet heartwarming recipe takes me back to those blissful Sunday meals post-church, where my mom would quite literally, end our feast with a cherry on top!
Ingredients:
For the Crunchy Base:
1/2 cup plus 1 tablespoon of unsalted butter
1.5 cups of crushed graham crackers (approximately 9 whole crackers)
3 tablespoons of white granulated sugar
For the Dreamy Filling:
8 ounces of room temperature cream cheese
1 cup of confectioners' sugar
1 teaspoon of organic vanilla extract
8 ounces of whipped topping
21 ounces of cherry pie filling
Instructions:
Start off by melting 1/2 cup plus 1 tablespoon of unsalted butter in a medium bowl. This can be easily done in a microwave, around 30 seconds should do it. The melted butter acts as a binding glue for our base, providing a sturdy and crispy texture.
Once the butter is melted, stir in the crushed graham crackers and white sugar until thoroughly combined. This forms your crispy base, offering a delightful contrast to the creamy filling.
Transfer this mixture to a pre-greased 8×8 baking dish, pressing it firmly to form an even layer. Set it aside to cool, allowing the base to firm up. No need to bake, it's going to hold up perfectly!
In a large mixing bowl, whip the room temperature cream cheese until it becomes smooth, creamy, and free of lumps. This cream cheese forms the soul of our dessert, bestowing a creamy, melt-in-the-mouth sensation.
Now, blend in the confectioners' sugar and vanilla extract with the cream cheese until well combined. This duo imparts a mild, enduring sweetness and a fragrant hint of vanilla that tingles your taste buds.
Fold in the whipped topping gently. Don't overbeat, just ensure everything blends well.
Evenly spread this lush, creamy filling atop your firm graham cracker base. You can use an offset spatula or a regular spoon to spread it.
Finally, the grand finale – scoop the cherry pie filling over the creamy layer, spreading it evenly. I'm partial towards the Duncan Hines Country Cherry pie filling, thanks to its hefty cherry bits. But feel free to choose your favorite brand!
Give this tantalizing layered dessert a good 2-hour chill in the refrigerator before serving. I recommend letting it sit overnight for an enhanced melding of flavors. Don't forget to refrigerate any leftovers.
Your Classic cherry delight is ready to mesmerize. A pro tip from my dear reader, Jody, for seamless serving: just place the baking dish in a sink filled with warm water for a few seconds. This trick loosens the base from the dish, ensuring your servings look as appealing as they taste!
So, my friends, whip up this timeless, evocative dessert and let the Cheerful Cherry Delight sweep you off your feet with its irresistible allure. I'd love to see your creations, and hear your thoughts about this delightful dessert. Until next time, continue stirring up the magic!
Note:
Crush graham crackers finely for a uniform base.
Mix the crumbs well with melted butter for binding.
Ensure cream cheese is at room temperature for a smooth texture.
Blend confectioners' sugar and vanilla thoroughly with cream cheese.
Fold whipped topping gently to maintain its fluffiness.
Use quality cherry pie filling for better flavor and texture.
Refrigerate the dessert for at least 2 hours before serving, overnight for optimal flavor.
Warm the bottom of the dish before serving for easy removal.
Always refrigerate any leftovers.
Keep visiting our blog at Life with Jeviko, for more such tantalizing recipes.