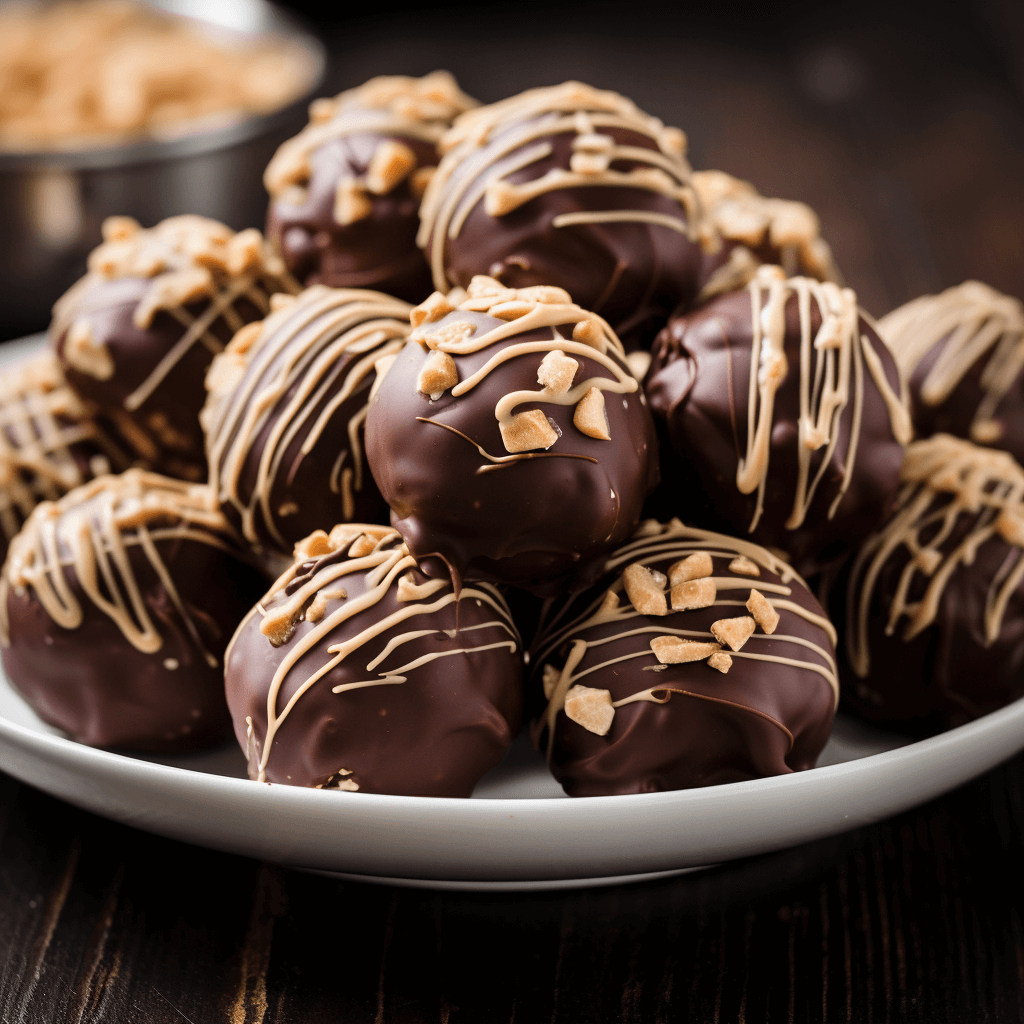 Hello, my cherished chocoholics and peanut butter aficionados! 😍Are you a fan of the ultimate flavor duo? I know I am! It's like they were meant for each other—kind of how you were destined to stumble upon this heavenly recipe on my blog. 🌟 I'm about to guide you through a taste sensation where luscious chocolate marries creamy peanut butter in the form of delectable bite-sized morsels. So buckle up, because we're about to make foodie dreams come true!
What About Using Chunky Peanut Butter?
You bet you can swap in chunky peanut butter if that's how you roll! Just know that doing so will give your treats a hearty, nutty texture rather than a smooth, creamy finish. Want to amp up the crunchiness even more? A light sprinkle of crushed peanuts over the chocolate will give you an extra layer of texture and flavor.
Why is it important to freeze the peanut butter balls before dipping them in chocolate?
Freezing the peanut butter balls firms them up, making them easier to handle while you're dipping them into the melted chocolate. If you skip this step, you might end up with peanut butter balls that lose their shape or even fall apart.
How can I store these chocolate peanut butter balls?
Store them in an airtight container in the fridge for up to two weeks. But let's be real—they're so delicious, there's a good chance they won't last that long!
Can I decorate these with sprinkles or other toppings?
Of course! Feel free to get creative. You can add sprinkles, crushed peanuts, or even a drizzle of white chocolate to make them look as good as they taste.
Prep Time: 20 minutes
Chill Time: 40 minutes
Cook Time: 5 minutes (for melting the chocolate)
Total Time: 1 hour and 5 minutes
Ingredients:
1 stick (1/2 cup) unsalted butter, let it come to room temperature
1 1/2 cups creamy peanut butter
3 cups confectioners' sugar
1 cup semisweet chocolate chips
Optional: 1 tablespoon vegetable shortening or coconut oil
Instructions:
Start by blending the room-temperature unsalted butter with your creamy peanut butter. Use a big bowl and mix until they become one—like two soulmates meeting for the first time.
Time to add your confectioners' sugar. Gently sprinkle it in while mixing. This is the magical dust that brings everything together in a sweet embrace.
Form your butter and peanut mix into 1-inch balls. A small ice cream scoop works wonders here! Place these tiny wonders onto a baking sheet lined with parchment paper.
Pop your peanut butter balls into the freezer for at least 30 minutes. You want them to firm up so they'll be easier to dip in chocolate later.
While your peanut balls are getting their beauty rest in the freezer, melt your semisweet chocolate chips. You can add a tablespoon of vegetable shortening or coconut oil for extra smoothness. Use a double boiler or your microwave at half power. Keep stirring until it's silky smooth.
Dip each of your frozen peanut butter balls into this luscious, melted chocolate. Use a fork to ensure they get evenly coated.
Once all balls are elegantly cloaked in chocolate, send them back to the freezer for about 10 minutes to let the chocolate set.
Cooking tips:
If you find your chocolate a bit too thick, a splash of vegetable oil can be your secret weapon to achieve that magazine-cover silky sheen.
For a rustic touch resembling the famous Buckeye nut, make a little mark on top of each ball using melted white chocolate. It's not only cute but also adds a pop of contrast.
Keep your chocolate peanut butter creations as fresh as the day you made them by storing them in a sealed container in the fridge. Trust me, they'll be your go-to sweet treat for days—assuming they last that long! Happy cooking👩‍🍳🌮