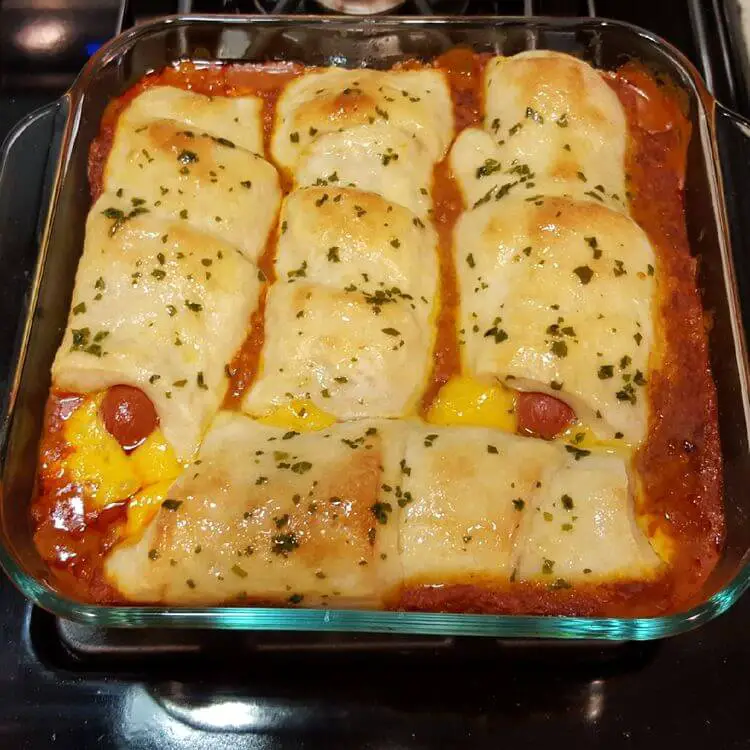 Chili Cheese Dog Bake is a quick and easy to make dinner you can happily make and enjoy on weekdays. It is tasteful, rich and delicious.
Ingredient breakdown
Here is a list of seven simple ingredients that you will need to make this quick dish:
Pizza crust: the first ingredient you will need for this recipe is pizza dough. You can either make pizza dough at home, or you can also go for the premade dough. Premade dough gives a good result and is very convenient and quick to use.
Hotdogs: you can use your favourite breakfast hot dogs for this recipe. I have used beef hot dogs, but you can choose chicken or pork as well.
Cheese sticks: I have used sharp cheddar cheese sticks for this recipe. However, you can also use mozzarella cheese.
Chilli: I have used canned hot dog chilli sauce for this recipe. It is very tasteful, rich and loaded with flavours.
Butter: use unsalted butter for this recipe. It gives it colour and makes it very buttery.
Garlic cloves: garlic brings in an intense, garlicky flavour to this dish.
Parsley: parsley adds a refreshing, clean and peppery flavour.
How to store chilli cheese dog bake dinner?
You can store the leftover chilli cheese dog bake by placing it in refrigerated. It will last for up to 3 days. You can reheat it in the microwave to enjoy.
Because all the ingredients that we have used for this recipe are premade, this dish is very easy to make, and you don't have to make it in advance and freeze it for later.
Chili cheese dog bake dinner– the recipe
Preparation time: 10 minutes
Cooking time: 25 minutes
Total time: 35 minutes
Servings: 4
Ingredients:
1 canned premade pizza crust
4 long beef hotdogs
4 cheddar cheese sticks
1 ½ cup hot dog chilli
2 tbsp butter, melted
2 garlic cloves, finely chopped
Fresh chopped parsley for garnish
Preparation:
In a saucepan, add hot dog chilli and place the saucepan over medium heat. Once it is hot and starts to simmer, take the saucepan off the heat.
Pour this chilli sauce into a baking dish and spread evenly using the back of a spoon. Set the dish aside.
Roll the pizza dough into a rectangle. Using a pizza cutter, cut it into four equal-sized rectangles.
Place a hot dog along with the cheese stick at the end of a rectangle and start to roll it until it reaches the other end. Pinch the two opposite ends together.
Place these rectangles on the hot dog chilli. Make sure the seam side faces downwards.
In a bowl, melt butter and add finely chopped garlic and freshly chopped parsley. Mix well.
Using a brush, brush the rectangles generously with garlic and parsley butter.
Place the baking dish in a preheated oven at 375-degree f for about 25 minutes or until the dough is cooked through and the top gets a golden colour.
Once done, take it out of the oven and serve.